The season no one wants to end still ain't over. After going down 0-2 in the ALDS, the Yankees have battled back to force a Game Five. Four Indians errors and five unearned runs (!) helped the Yankees to a 7-3 win in Game Four on Monday night. The Fighting Spirit. It is strong with this team.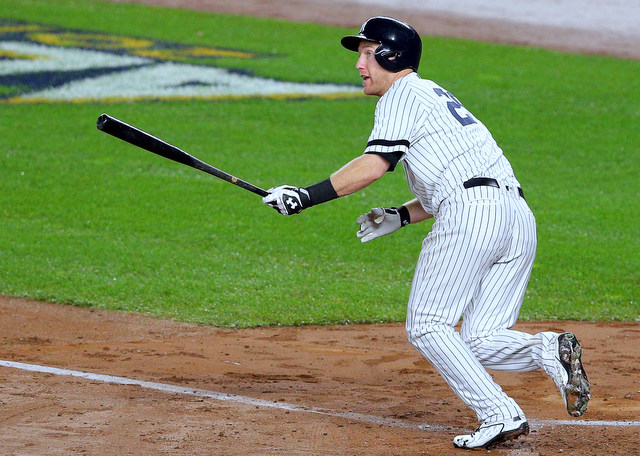 Taking Advantage Of Mistakes
Shout to the Indians for starting Trevor Bauer on short rest in Game Four. I am forever cool with the idea of using starters on short rest in the postseason, but only frontline aces. Not guys like, well, Trevor Bauer. The decision to start Bauer really backfired Monday. He didn't make it out of the second inning and the Yankees forced him to throw 55 pitches to get five outs. Bauer wasn't nearly as crisp as he was in Game One.
To make matters worse for Bauer, third baseman Giovanny Urshela gave the Yankees a free out. He booted Starlin Castro's hard-hit ground ball to put a man on first with one out in the second. It wasn't a routine play because it was hit hard, but I think it was a play a Major League third baseman should make. Let's recap that inning with an annotated play-by-play, because a lot happened.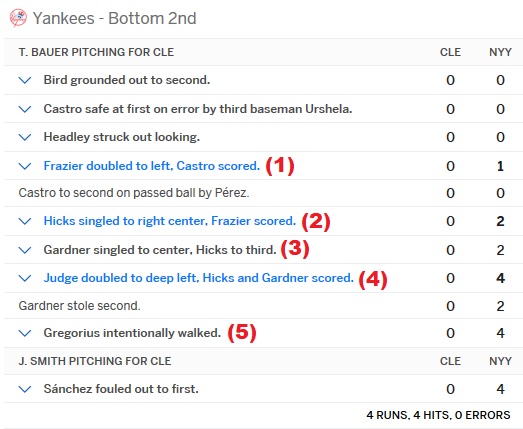 (1) Over the weekend, Sunny wrote the Yankees would need some plain ol' good luck to come back in this series, and they got it in Game Four. First the usually sure-handed Urshela made the error, then Todd Frazier jumped all over a hanging 3-1 curveball for a run-scoring double into the left field corner. The ball was a line drive that landed on the foul line. Look: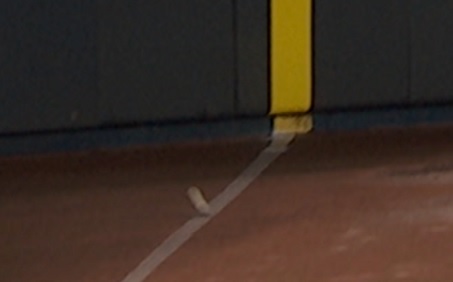 When you're going bad, that ball hooks just foul. When you're going good, that ball stays fair. The ball stayed fair and Castro scored the game's first run. Nice job by Frazier to hammer the hanging curveball.
(2) Bauer was clearly having trouble with the Yankees at this point, so during that Aaron Hicks at-bat, he broke out his changeup. Threw two of them back-to-back to get ahead in the count 1-2. Hicks was able to foul off a two-strike pitch to stay alive, take a curveball down below the zone, then hammer another hanging curveball into center field to score Frazier. Love that two-strike hitting.
(3) Once again, Bauer jumped ahead in the count 1-2, this time to Brett Gardner. And once again, the Yankees hitter spoiled a two-strike pitch, took a ball, then laced a single back up the middle. Gardner's was a ground ball though. Hicks hit it in the air. That was two straight two-strike hits with two outs, the second of which scored a run to give the Yankees a 2-0 lead. Then to really rub it in, Gardner stole second base uncontested. Bauer was running out of ideas. He couldn't put the Yankees away and get that third out of the second inning.
(4) Aaron Judge has not had a good ALDS. It's no secret. He was 0-for-11 with nine strikeouts (!) in the series going into Game Four, and of course Bauer quickly got ahead of Judge with two quick strikes. Back-to-back curveballs in the zone for an 0-2 count. Judge went into battle mode after that. He spit on two curveballs out of the one to even things up 2-2, fouled off two straight two-strike pitches, took another curveball for a ball, then crushed a high fastball for a two-run double. Look at this thing: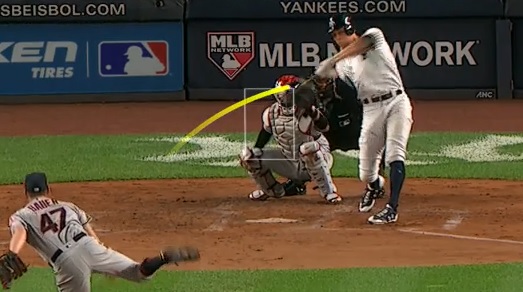 Good gravy. We've seen the Indians — and several other teams this season — beat Judge upstairs with high fastballs. It works … as long as you get it high enough. Bauer, apparently, did not. Judge ripped it to left field to score two runs and give the Yankees a 4-0 lead. That was huge. Scoring just the two runs that inning would've been nice. Getting those last two felt huge. It turned a good inning into a great inning. Three straight two-out hits with two strikes. Love it.
(5) Didi Gregorius? More like BB Gregorius! Because he's drawn a lot of walks this series, you see. That second inning walk was not only Didi's second walk of the game. It was his fifth walk of the series and his fourth walk in four plate appearances dating back to Game Three. And! And he drew a walk next time up. Five walks in five plate appearances for Gregorius spanning Games Three and Four. Can you imagine? He drew 25 walks during the entire regular season. Now he has six in four ALDS games. Huh.
Anyway, in the third inning, the Yankees benefited from another Urshela error. They loaded the bases with one out against Mike Clevinger on a walk (Greg Bird), a double (Castro), and another walk (Frazier). Hicks followed with a ground ball to first base — Carlos Santana threw home for the force out — for the second out of the inning. Suddenly the rally was on life support. That's when Gardner hit a routine grounder to Urshela, who unnecessarily looked at second, then airmailed the throw to first. Santana had to jump to make the catch, which kept him off the base long enough for Gardner to beat out the play and a run to cross the plate. Is it better to be lucky or good? How about both. The Yankees were both in Game Four.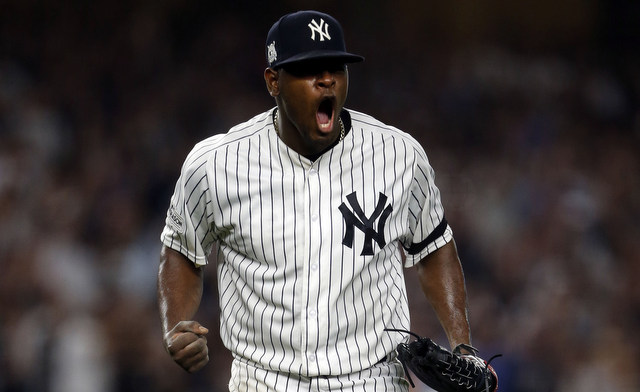 Lucky Number Sevy
After the Wild Card Game, I don't think it was unreasonable to be worried Luis Severino might again be a little too amped up in Game Four on Monday night. He was all over the place in the Wild Card Game and the Twins made him pay for his mistakes. The Indians are a lot better than the Twins, so if Severino was overthrowing again, things could've gotten out of hand in a hurry.
Sure enough, Severino came out and was missing up and away with his fastball in the first inning. It looked like he was overthrowing again. His first inning fastball locations: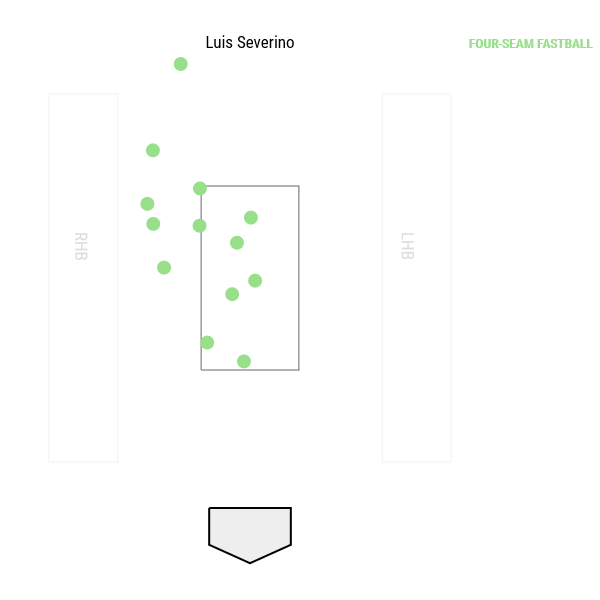 Hmmm. The good news is Severino retired the side in order in that first inning, so if he was overthrowing, it didn't come back to bite him. Severino really settled in after that, retiring eight of the next nine men he faced following the first inning. Things did speed up on him a bit in the fourth, after the Yankees scored their fifth run. Severino walked Jay Bruce with two outs, then left a slider a little too up in the zone to Santana, who parked it beyond the center field wall for a two-run homer. Suddenly 5-0 became 5-2.
Then, one inning later, Roberto Perez reached out and poked a fastball into the short porch for another home run, this one a solo shot to further trim New York's lead to 5-3. Bad things were happening. Severino allowed two homers in the span of four batters, and his final out of the fifth inning was a line drive Castro caught at the apex of his leap at second base. The Indians were starting to make hard contact, and with the lead down to 5-3, I thought maybe it was time to get the bullpen involved.
Instead, Joe Girardi stuck with Severino, and he rewarded him with quick sixth and seventh innings. His final pitch, No. 113 on the night, was a 99.1 mph fastball. Ridiculous. Severino's final line: 7 IP, 4 H, 3 R, 3 ER, 1 BB, 9 K. The two homers stunk, sure, but that is a Grown Ass Man outing from the 23-year-old kid in an elimination game. If Severino doesn't get a chance to pitch again this season, he gets to finish on a high note. What a performance.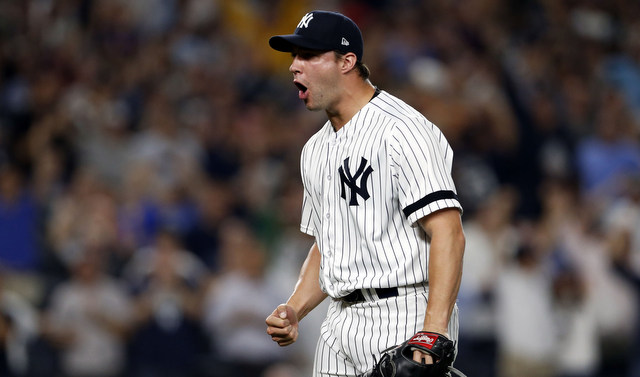 The Late Innings
Much to the delight and appreciation of everyone, the Yankees tacked on insurance runs after the Santana and Perez homers cut the lead to 5-3. In the fifth inning, Frazier reached second base when Danny Salazar threw a ball into foul territory. Frazier hit a little grounder and the ball got by Santana at first base. Another error. Frazier moved to third on a Hicks ground out and scored on Gardner's sac fly. Shout out to the Indians for playing Jason Kipnis in center. The career second baseman had no momentum behind his throw at all, allowing Frazier to slide in safely.
In the sixth, the Yankees added another run on Gary Sanchez's second home run of the ALDS. The first was a two-run shot against Corey Kluber. This one was a solo shot the other way against Bryan Shaw, who was out there throwing 99 mph cutters. For real. The Yankees did strand plenty of runners in Game Four — they went 4-for-13 (.308) with runners in scoring position and still managed to strand eleven runners — which is annoying, but the Indians made a lot of defensive mistakes and the Yankees capitalized. There are no style points at this point. However the runs score works for me.
With a 7-3 lead and his top relievers all worn down, Girardi went to Dellin Betances in the eighth, and bad Dellin showed up. Two walks to start the inning, then the hook. He threw a dozen pitches and only four were strikes. His pitch locations.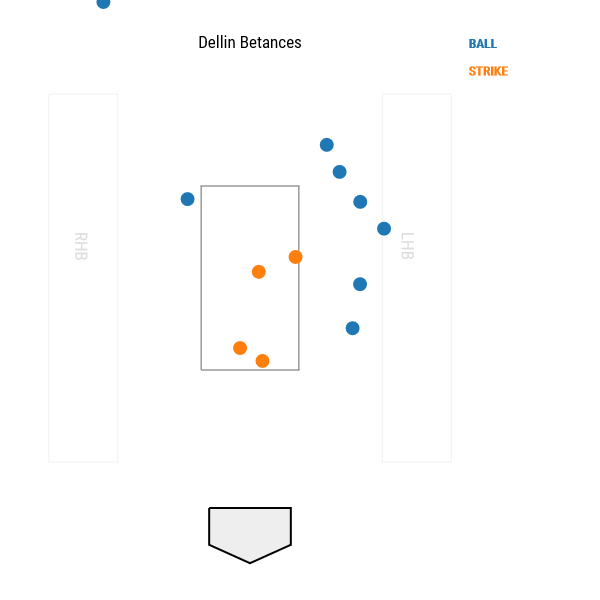 Yeah. The thing is, Betances was great in Game One of the series and great for his first two innings in Game Two. Then Bad Dellin showed up in Game Four. Sigh. Girardi pulled him after the second walk because he had to, and in came Tommy Kahnle. Six up, six down, five strikeouts for Kahnle. He has retired all 15 batters he's faced in the postseason. Like I said after the Wild Card Game, Kahnle is going full 1996 David Weathers this October. He's just going to come in and shove. Awesome.
Leftovers
Eight hits and six walks for the Yankees overall. Gardner had two hits, Gregorius had three walks, and Bird, Castro, and Frazier each had a hit and a walk. Another rough night for the DH spot though. It was occupied by Chase Headley in Game Four. He went 0-for-4 with three strikeouts. The DH spot is 0-for-18 in the postseason now. Gross.
I had no problems with Girardi's bullpen usage, not that anyone asked me. I was fine with going to Betances in the eighth, I was fine with yanking him after two walks, and I was fine with Kahnle completing the game. I know people were screaming to pull Betances after the first walk, but that's not realistic. You can't send a reliever out there with a one baserunner leash every time. The dude will be walking on eggshells each time he pitches.
Chad Green and Aroldis Chapman did warm up in the bullpen at various points, though they didn't really get hot. It was more like playing catch to get loose. Green was throwing in the sixth in case Severino ran into trouble and Chapman was throwing in the ninth in case Kahnle got into trouble. Again, fine with me. Having Playing a little catch never hurt anyone.
And finally, according to Statcast, the slowest fastball thrown by the Yankees in Game Four registered at 96 mph. That is ridiculous. It's not an accident either. The Yankees built their pitching staff around power and it was on full display Monday.
Box Score, WPA Graph & Standings
Go to ESPN for the box score and MLB.com for the video highlights. Here is our Bullpen Workload page and here is the win probability graph …

Source: FanGraphs
Up Next
Game Five. After losing the first two games, that's all you could hope for. A chance to play Game Five. Tuesday is an off-day, then the two teams will reconvene at Progressive Field on Wednesday night for the series finale. That one will feature a CC Sabathia vs. Corey Kluber rematch. Fun fun fun.