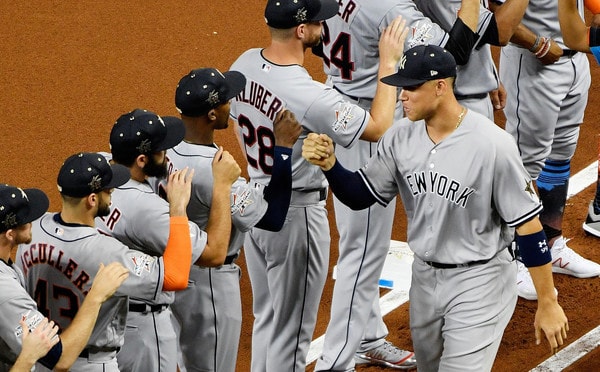 Weather permitting, the Yankees and Orioles will continue their impromptu three-game series with the middle game this afternoon. It's a scheduled 4pm ET start but there is rain in the forecast. We'll see how it goes. Here are some links and notes to check out in the meantime.
All-Star Game voting opens
Fan voting for the 2018 All-Star Game starters is officially underway. The ballot was released much later than usual this year — voting is online only now, so MLB didn't have to print paper ballots in advance — which is good. It means guys like Gleyber Torres and Ronald Acuna are included on the ballot. In years past, the ballot would've been released before they were called up. Anyway, here's the ballot. Go vote for the Yankees a few hundred times.
At the moment, I see the Yankees having four All-Stars: Aaron Judge, Luis Severino, Aroldis Chapman, and Gary Sanchez. Sanchez's numbers are a little un-Sanchez-like right now, though a) I expect them to come up these next few weeks, and b) the AL catching crop is a wasteland. There's Sanchez, Salvador Perez, and … Wilson Ramos? Yeah. Gary's a shoo-in. The other three guys (Judge, Severino, Chapman) are obvious All-Stars. Torres could definitely force the issue these next few weeks and make it five Yankees at the All-Star Game.
Duran, Then among top DSL prospects
Earlier this week Ben Badler posted a list of the top 20 prospects in the Dominican Summer League (subs. req'd). It's not a ranking. It's an alphabetical list of the top prospects who played in the DSL last year. Two of the 20 prospects are Yankees: 2B Ezequiel Duran and RHP Juan Then. I wrote about Duran a few weeks ago. Here's part of Badler's blurb on Then:
Then's velocity rose last year to 90-94 mph and he showed excellent fastball command for his age. He locates his fastball well to both sides of the plate and mixes in an advanced changeup that's a potential plus pitch in the future. Then was able to pick apart hitters with his fastball so effectively that there were starts he didn't use his curveball until later in the game. It's still an inconsistent pitch that he will need to tighten up to have success against better hitters.
The Yankees acquired Then from the Mariners in the Nick Rumbelow trade back in November. He's already started popping up in organizational top 30 prospects lists — MLB.com ranks him 23rd in the system and Baseball America had him 17th in their 2018 Prospect Handbook — and he'll join my top 30 list soon. The farm system is on the way down now due to graduations and trades. Guys like Duran, Then, Everson Pereira, and Ronny Rojas are the next wave.
Baseball America's mock draft v5.0
The draft is two days away now, and yesterday Baseball America (subs. req'd) released their latest mock draft. Auburn RHP Casey Mize is still projected to go first overall to the Tigers. The Yankees hold the 23rd overall pick. Here is Baseball America's mock selection:
23. SS Brice Turang, Santiago HS, Corona, Calif.
This is a similar situation with (Ethan) Hankins, three spots ahead. Turang would have been out of the question this far down the board prior to the season, but scouts weren't thrilled with how he hit this spring. The Yankees seem to prefer a bat, and Turang profiles better than Triston Casas given his likelihood of sticking at shortstop. Scouting Director Damon Oppenheimer is one of many who's been getting a late look at Adams as well.
Here are my write-ups on Turang and Casas. Adams is North Carolina HS OF Jordyn Adams, who I have not yet profiled. As for Turang, a top Southern California prospect who slips is certainly a good bet for the Yankees. They've been there, done that a few times (Gerrit Cole and Blake Rutherford, most notably). More importantly, the Yankees remain connected to position players moreso than pitchers. That's been a constant these last few weeks.
FanGraphs mock draft v3.0
Eric Longenhagen and Kiley McDaniel released their latest mock draft yesterday as well, and they went really big. They covered the first round, the supplemental first round, Competitive Balance Round A, and the second round. Seventy-eight picks total. Here is their mock first round selection for the Yanks:
23. New York Yankees – Anthony Seigler, C, Cartersville HS (GA)
The Yankees have been heavily tied to Virginia lefty Daniel Lynch and Seigler at this pick, along with New Hampshire prep first baseman Grant Lavigne at this pick and their second pick, if he gets there. In the event he doesn't, there's buzz that Virginia prep catcher Adam Hackenberg, who has a significant seven-figure asking price, would be a candidate.
Longenhagen and McDaniel have the Yankees selecting Lavigne with their second round pick (61st overall). Here are my write-ups on Seigler, Lynch, and Lavigne. I really like Seigler — switch-hitting (and switch-throwing!) catchers with a good all-around game are my jam — and the Yankees are very thin at catcher in the farm system, though you can't draft for need in the first round. It's too difficult to project needs two or three or four years down the line. Just take the best player. Anyway, the Yankees are once again connected to bats. You know what that means, right? Get ready for a pitcher Monday.