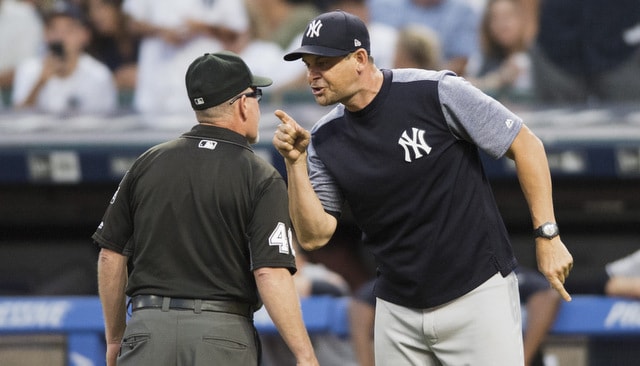 Ninety-five games into the 2018 season, the Yankees are on pace for 106 wins and every other day it seems like they do something that hasn't been done since the 1998 Yankees. That includes a 17-1 stretch earlier this year, with eight of those wins coming against the Astros, Indians, and Red Sox. Some quick numbers on the 2018 Yankees:
Run Differential: +131 (third best)
Runs Scored per Game: 5.19 (second best)
Runs Allowed per Game: 3.81 (third fewest)
wRC+: 115 (tied for best)
ERA+: 124 (second best)
A powerhouse team, through and through. At the All-Star break it is clear the Yankees, Astros, and Red Sox are the three best teams in baseball. Order them however you want. Those three stand out from the other 27 clubs. The 2018 Yankees: They're good, folks. Really good. Great, in fact.
The 2018 Yankees have a rookie manager in Aaron Boone, who came into the season about as inexperienced as possible. Yeah, he played for a while and comes from a baseball family, though he'd never coached or managed at any level. Boone went from player to broadcaster to 2018 Yankees manager. It was a risky decision for a team with World Series aspirations.
Evaluating a manager is so incredibly difficult — remember the days when we used to look at the difference between actual record and expected record based on run differential, and pin that on the manager? — because the most important part of their job happens behind the scenes, either in the clubhouse or on the team plane or at home. It's not just an X's and O's gig.
Because of that, I'm not going to bother to slap a grade on Boone as part of our midseason review like we have with the players. Instead, I'm just to pass along some thoughts and observations about the new skipper as the Yankees prepare to head into the second half.
1. Last week was a bad week. Might as well start here. Last week was Boone's worst week as a manager in terms of on-field decisions. He got burned trying to steal outs against the Orioles with CC Sabathia and Masahiro Tanaka, who were clearly running on fumes and were left in long enough to give up big home runs. Ditto Chad Green, who was also left in too long against the O's and Indians and got burned because of it.
There was also the decision to save pinch-hitter Brett Gardner for two outs in the ninth rather than use him to hit for Kyle Higashioka, who was allowed to face Zach Britton with a runner on third and one out with the Yankees down a run. (He struck out.) There's also the whole "not giving runners the red light when Giancarlo Stanton is at the plate in a close game" thing that has burned the Yankees several times. Just let the man hit with men on base!
Last week was Boone's worst week in terms of obvious managerial decisions (leaving a pitcher in too long, etc.) that didn't work out. There have been other instances like that this year where the decision did work out — I remember Sabathia being left in to get the final few outs against the Braves a few weeks ago when he was on the ropes, but he got the outs — so we all kinda forgot about them. Last week, they came back to bite the Yankees.
2. There hasn't been a radical shift in on-field strategy. If you didn't know any better, it would be hard to look at the on-field decisions and tell whether Boone or Joe Girardi was the manager. Like Girardi, Boone has a set seventh (Green) and eighth (Dellin Betances) inning guy in the bullpen. He doesn't like lefties (or righties) hitting back-to-back in the lineup. He's not a fan of bunting and, despite statements to the contrary in Spring Training, he's not opposed to letting a pitcher (Sonny Gray) have a personal catcher (Austin Romine).
The on-field decisions are generally similar and it's either because a baseball manager can only do so much to impact a game, or because so many shots are called from the front office. Or both. The Yankees are a very analytical organization and I'm not sure whether directives have been handed down, though I do know information is provided for Boone and the coaching staff. Perhaps that information has led to Boone making similar decisions as Girardi. Point is, there doesn't seem to be a big difference between the two in terms of their on-field strategy.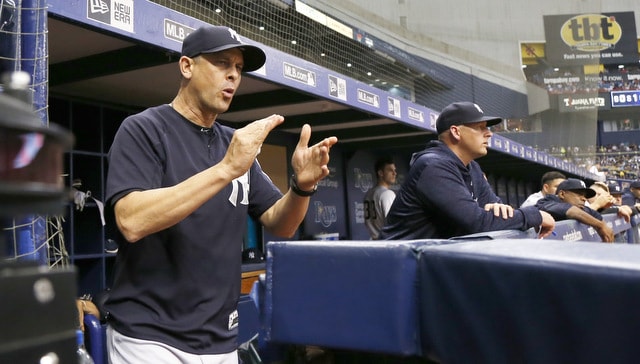 3. There have been no egregious rookie mistakes. Every manager, no matter how experienced, will make a pitching change that doesn't work out or a lineup decision that doesn't make sense. That's baseball. The egregious rookie mistakes I'm talking about are Managing 101 stuff. Consider some of the other rookie managers:
Mickey Callaway, Mets: Gave the umps the wrong lineup card and batted out of order.
Gabe Kapler, Phillies: Forgot to warm up a reliever before taking out his starter.
Dave Martinez, Nationals: Changed pitchers before the pinch-hitter was announced and lost the platoon advantage.
That's really bad! Managing 101 stuff, like I said. It's a low bar, I know, but Boone hasn't done anything like that so far. Callaway in particular seems in over his head — last week he changed his pitcher before the pinch-hitter was announced a la Martinez — and we haven't seen anything like that with Boone yet. Bad pitching or lineup decisions are whatever. Everyone does that. The basic stuff? No issues there.
4. He's great with the media. And that's not nothing. Boone is a natural with the media — surely his time as a broadcaster helps with this — and he's quite good at diffusing potential controversies. Remember when Aaron Judge got thrown out trying to steal with Stanton at the plate against the Indians last week? After the game Boone said he second guessed himself, he screwed up, and that was it. End of the story.
Girardi could be a little stubborn with the media and it created some unnecessary headaches. Remember the non-challenge in the ALDS? After the game Girardi wouldn't admit the mistake and his excuse was he didn't want to throw off his pitcher's rhythm with a challenge. Only digging a deeper hole with an excuse like that. Boone is much more personable and much more adept at diffusing any problems with the media. It's a very Joe Torre-esque quality.
5. So what happens when the intensity increases? Let's be real here, the players have made Boone's job incredibly easy so far this season. The Yankees have not experienced anything close to a crisis. Their worst stretches this year are .500 ball. They haven't had that ugly 3-9 stretch where the sky starts falling, you know? The players have made the first 95 games of Boone's managerial career very easy.
Going forward though, the games will become more important and more intense as the postseason race heats up, and we don't know how Boone will react in that environment. He seems to be the exact opposite of Girardi. Girardi was very intense and high strung, and hey, that can work. It did work for a long time. Boone is pretty much the opposite. He's very even-keeled and relaxed, and I think that is reflected in the team. The Yankees seem much more loose this year than they have the last few years. The manager sets the tone.
Will that change as we get deeper into the postseason race? Who knows. Boone's never managed and we're not going to know how he handles those pressure situations until the team actually plays in those situations. Hasn't happened yet. I think Boone will be fine. His big thing is staying in command and controlling emotions. I'd be surprised if, coming September when a postseason spot is on the line, we see Boone with that strained look on his face like Girardi.
* * *
The Yankees are so good and so talented that Boone's single biggest job is don't screw it up. Give your best hitters the most at-bats, use Green and Betances and Aroldis Chapman in the late innings of close games, and things'll be fine. Keep everyone happy and make sure there isn't a mutiny in the clubhouse. That is the Boone's single most important responsibility, and he's done that. So far, so good, though a postseason race remains uncharted territory for the new manager.