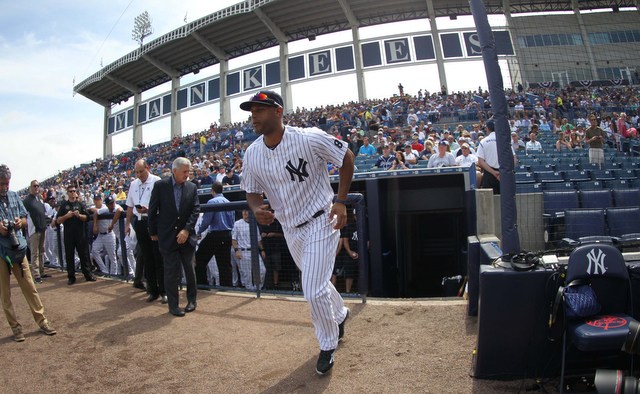 The Yankees begin their final week of exhibition games a little later this afternoon. Only seven days of Grapefruit League play to go. Hooray for that. Here are some links to help you pass the time until today's game thread comes along.
Hicks among Law's top breakout candidates
Earlier this week, Keith Law (subs. req'd) posted his annual list of the top breakout candidates for the upcoming season. These are post-hype players. Guys who were once highly touted prospects, have been in a show for a little while now, and are ready to break out and live up to their potential. Aaron Hicks is among then. Here's a snippet of Law's write-up:
Hicks, like Schoop, came up before his bat was ready — his glove was ready, but his bat had developed gradually over the previous three years — and in hindsight it appears skipping Triple-A was the wrong move for him. He was a different hitter in 2015, becoming much less passive, taking fewer strikes and looking more for pitches to drive when he was ahead in the count. Now he's moving to a better park for power and will have a full-time job from day one.

Hicks will not have a "full-time job from day one" — Law said he was joking about the injury and age concerns in the outfield — but he's going to play a lot. The Yankees have made it pretty clear. It's possible Hicks will end up starting something like four out of every five games as the regulars rest. He made some adjustments last year and it appears Hicks might indeed be on the verge of a breakout. I'm excited to see what happens this summer.
Levine takes shots at Mets over revenue sharing
According to Ken Rosenthal, Yankees team president Randy Levine took some shots at the Mets over the revenue sharing system. "What is very burdensome to us — and is unfair — is the amount of money we have to pay in revenue sharing compared, for example, to teams in our market that pay ten times less than us," said Levine. "Hopefully that is something that will get looked at in the next labor agreement."
The Yankees pay more money into revenue sharing than any other team — Levine said they paid roughly $90M in revenue sharing last year — because they generate more revenue than every other team. There's no mystery here. Commissioner Rob Manfred told Rosenthal the Yankees have been very supportive of the revenue sharing system, though they are looking forward to seeing proposed changes for the upcoming Collective Bargaining Agreement.
I doubt Levine and the Yankees will gripe too much about the Mets or any other team — I'm sure the Yankees do plenty of fancy accounting and don't want MLB digging too deep — but obviously they think it's unfair they're paying so much more than a team in the same market. We'll see how the revenue sharing system is tweaked with the next CBA, if at all.
Joe Garagiola passes away at 90
Sad news to pass along: former Yankees announcer Joe Garagiola passed away earlier this week. He was 90. Garagiola grew up with Yogi Berra in St. Louis and the two were lifelong friends — the Cardinals signed Garagiola, not Berra, out of a tryout camp in 1943 — and he played for four teams from 1946-54. After his playing career ended, Garagiola got into broadcasting, and he called Yankees games on WPIX from 1965-67. He spent most of his career on NBC's lead broadcasting team. Our condolences go out to Garagiola's family and friends.