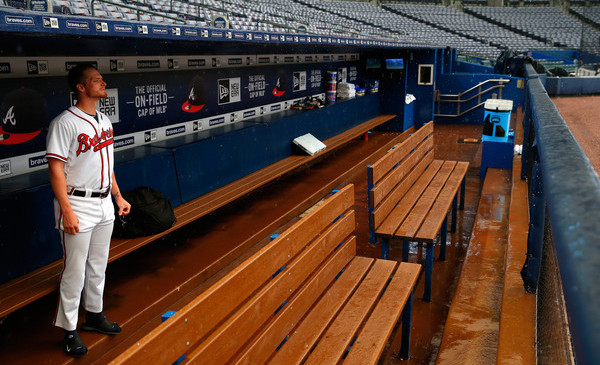 According to Jon Heyman, the Yankees are among the teams to call the Braves about right-hander Shelby Miller. Atlanta asked for Luis Severino in return, which is what I'd do. Heyman says that was merely a request and the Yankees are not seriously considering dealing Severino for Miller.
Miller, 25, had a 3.02 ERA (3.45 FIP) in 205 innings this past season, his first with the Braves after coming over from the Cardinals in the Jason Heyward deal. The Braves got Miller to emphasize his slider and cutter a little more and the result was more ground balls and fewer home runs. Fewer pitches squared up, basically.
MLBTR projects Miller to earn $4.9M next season, his first of three trips through arbitration. He can't become a free agent until after 2018. The Yankees are looking for young pitching they can control beyond 2017 and Miller fits the bill, albeit slightly. He only has that one extra year of team control.
The Braves have been after Severino for a while. The two teams talked about a potential blockbuster trade last year that would have brought Heyward and Andrelton Simmons to New York, and we know Severino was part of those talks. New GM John Coppolella, a former Yankees intern, recently told Dave O'Brien they made a "strong run" at Severino.
"We made a strong run last year with the Yankees at Luis Severino, and we didn't get the deal done last year, and now he's off-limits this year. I mean, if you feel like you have a chance to get special talent, you can't shy away from it. You've got to really jump at it and take that plunge. We were not sure that we could get these sorts of players, (the Simmons trade) was such a good opportunity for us that we wanted to seize it once it was available to us."
With their new ballpark set to open in 2017, the Braves are in the middle of a massive rebuild and are still going through the tear down process. It's hard to believe this same team won 96 games in 2013 and had all sorts of young talent on the roster. Heyward, Simmons, Justin Upton, Craig Kimbrel … all gone now.
The Braves have been emphasizing young pitchers in all of their trades, arguably too much. The attrition rate seems way to high to put all your eggs in that basket, but that's just me. Beyond Severino, the Yankees have young arms like James Kaprielian, Ian Clarkin, and Bryan Mitchell to offer. My guess is the Braves are looking for something better in return for Miller.