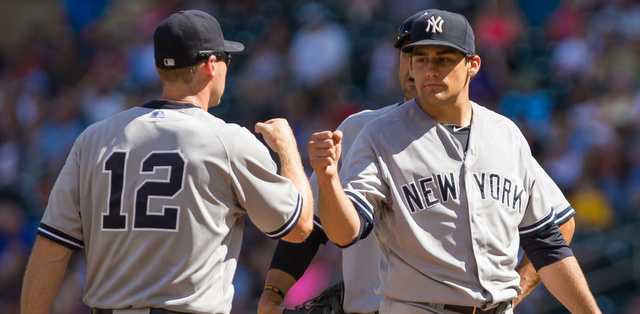 Baseball is a game of adjustments, and those who don't adjust will find themselves out of the league before long. Hitters adjust to pitchers and vice versa. The cat and mouse game never ends. Here are two adjustment related tidbits I felt were worth passing along.
Forkball to Sporkball to Splitter
Since the disaster start in Miami, Nathan Eovaldi has been the most reliable pitcher in New York's rotation, pitching to a 3.07 ERA (2.84 FIP) in seven starts and 41 innings. No, he doesn't pitch deep into games at all, but on a rate basis Eovaldi has been pretty good. He has a 4.02 ERA (2.96 FIP) in his last 13 starts including the Miami disaster.
The Yankees have been working to help Eovaldi add the splitter since Spring Training, and he's certainly been using it more and more as the season has progressed. Some call it a splitter, some call it a forkball, so I dubbed it a sporkball in our Midseason Review. As noted in that post, the sporkball randomly jumped like four miles an hour in velocity a few starts back: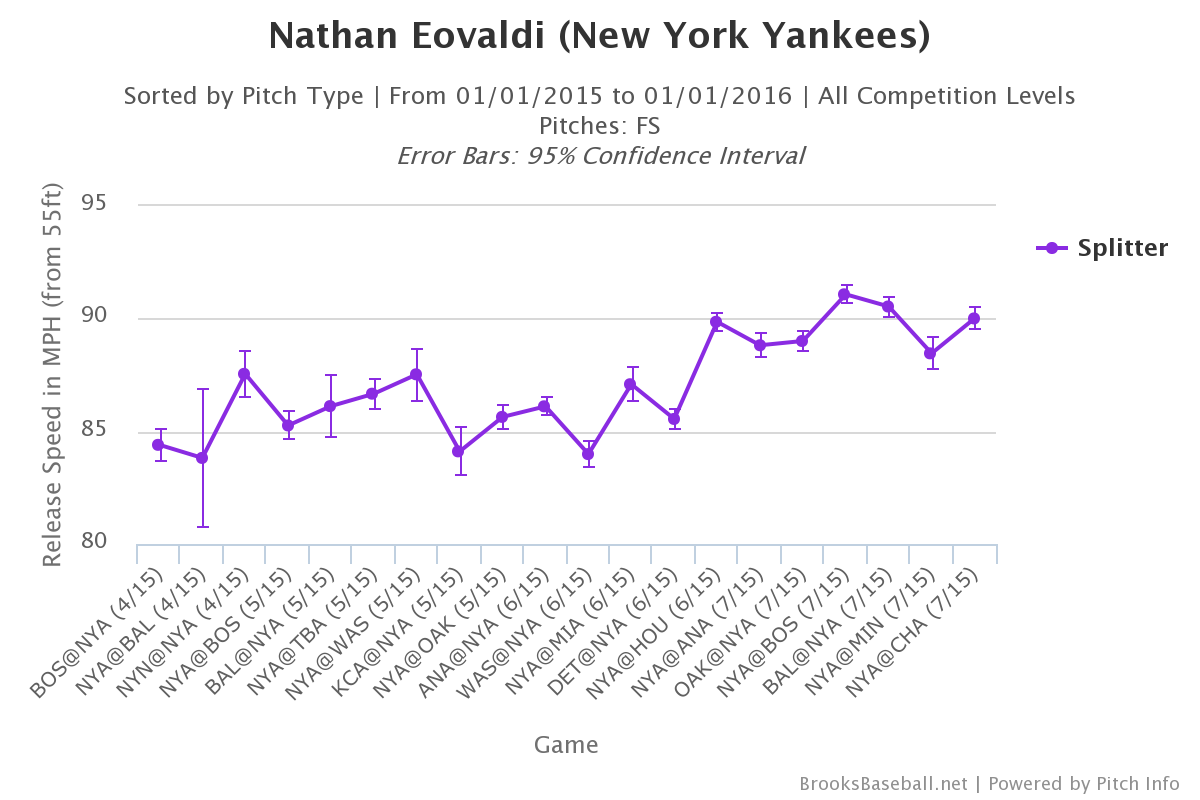 That's not normal! Pitchers usually do not just add that much velocity to one specific pitch from one start to the next. Something changed at some point along the line, and, according to Billy Witz, that something was the sporkball grip. Pitching coach Larry Rothschild told Witz they started Eovaldi off with a forkball grip, with his fingers spread far apart so he could get comfortable with it. Once that happened, they narrowed the grip. Eovaldi's now throwing a traditional splitter, hence the velocity spike. Forkballs tumble, splitters dive.
Game action grip photos are tough to come by, but here's what I was able to dig up. The grip on the left is from April 15th in Baltimore and the grip on the right is from June 26th in Houston, the first game with the velocity spike.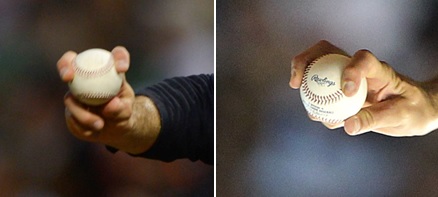 I dunno, see anything different? I appears Eovaldi's fingertips are more on the seams in the June 26th photo. His fingertips are clearly on the white of the ball in the April 15th photo. Of course, that could just be the angle of the photo. Who knows.
Since that start against the Astros, when Eovaldi's sporkball velocity first spiked, he's thrown the pitch 27.8% of the time. The pitch's swing-and-miss (15.5%) and ground ball (73.6%) rates have both been better than the MLB average for splitters as well (14.9% and 47.8%, respectively). It's a relatively small sample, so don't get too excited yet, but this split-finger pitch is clearly becoming a big part of Eovaldi's arsenal. He didn't even start throwing this thing until very late last year.
The Yankees keep saying Eovaldi is a work in progress and I know no one wants to hear that. It is true though. This splitter business shows it. At the outset of the season, Eovaldi was operating with a forkball grip just to get used to having his fingers so far part on the damn baseball. Once that happened, the team had him start throwing a traditional splitter, and now the pitch is a real weapon. Development takes time, yo.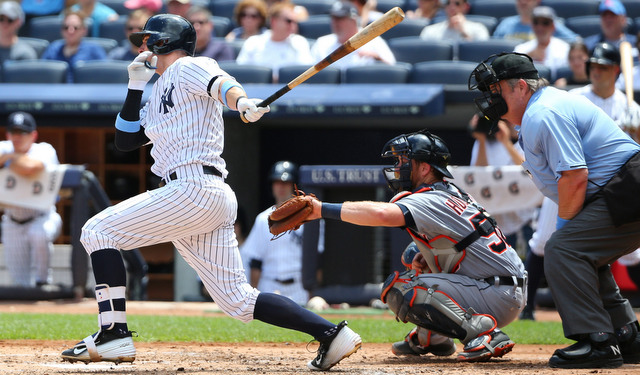 Ryan's Little But Noticeable Tweaks
About two weeks ago, the Yankees pulled the plug on the Rob Refsnyder experiment after only four games. Four games with the All-Star break mixed in. It was dumb and the Yankees hate their prospects and they're costing themselves wins in a close race and oh by the way their second baseman are hitting a combined .345/.368/.582 (~142 wRC+) since Refsnyder was sent down. How about that.
The Yankees have used a Stephen Drew/Brendan Ryan platoon at second the last few weeks and both have hit well of late. Surprising! But I think Ryan has been more surprising. At least Drew was an above-average hitter back in 2013, which wasn't that long ago. Ryan hasn't even come close to approaching league average since 2009 with the Cardinals (98 wRC+). This year though, he is 12-for-39 (.308) with four doubles and two triples. He had four extra-base hits all of last season.
Ryan went 3-for-6 with a double against the White Sox on Friday night — he also struck out against Adam LaRoche, but that's besides the point — and after the game Joe Girardi told Chad Jennings that Ryan has "made a little bit of an adjustment with the hitting coaches and he's swinging the bat good." We hear about guys making tiny adjustments all the time but usually they aren't noticeable. Ryan's have been. Check it out: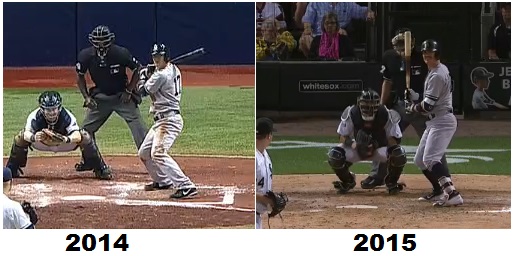 Ryan has almost an entirely new setup at the plate. His hands are lower and his stance is a bit more closed, specifically. Girardi called them "little" adjustments but they look like big adjustments. Who knows what they really mean though. Does this new setup mean Ryan is suddenly a legitimate lefty masher? Maybe! But I'll bet against it for the time being. After all, he was awarded a double on this:
I've come to hate the word luck — yes, there will always be some element of luck involved in baseball, but not everything that can't be easily explained is luck — though let's not kid ourselves here, Ryan's enjoyed some good fortune of late. That was a tailor made double play ball that went for a double because the infielder was doing … something. Who knows what.
Anyway, Ryan has been providing some nice unexpected impact against southpaws of late, and who knows if his recent mechanical changes at the plate have had anything to do that. It is at least somewhat interesting Ryan has already pulled more balls to left field for base hits this season than he did all of last season: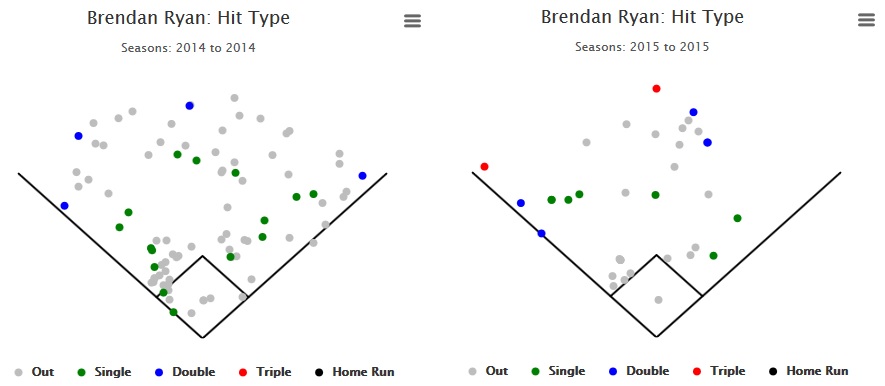 Perhaps those mechanical changes are allowing Ryan to get the bat head out a little quicker and yank the ball to left field. Who knows? Ryan's done way more at the plate than expected in an admittedly tiny amount of playing time. He's also made some mechanical changes this year, so perhaps the changes and improved production are tied together. We've seen guys like Ben Zobrist, Jose Bautista, Justin Turner, and J.D. Martinez all make relatively small mechanical adjustments that led to big increases in production in recent years.
Either way, both Eovaldi and Ryan have made adjustments this year that may or may not be having a direct positive impact on their performance. Every player makes adjustments throughout the season, they're necessary to succeed at this level, but it's not often we hear about them. Eovaldi's splitter in particular is interesting because the process of learning a new pitch — using a forkball grip to get comfortable before switching back to a splitter grip, for example — is so foreign to most of us, plus the split is clearly becoming a go-to offering for him.