Five questions for you this week and they're all good ones. Might be biased, but I this is a quality mailbag. Send us any questions or comments or whatever through the Submit A Tip box in the sidebar.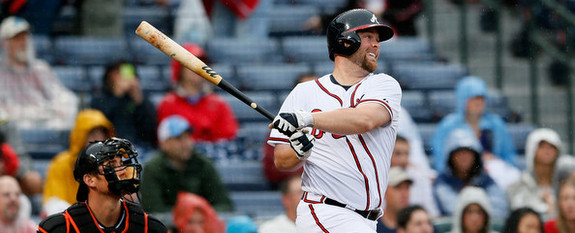 Many people asked: What about signing Brian McCann this offseason?
Not sure what sparked it, but we got a ton of McCann questions this week. I guess people are just sick of watching the team's current catchers on a daily basis.
Anyway, the 29-year-old McCann is scheduled to become a free agent this winter for first time in his career. A right shoulder injury really hampered him last season (87 wRC+), but he's rebounded very well from offseason surgery to produce a .258/.333/.472 (125 wRC+) line that is right in line with his career norms (117 wRC+). Surgery on the front shoulder is a scary thing for a hitter, but McCann has come back very well and hasn't seen a slip in his performance. It's encouraging if nothing else.
Elite catchers — if McCann isn't considered elite, then he's damn close — almost never hit the open market, so McCann will be one of the hottest commodities out there this winter. Yadier Molina signed a five-year, $75M extension last year and I think that's the baseline for McCann. Yes, we're comparing an extension to a free agent, but Molina is also the better player. I think 5/75 is in the ballpark at least. Seems reasonable enough to me.
Now, the problem with signing a soon-to-be 30-year-old catcher to a five-year contract is that you can't expect him to catch full-time all five years. It could happen, but McCann would be the exception and not the rule. I think you have to go into the deal thinking he can catch full-time for the first two years, split the third year at catcher and first base, then split the fourth and fifth years at first base and DH. Maybe you get lucky and you get three years as a full-time catcher instead of two.
McCann makes a ton of sense for the Yankees for many reasons. First and foremost, he's a massive upgrade over their current catchers. He's better than all of them put together. Secondly, he's a left-handed hitter who should see his production tick up with the move into Yankee Stadium. Third, he has plenty of experience with division and playoff races and all that stuff. And fourth, the timeframe works well. A young catcher like Austin Romine or J.R. Murphy could be broken in slowly these next few years a la late-1990s Jorge Posada, and if things break right down the line, Gary Sanchez will be able to step in right when McCann is turning into a pumpkin. He's a great, great fit for New York.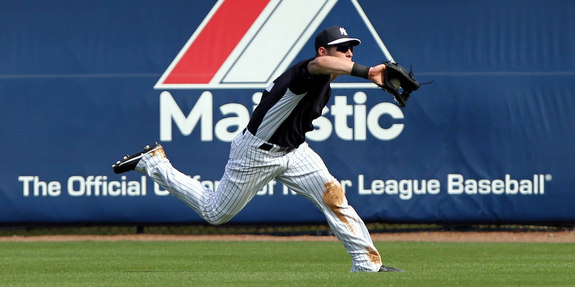 Nick asks: Who is Rule 5 Draft eligible this offseason?
For all intents and purposes — there are some exceptions, players drafted particularly young or old — it's high school players from the 2009 draft and college players from the 2010 draft this year. International players who signed at 18 or younger prior to 2008 or signed at 19 or older prior to 2009 are eligible as well. It's always tough to pin down the international guys because we usually don't know the exact date they signed.
The Yankees already took care of one piece of Rule 5 Draft business by adding Murphy to the 40-man roster this month. He would have been eligible this year and obviously would have been protected. As best I can tell, the following players are also Rule 5 Draft eligible this winter: CF Slade Heathcott, RHP Shane Greene, RHP Bryan Mitchell, RHP Tommy Kahnle, RHP Danny Burawa, RHP Chase Whitley, and RHP Zach Nuding. That appears to be it among the legitimate prospects. Sanchez has at least one and possibly two more years to go before becoming eligible..
Heathcott is obviously going to be protected since he is one of the team's top prospects. Greene, Kahnle, Burawa, and Whitley are all damn near MLB ready and would be prime Rule 5 Draft bait. All four would get picked if left unprotected. The Yankees floated Kahnle's name in trade talks before the deadline (for both Alfonso Soriano and Michael Young), which leads me to believe they are leaning against not protecting him. They were trying to get something before losing him for nothing. Greene had the best year of those four and is the only one with a realistic chance of starting.
Mitchell has a great arm but it's hard to believe he could stick on a 25-man roster all of next season. He's someone who would get a look in Spring Training and be offered back, more than likely. Nuding too. That said, Jose Ramirez was in the same boat last year and he wound up being protected. The Yankees have been rather aggressive when it comes to protecting Rule 5 Draft guys in recent years — I feel like almost losing Ivan Nova to the Padres in 2008 scared them into protecting everyone — so I wouldn't be surprised if they added Heathcott, Greene, Burawa, Whitley, and Mitchell to the 40-man this winter. Greene, Burawa, and Whitley would be up-and-down bullpen options as soon as next summer, if nothing else.
Kevin asks: As bad as the farm system was this year, doesn't it seem just as likely next year could be a bounceback season? Say two of Mason Williams, Tyler Austin, and Heathcott bounce back, Sanchez stays steady, and Greg Bird and Rafael DePaula continue to progress, can't you see next year we're talking about a Top 10 system? This stuff seems to considerably vary year-to-year.
Definitely. This was a bad year for the farm system but there is a lot of potential room for improvement. Literally every team has those "if this guy bounces back, if that guy stays healthy, etc." prospects, but the Yankees have more than most. They're adding what amounts to five first round talents into the system as well: 3B Eric Jagielo, OF Aaron Judge, LHP Ian Clarkin, RHP Ty Hensley, and LHP Manny Banuelos. The first three were this summer's first rounders and will be playing in their first full pro season while Hensley (2012 first rounder) and Banuelos (2012 top prospect) will be returning from injury. Full years from SS Abi Avelino and RHP Luis Severino will help as well. A lot would have to break right — it all won't, some of these guys will inevitably disappoint — but the farm system has a chance to take a major, major step forward in 2014.

Paul asks: When does Joe Girardi have to announce a starter for a game? Is he able to use his Phil Hughes/David Huff tandem to somehow get the opposing manager to start his lefty-heavy lineup while starting Huff instead of Hughes?
The rulebook says that the starting pitcher becomes official when the lineup cards are exchanged at home plate before the start of the game. At that point the listed starter must face at least one batter before he can be replaced like every other pitcher. So, if they wanted the other team to start their lefty-mashing lineup against Hughes and replace him with Huff, they would have to wait at least one batter.
That said, this isn't all that practical because Huff will need some time to warm up and the other club would see him getting ready in the bullpen beforehand. There's also a gamesmanship aspect to this. I don't think something like this would go over well around the game. If Hughes were to get hurt? Sure. But otherwise … eh.
Justin asks: Two part Brendan Ryan question. Recently, the YES announcers have quoted Kevin Long saying he could "fix" Ryan's swing. A) Do you think that he can bring him to respectability of maybe a .260 hitter? B) Is he a better 2014 option over Jhonny Peralta or Stephen Drew?
Long is just a hitting coach, not a miracle worker. Ryan has never been an adequate hitter — career .252/.303/.341 hitter … in Triple-A — and it's hard to think Long could do anything that would suddenly transform him from a .238/.300/.321 career big league hitter into say, a .260/.320/.350 guy for even one year. It could happen, baseball is weird like that, but I don't think there's enough starting material here for that to happen.
As for 2014, I think Ryan would be my last resort at shortstop. Well, second to last ahead of Eduardo Nunez. (Sorry Eddie, I'm over you.) I prefer Drew — a slick defender and a Yankee Stadium-friendly lefty hitter — over Peralta by quite a bit among free agent options, but both guys would be real nice fits next year. Drew could play short while Peralta takes over at third for the presumably suspended Alex Rodriguez. I do think — and this is completely baseless, by the way, just a guess — the Yankees want to avoid Biogenesis/PED guys going forward though, so Peralta might be a non-option. Ryan's been a nice little late-season pickup but I absolutely do not want that guy penciled in as the number one shortstop come Opening Day.