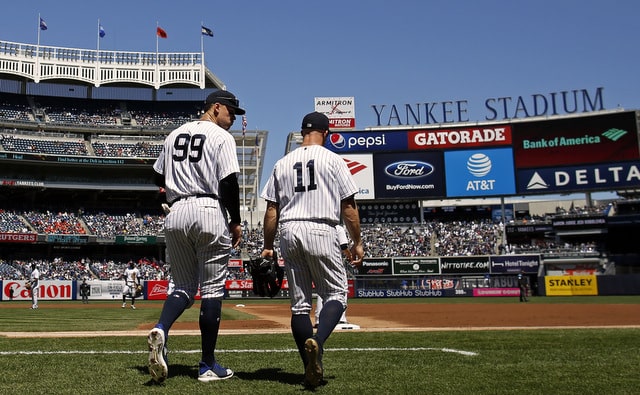 November 4th: The Gold Glove awards were announced tonight and neither Gardner nor Judge nor Tanaka won. Gordon won in left field, Betts won in right field, and Keuchel won at pitcher. Here are all the Gold Glove winners. Too bad Tanaka didn't win. I thought he deserved it.
October 25th: Earlier today MLB and Rawlings announced the finalists for the 2018 Gold Glove awards. They've been announcing finalists for a few years now, I guess as a way to drum up interest. There are three finalists at each position in each league.
Anyway, here are all the Gold Glove finalists. The Yankees have three:
Left Field: Brett Gardner (up against Andrew Benintendi and Alex Gordon)
Right Field: Aaron Judge (up against Mookie Betts and Kole Calhoun)
Pitcher: Masahiro Tanaka (up against Dallas Keuchel and Corey Kluber)
Gardner and Judge were finalists last season as well, when they lost to Gordon and Betts, respectively. Mookie will win his third straight Gold Glove in right field for sure. He's unreal out there. Also, Judge missed all that time with the wrist injury and that'll hurt him. Gardner could beat out Benintendi and Gordon. Left field is up for grabs.
As for Tanaka, I'm very pleased his defense is finally getting some attention. Luis Severino is sneaky good in the field as well, but Tanaka is the best fielding pitcher the Yankees have had in quite some time. Of course, Tanaka made a pretty terrible error in the final week of the season. Remember this?
Good grief. That was the first and so far only fielding error of Tanaka's big league career. (His only other error came came on a thrown away pickoff throw.) For what it's worth, Tanaka led all AL pitchers with +7 Defensive Runs Saved this year.
It wasn't close
. If he wins, he'd become the first Yankees pitcher to win a Gold Glove since Mike Mussina (2001, 2003, 2008).
The only Yankees who deserve Gold Glove consideration aside from Gardner, Judge, and Tanaka are Didi Gregorius and Aaron Hicks, and neither is among their position finalists. Francisco Lindor, Marcus Semien, and Andrelton Simmons are up at shortstop. Jackie Bradley Jr., Adam Engel, and Mike Trout are up in center. Engel, man. That guy's so annoying.
The last Yankee to win a Gold Glove was Gardner in 2016. The Yankees haven't had multiple Gold Glove winners in a single season since Mark Teixeira and Robinson Cano in 2012. The Gold Glove winners will be announced live during an ESPN broadcast on Sunday, November 4th at 9pm ET. They're announcing them at 9pm ET on a Sunday? Whatever.