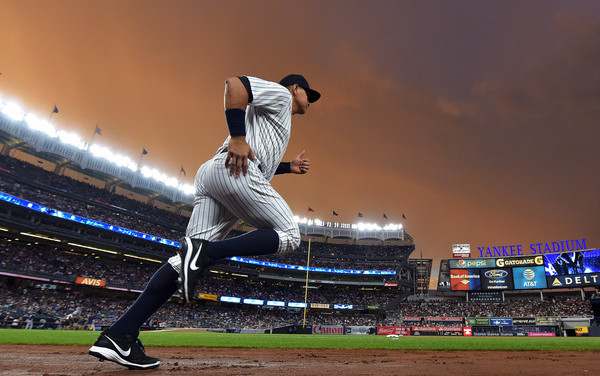 Way back when Mariano Rivera left the Yankees, I was writing for another site and had previously written about life after Mo. However discomforting it may have been to be without the world's greatest security blanket (aside from my actual security blanket from childhood, of course), I felt a sense of optimism going forward. The Yankees had survived a year without him with Rafael Soriano closing and had David Robertson waiting to take over for Mr. Untuck. As it turns out, things have been A-OK in the closer department for the Yankees since Rivera left. Ironically, that stability has come in the form of many different pitchers, which serves to highlight Mariano's consistency. Now, we're left with a similar vacancy with Alex Rodriguez's release/retirement hybrid. Though I've hardly begun to process what it means to me as a fan that A-Rod will no longer be on my favorite team, it's time already to look forward to 2017 and beyond without him. Nothing made that clearer than Tyler Austin and Aaron Judge arriving with authority yesterday, each collecting two hits and a home run in their Bronx and big league debuts.
Regardless of our attachments to A-Rod, at the end of the day, he was a roster spot and a position to the Yankees–the designated hitter. For the rest of the year, it looks like that spot will be filled by some combination of Brian McCann and Gary Sanchez, presumably with Mark Teixeira taking a few games in when he needs a blow at first base, provided, of course, by Tyler Austin. The use of McCann and Sanchez in some sort of catcher/DH rotation makes sense: both have good bats and it's worthwhile to pace Sanchez's arrival, rather than just throwing him into things right away. How this bodes for next year, especially given Austin Romine's general competence as a backup this year, is another interesting angle.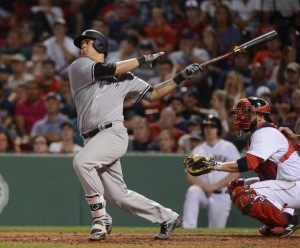 Mike touched on the idea of three catchers in a mailbag about two weeks ago, and with Rodriguez leaving, the idea of three catchers in 2017 makes a lot more sense now. And given that Austin Romine has seen time at first base this year, it gives the Yankees some flexibility that a three catcher roster would normally prohibit. How could the Yankees manage their three catchers, as wall as the (expected to be) returning Greg Bird at first base? Let's take a look.
On the average week in MLB, a team will likely have one of Monday or Thursday off. For argument's sake, let's say it's a week when the Yankees have a Monday off and have night games, with the exceptions of Saturday and Sunday. They could go with a simple every-other-day rotation, alternating McCann and Sanchez at C/DH from Tuesday-Saturday with Romine going on Sunday, allowing Joe Girardi to play to the matchups for the DH spot. Tough lefty? Go with Sanchez. Tough righty? Go with McCann.  Alternatively, they could catch in chunks: McCann on Tuesday and Wednesday, Sanchez Thursday and Friday, Romine on Saturday, and one of McCann or Sanchez on Sunday. If Bird needs a day off or a half day off, Romine could slip over to first with Bird sitting or DHing, putting one of McCann or Sanchez on the bench.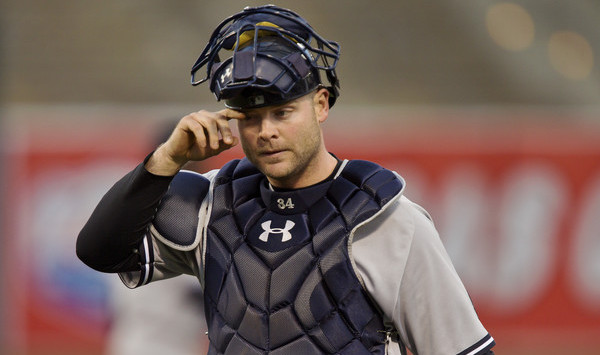 Assuming Brian McCann is on the team next year, he is going to be the centerpiece of the offense with Rodriguez, Tex, and Carlos Beltran gone. Gary Sanchez is going to be a big part of bolstering and supporting the lineup and getting each player rest will be crucial to continued offensive success. Additionally, while the defensive outlook for Sanchez is better than it initially was, it's doubtful he'll be as skilled as McCann in the immediate future–despite his proficiency at throwing out runners–and breaking him in gradually may help that development.
Alex Rodriguez was a complex person and player whom I'll miss dearly. It was a joy to watch him play for my favorite team over the last twelve years. However, despite that feeling, the Yankees are well-positioned to creatively replace him and his production at DH.