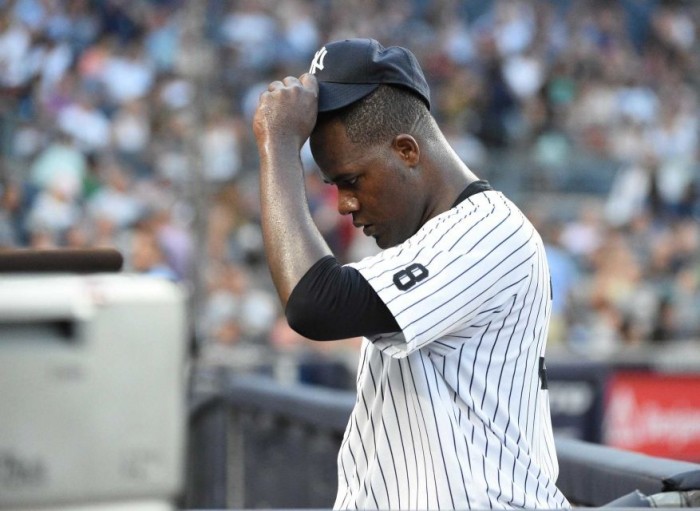 Different half, same Yankees
Four days of rest did little to change the narrative of the Yankees' 2016 season. The faint glimmer of hope that flickered after the Yankees notched a huge pre-break series victory over the AL Central-leading Indians was quickly extinguished as the Yankees suffered another depressing defeat, 5-3, to the Red Sox on Friday night.
The loss dropped the Yankees to 44-45, the first time they've had a sub-.500 record at any point after the All-Star break since 1995. That season, after losing to Mariners on September 5, the Yankees fell to 60-61 but then went 19-4 down the stretch to capture the AL Wild Card.
It was a familiar Jekyll-and-Hyde performance for Michael Pineda, who has been maddeningly inconsistent this entire season. He flashed some electric stuff in the first few innings as he retired the first eight batters, including four via strikeouts, but then fell apart.
He was undone by a few poorly located fastballs that the Red Sox crushed, resulting in three homers and five runs surrendered in five innings. Opponents have slugged .648 against his cut fastball, the highest slugging percentage allowed on a fastball (four-seam, two-seam, cut) by any pitcher in the majors (min. 150 batted balls).
Carlos Beltran's two-run single in the sixth inning helped the Yankees avoid a shutout and marked a historic milestone for the 39-year-old as he became the fourth switch-hitter to with 1,500 career RBI (Eddie Murray, Chipper Jones, Mickey Mantle).
The hit also put Beltran in a select group of prolific run-producers who also possessed the key speed tool. He is just the fifth player in major-league history with at least 300 stolen bases and 1,500 RBI joining Barry Bonds, Alex Rodriguez, Willie Mays and Andre Dawson.
Sabathia sinking fast
Not even a matchup with the pitcher who owned the AL's highest ERA (minimum five starts) could spark the Yankees anemic offense on Saturday afternoon.
Eduardo Rodriguez and his 8.59 ERA silenced the Yankee bats, who were held to two runs or fewer for the 35th time in 90 games this season in a 5-2 loss at the Stadium. That's the Yankees' most games of no more than two runs scored — at the 90-game mark — since the designated hitter rule was established in 1973.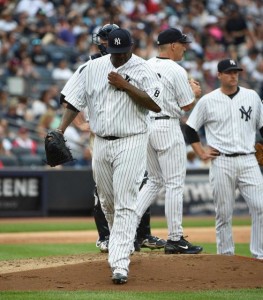 Despite his struggles this season, Rodriguez has a history of dominating the Yankees and now owns a 2.01 ERA in five career starts against them. He hasn't given up more than two runs in each of those outings, the first Red Sox pitcher to post five straight starts with two runs or fewer against the Yankees in nearly five decades (Dave Morehead, 1965-68).
It was another ineffective outing by CC Sabathia, who continued his downward spiral with five runs allowed in five-plus innings. He's now given up at least five runs in five straight starts, the first time he's ever put together a streak like that in his career.
Opponents are crushing his sinker, slugging a ridiculous .633 off the pitch during this horrid five-game stretch, a 300-point increase from his first 11 starts of the season. The two-seamer has also lost its effectiveness as a weak-contact weapon for Sabathia: the pitch has a ground ball rate of just 28 percent in his last five outings compared to 49 percent in his first 11 games.
Feeling the heat in July
The Yankees avoided the sweep and kept the For Sale sign in the closet for at least another day as they beat the Red Sox, 3-1, on Sunday night. They overcame an early deficit to notch their 27th comeback win of the season — that's a whopping 60 percent of their 45 total wins. Last year, only 46 percent (40 of 87) of their wins were of the come-from-behind variety.
Austin Romine plated the game-winning run with a two-out, tie-breaking RBI single in the fourth inning, but it was another masterful performance by Masahiro Tanaka that put the Yankees in position to end their post-break slump. Tanaka held the league's most potent offense to just one run on three hits, striking out seven in six innings.
It's hard to fathom where this team would be without Tanaka's ace-like numbers this season:
He's been consistently excellent at preventing runs: This was Tanaka's 13th outing allowing two earned runs or fewer, tied with Chris Tillman and Aaron Sanchez for the most such starts among all AL pitchers this season.
He is at his best against the Yankees' biggest rivals: Tanaka now has a 1.58 ERA in seven starts versus the AL East this season.
He is a streak-stopper: Tanaka improved to 4-1 with a 2.36 ERA in eight games following a Yankee loss this season.
He gives the team a chance to win every time: The Yankees are 14-5 in his starts and 31-41 when anyone else starts.
Tanaka's been great.