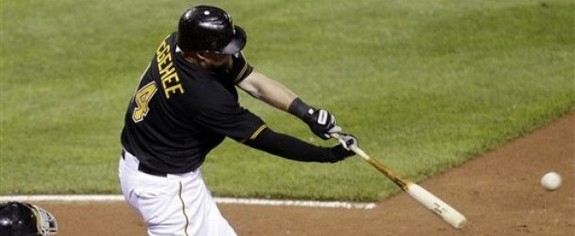 The Yankees apparently had very real interest in acquiring Ryan Dempster prior to yesterday's trade deadline (according to Joel Sherman), but they instead walked away having made just one minor move, sending Chad Qualls to the Pirates for corner infielder Casey McGehee. Considering that Qualls was on his way out once Joba Chamberlain was ready to come off the DL, give Brian Cashman credit for turning a completely disposable piece into a potentially useful one. Alex Rodriguez's hand injury created a need for some infield depth, and that's exactly what they got.
McGehee, 29, is a classic right-handed platoon bat who can hold down both first and third base. He's hitting .250/.344/.463 (119 wRC+) against southpaws this season and owns a .259/.327/.427 (100 wRC+) line for his career against pitchers of the opposite hand. McGehee had an excellent rookie campaign as a part-time player in 2009 (124 wRC+) and was solid in full-time duty in 2010 (114 wRC+), but he started to get exposed a bit with more playing time these last two seasons…
Year
Age
Tm
G
PA
H
2B
3B
HR
BB
SO
BA
OBP
SLG
OPS
OPS+
GDP
HBP
IBB
2008
25
CHC
9
25
4
1
0
0
0
8
.167
.160
.208
.368
-7
1
0
0
2009
26
MIL
116
394
107
20
1
16
34
67
.301
.360
.499
.859
126
13
1
2
2010
27
MIL
157
670
174
38
1
23
50
102
.285
.337
.464
.801
114
18
2
5
2011
28
MIL
155
600
122
24
2
13
45
104
.223
.280
.346
.626
69
19
1
4
2012
29
PIT
92
293
61
13
1
8
24
60
.230
.297
.377
.674
88
7
2
0
5 Yrs
529
1982
468
96
5
60
153
341
.260
.316
.419
.735
97
58
6
11
162 Game Avg.
162
607
143
29
2
18
47
104
.260
.316
.419
.735
97
18
2
3
The Yankees aren't going to ask McGehee to play regularly, not unless something goes horribly wrong or he just hits the snot out of the ball and forces his way into the lineup. They acquired him specifically to combat lefties and provide some right-handed pop while A-Rod is on the shelf, presumably from the bottom third of the order. Don't count on him being a savior.
One thing that McGehee really has going for him is his opposite field stroke (here's some video), something he's maintained even during his two subpar seasons. During his career he's hit .336 with a .199 ISO on balls hit to right field, good for a 128 wRC+. The numbers since the start of 2011 are essentially identical, a .328 average with a .199 ISO and a 128 wRC+ that ranks 17th out of all right-handed batters with at least 100 balls in play to the opposite field. The 16 guys ahead of him are basically the best right-handed hitters in the world, I'm talking Matt Kemp, Ryan Braun, Andrew McCutchen, Miguel Cabrera … pretty great hitters. McGehee's opposite field production is a notch below those guys but still very good.
Thanks to the magic of Texas Leaguers, we can take a quick look at his spray chart over these last two seasons…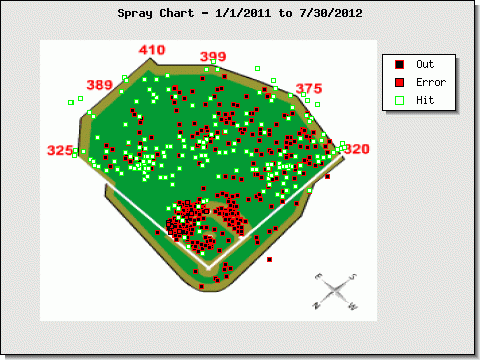 Remember, the dots show where the ball was fielded by the defender, not where it landed. McGehee has hit 21 homers since the start of 2011 and I unofficially count 15 that have been hit out to right and right-center. Given the short right field porch in Yankee Stadium, he has a chance to be surprisingly productive if he just maintains his natural stroke and is platooned properly. Only half of that is under his control, it's up to Joe Girardi to take care of the other half.
Once Mark Teixeira's wrist heals up and he's back at first base full-time, I suspect we'll see McGehee play third base against southpaws regularly while Andruw Jones starts at DH and Jayson Nix roams left field. He could make his Yankees debut as soon as this afternoon with the left-handed Zach Britton on the mound, though that depends on his travel schedule and what not. The Yankees aren't going to be able to replace all that A-Rod gives them but they do have some solid substitutes. McGehee might work out or he might not (when the cost is Chad Qualls, the team is playing with house money), but he has the skillset to be productive in the role he's being asked to fill.