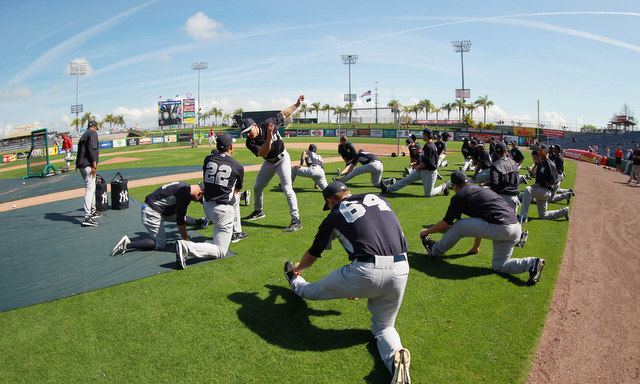 Earlier today the Yankees announced their list of non-roster Spring Training invitees for the 2016 season. A total of 25 non-roster players were invited, so add in the guys on the 40-man roster, and the Yankees will have a total of 65 players in Spring Training this year. Last season they had 68.
Here are the 25 non-roster players who will be in Tampa this spring. As always, everyone on the 40-man roster will be there as well.
CATCHERS (6)
Carlos Corporan
Francisco Diaz
Kyle Higashioka
Eddy Rodriguez
Sebastian Valle
Santiago Nessy
INFIELDERS (6)
Jonathan Diaz
Pete Kozma
Jorge Mateo
Deibinson Romero (recently signed as a minor league free agent)
Donovan Solano
Tyler Wade
OUTFIELDERS (3)
Dustin Fowler
Aaron Judge
Cesar Puello
PITCHERS (10)
LHP Richard Bleier
RHP Tyler Cloyd (recently signed as a minor league free agent)
RHP Domingo German (rehabbing from Tommy John surgery)
RHP Chad Green
RHP James Kaprielian
RHP Brady Lail
RHP Diego Moreno
RHP Vinnie Pestano
RHP Anthony Swarzak
LHP Tyler Webb
Obviously some players have a much better chance of making the Yankees than others. Mateo, for example, has close to zero chance of making the Opening Day roster. He'll be in camp so the big league coaching staff can get a firsthand look at arguably the top prospect in the organization. The same applies to Kaprielian, last summer's first round pick, and Judge.
Right now the Yankees have five open big league roster spots: three in the bullpen, the backup catcher, and the final bench spot. Gary Sanchez and Austin Romine are the main candidates for the backup backstop job along with Corporan. It seems like the Yankees want Sanchez to be the guy, but there are service time reasons to send him to Triple-A for a few weeks (35 days in Triple-A equals an extra year of team control). All those extra catchers will be in camp to help catch bullpens and stuff.
Brian Cashman has confirmed the Yankees intendt the use their final bench spot as something of revolving door. They want to rotate players in and out based on their needs at the time, and that includes adding an eighth reliever on occasion. Remember, position battles do not end when Spring Training is over. Whoever gets those three bullpen spots and the two bench spots will have to produce during the regular season to keep the job.
Pitchers and catchers are due to report to Tampa on Thursday, February 18th. That's two weeks from yesterday. Position players will report on Wednesday, February 24th, and the first full squad workout will follow on February 25th.