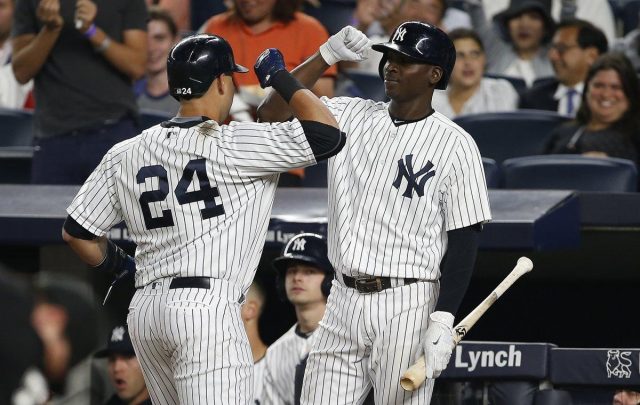 Old Man Ace + Baby Bombers = Win
The Yankees kicked off the Most Important Series of the Season® with a 6-2 romp over the Red Sox on Thursday night.
While other pitchers on the team have better pure stuff than CC Sabathia, there isn't a guy the Yankees would rather have on the mound trying to halt a three-game slide while facing their hated division rival:
Sabathia is now 8-0 with a 1.44 ERA in 10 starts following a Yankee loss this season. That's the best ERA among all MLB pitchers with at least six such starts through Thursday.
He went 4-0 with a 1.04 ERA in four starts against the Red Sox this season. That's tied for the fifth-lowest single-season ERA by a Yankee against the Red Sox, among the nearly 200 guys that have made at least four starts vs them.
Only four other starters in franchise history won at least four games in a season versus Boston with an ERA as low as Sabathia's: Spud Chandler (1943), Lefty Gomez (1934), Bob Shawkey (1923).
Sabathia has won five straight starts against the Red Sox dating back to September last year. Over the past 50 years, Mike Mussina (2001-02) and Sabathia are the lone Yankee pitchers to beat the Red Sox five starts in a row.
Gary Sanchez capped off another stellar August by going 2-for-5, hammering a game-tying solo homer in the third and then delivering a game-winning RBI single in the fifth. He finished with 12 homers in the month, producing a slew of cool statistical nuggets:
Sanchez is the fifth player under age 25 in franchise history to hit a dozen homers in any calendar month, joining Don Mattingly (Sept. 1985), Mickey Mantle (three times), Joe DiMaggio (twice), and Lou Gehrig (June 1927).
The only Yankee right-handed batters in the last six decades with 12-or-more dingers in a month are Sanchez and Alex Rodriguez (August 2005, April 2007).
Sanchez and Yogi Berra (1952) are the only catchers in franchise history with a dozen homers in a calendar month.
He is one of six Yankees to reach 12 homers in August. You might have heard of the other guys: A-Rod (2005), Mantle (1955, '56), DiMaggio (1939) and Babe Ruth (1929).
Combined with his awesome August last year, Sanchez now has a 1.133 OPS in 52 career games in the month. Here's a list of MLB players with the highest career August OPS (min. 100 plate appearances) over the last 100 seasons:
| Name | OPS |
| --- | --- |
| Babe Ruth | 1.134 |
| Gary Sanchez | 1.133 |
| Lou Gehrig | 1.111 |
Slipping away
One up, one down …. the Yankees rollercoaster season kept chugging along on Friday night as they followed up an encouraging win with another lackluster loss.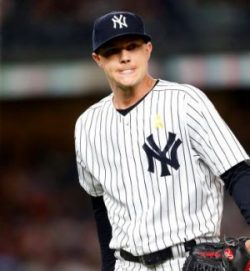 The Red Sox got only five hits off Sonny Gray, but three of the them went over the fence and resulted in all four of the runs Boston scored in the game. That snapped Gray's streak of 11 straight starts with no more than two earned runs allowed, the longest in the majors this season.
That the streak ended because he got burned by the longball was stunning: Gray entered the game with the majors' lowest home run rate allowed (0.71 per 9 IP) among pitchers with at least 120 innings. Also prior to Friday, the Red Sox had hit the fewest homers in the AL and ranked 29th in MLB in percentage of runs scored via home runs (34.7%).
Red Sox outfielder Andrew Benintendi continued his assault on Yankee pitching with a solo homer. It was his fifth dinger at Yankee Stadium in 2017, joining Jim Rice (1983) as the only Red Sox players to hit five homers there in a single season. More impressive, the 23-year-old became the youngest visiting player ever to go deep five times in a season at either version of the storied ballpark.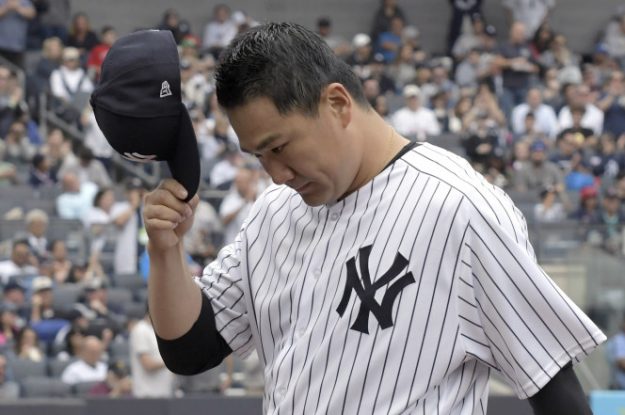 Ace 'Hiro
In full desperation mode and facing perhaps their most critical game of the season so far on Saturday, the Fighting Spirit kicked in and the Yankees pulled off their latest and greatest Biggest Win of the Season®.
Masahiro Tanaka's transformation from dud to stud over the last two-plus months has been remarkable. His seven-inning, five-hit, one-run gem against the Red Sox gave him a 2.77 ERA over his last 12 starts, a massive turnaround from the 6.34 ERA he posted through his first 14 starts of the season.
He dominated the Red Sox by pounding the bottom of the zone with a well-located mix of sharp sliders and splitters, generating a ton of weak contact and grounders. Per Fangraphs, half of the 22 balls in play against Tanaka were classified as "soft contact," the highest rate in any of Tanaka's 101 career starts. And Statcast tracked those batted balls with an average exit velocity of 78.8 mph, the lowest that Tanaka has allowed in the 81 starts he's made in the Statcast era (since 2015). As you can see in the spray chart below, nearly everything the Red Sox hit was either in the infield or a weak fly ball: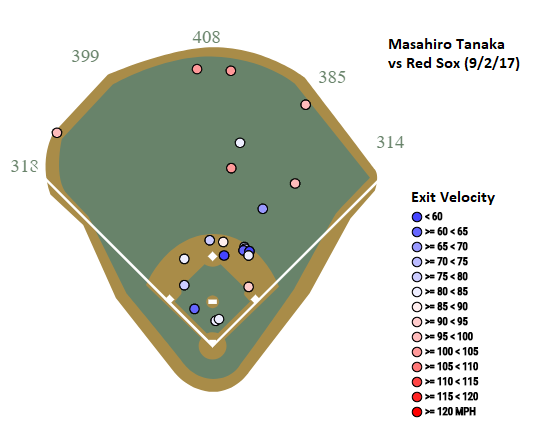 Matt Holliday's overall numbers are well below his career standards, but he still has been a difference-maker in the lineup because of his ability to consistently deliver big, clutch hits. His tie-breaking, three-run homer in the sixth inning increased his slugging percentage with RISP to .671 this season, the fourth-best mark in the AL (min. 90 PA).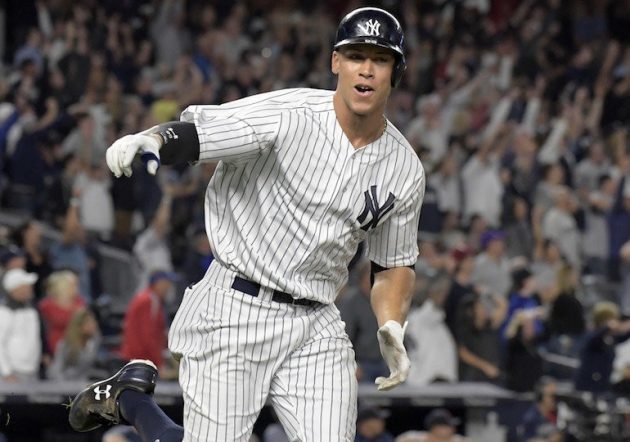 Victory with an exclamation point
The Yankees kept alive their dreams of an AL East title with an emphatic 9-2 win on Sunday night, cutting Boston's division lead to 3 1/2 games with one month left in the season.
Chase Headley sparked the offensive explosion with a line-drive homer in the third inning. The wallscraper came on an 0-2 pitch from Chris Sale, making it one of the unlikeliest homers of the season. It was the 129th career homer allowed by Sale but just the fifth one that came on an 0-2 pitch. And it was just the third time in Headley's career that he homered off an 0-2 pitch from a lefty, and the first since 2013.
The Yankees continued to pummel Sale in the next frame when Matt Holliday and Todd Frazier homered in consecutive at-bats to give the Yankees a 3-0 lead. It was the first time ever that Sale has allowed back-to-back homers in a game. Each of the three longballs that Sale coughed up came in a two-strike count — a remarkable feat by the Yankees considering that entering Sunday, Sale had allowed a slugging percentage of .167, the second-lowest mark in the majors (min. 200 batters faced).
Aaron Judge joined the homer party when he crushed a 469-foot bomb to left-center in the sixth inning. It was his 38th home run of the season, matching Wally Berger (1930) and Frank Robinson (1956) for the second-most ever hit by a rookie in major-league history; the only player with more is Mark McGwire with 49 in 1987.
Luis Severino bolstered his own Cy Young case with another dominant gem, holding the Red Sox to one unearned run on two hits while striking out nine. It was his 14th start surrendering no more than one run, the most such games by any pitcher in MLB this year.
Sevy also reach a significant milestone when he whiffed Sandy Leon for the final out of the fifth inning. It was his 200th strikeout of 2017, as he joined Al Downing (1964) as the only pitchers in franchise history to strike out at least 200 batters in a season at age 23 or younger.