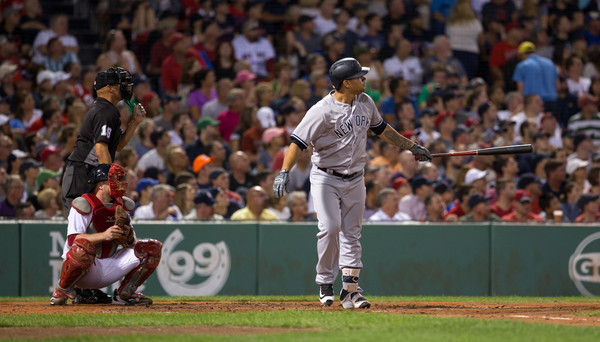 Ever since Statcast burst on to the scene last year, exit velocity has become part of the baseball lexicon. It's everywhere now. On Twitter, in blog posts, even on broadcasts. You name it and exit velocity is there. Ten years ago getting velocity readings of the ball off the bat felt impossible. Now that information is all over the internet and it's free. Free!
Needless to say, hitting the ball hard is a good thing. Sometimes you hit the ball hard right at a defender, but what can you do? Last season exit velocity king Giancarlo Stanton registered the hardest hit ball of the Statcast era. It left his bat at 123.9 mph. And it went for a 4-6-3 double play because it was a grounder right at the second baseman.
That's a pretty good reminder exit velocity by itself isn't everything. Launch angle is important too, as is frequency. How often does a player hit the ball hard? One random 115 mph line drive doesn't tell us much. But if the player hits those 115 mph line drives more than anyone else, well that's useful.
The Yankees very clearly believe in exit velocity as an evaluation tool. We first learned that three years ago, when they traded for Chase Headley and Brian Cashman said his exit velocity was ticking up. Former assistant GM Billy Eppler once said Aaron Judge has top tier exit velocity, and when he reached he big leagues last year, it showed. Among players with at least 40 at-bats in 2016, Judge was second in exit velocity, so yeah.
With that in mind, I want to look at where each projected member of the 2017 Yankees hits the ball the hardest. Not necessarily on the field, but within the strike zone. Every swing is different. Some guys are good low ball hitters, others are more adept at handling the inside pitch, and others can crush the ball no matter where it's pitched. Not many though. That's a rare skill. Those are the Miguel Cabreras of the world.
Also, I want to limit this to balls hit in the air, because as we saw in the Stanton video above, a hard-hit grounder is kinda lame. Hitting the ball hard in the air is the best recipe for success in this game. The average exit velocity on fly balls and line drives last season was 92.2 mph, up ever so slightly from 91.9 mph in 2015. I'm going to use 100 mph as my threshold for a hard-hit ball because, well, 100 mph is a nice round number. And it's comfortably above the league average too.
So, with that in mind, let's see where each Yankee hit the ball the hardest last season (since that's the most relevant data), courtesy of Baseball Savant. There are a lot of images in this post, so the fun starts after the jump. The players are listed alphabetically. You can click any image for a larger view.