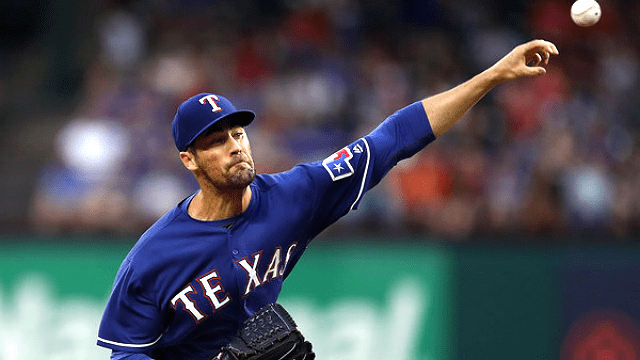 After a weak turn through the rotation, the Yankees find themselves in pursuit of a starter. Right now, the playoff rotation is Luis Severino, CC Sabathia, a hopefully healthy Masahiro Tanaka and a gigantic question mark.
With that in mind, is 34-year-old veteran lefty Cole Hamels a fit for that empty rotation spot?
Current performance
The Cole Hamels of 2018 isn't the same pitcher that was a top-line starter in Philadelphia from 2008-2014 (outside of 2009) and he's not even quite the same pitcher that was an All-Star for Texas in 2016. His 4.05 ERA is only better than his rookie and 2017 seasons and his 5.00 FIP is a career worst. He's lost a little bit of velocity and he has changed up his pitch mix (more on that in the next section).
More worrisome than a losing 1-2 mph on his fastball is his control and home run issues. His K-BB rate is actually better than his 2016 All-Star season, but he leads baseball with 10 hit batters and has given up 20 home runs, second in the majors. His groundball rate has declined to 43.8 percent.
If you're looking for good news, 14 of Hamels' 20 home runs allowed have come at home in Texas and he has significant splits home and away (5.83 ERA in 54 innings at home vs. 2.05 ERA in 48 1/3 innings away). While Yankee Stadium isn't exactly the Polo Grounds, it's a better environment for pitchers than Globe Life Park. Even if Hamels has been issuing meatballs, you'd expect his 20.6 percent HR rate to decline.
Hamels had a 3.41 ERA heading into his last two starts but gave up 11 runs over 10 innings vs. Padres and White Sox at home. Yikes. 18 hits and two home runs in that span, though he's also produced a 12-1 K/BB ratio at the same time.
The southpaw looked sharp against the Yankees in May and has performed markedly better against teams with a .500+ winning percentage (3.05 ERA in 73 2/3 innings). He has a fine overall postseason track record, albeit he was rocked in 2016 by the Blue Jays. He has a 3.48 career playoff ERA and is 10 years removed from NLCS and WS MVP.
Current Stuff
Hamels has an impressive pitch mix in that he can reliably go to 4-5 different pitches in any count. As you can see in the graph below, he throws five different pitches at least 15 percent of the time. Four of them are variations of his fastball (four-seamer, sinker, cutter and changeup) to go with his slow curveball. He's also experimented with a slider this year.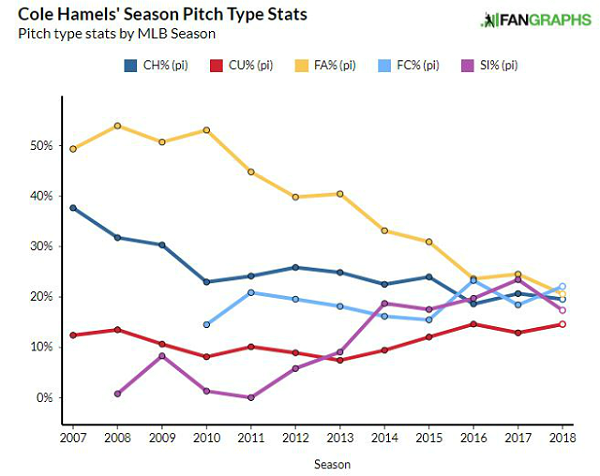 The curveball and cutter have been his most effective pitches this season, though his changeup has suddenly gone from his best pitch to a below average offering. He's like a lot of veteran pitchers, or current pitchers in general, and has gone away from his four-seamer, eschewing it for the cutter and sinker. It makes sense considering Hamels has seen the worst results on the four-seamer of his career.
The decline in his fastball likely is related to his declining velocity. At 91.2 mph, his fastball is down 0.8 mph from last season and 1.4 mph from two years ago. His four-seamer averaged 91.2 during his sterling 2012 season, but he's lost 2 mph off his cutter and one off his changeup in that span.
Injury History
Hollywood Hamels missed two months with an oblique injury last season, yet his health has been a major plus for him during his career. From 2008 to 2016, he made at least 30 starts every season and averaged 210 innings a season. He's on pace for another 30-start, 190+ inning season this year.
He missed one start with neck stiffness this season, had a minor groin issue in 2015 and had elbow surgery during the 2011 offseason. However, he's rebounded well from each of those injuries.
Contract Status
Hamels is in the final season of a seven-year contract that pays him a little north of $22.7 million annually. The complication here is that Hamels has a $20 million team option for 2019 (with a $6 million buyout and a vesting option that won't vest). Hamels has a partial no-trade clause which includes the Yankees and he could invoke the clause unless a team picks up the option.
What Would it Take?
One presumes the Rangers aren't looking to simply salary dump Hamels and won't seek relief in exchange for a lesser prospect package. While Hamels' performance this season hasn't been that of No. 2 starter, Texas will likely shoot for something befitting that. Rental starters with big names/contracts haven't moved often at recent deadlines.
In 2015, David Price cost a top 50 prospect (Daniel Norris) plus an upper-levels LHP and lower levels LHP. Jaime Garcia cost a lower levels starter in 2017 one trade and a solid Double-A starter that wouldn't have made the Yankees' 40-man roster and a Triple-A depth arm.
Hamels will be somewhere in between those deals. Maybe a 2-3 player package headlined by Chance Adams? All my trade proposals are questionable at best.
Does He Make Sense for the Yankees?
Hmmm… I'd lean towards no. Is he better than Sonny Gray and easier to trust in a playoff start than one of the Yankees' rookie starters? Sure. However, I'm not convinced he's enough of an upgrade to justify the package someone with his name and previous track record would require. He probably doesn't slot ahead of CC Sabathia or Masahiro Tanaka in a playoff series. I'd rather stick with what the Yankees have and go for a lesser rental (J.A. Happ, anyone?), particularly if Hamels insists on the Bombers picking up his option for 2019.