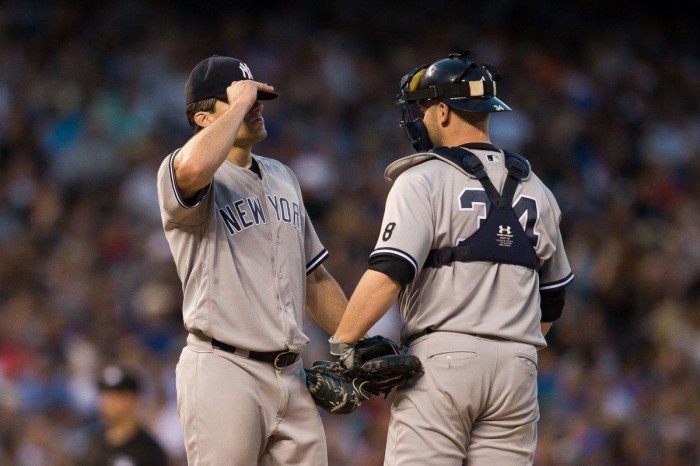 Mile High Mess
For much of Tuesday night, not even the thin Colorado air or a mediocre Rockies pitching staff was enough to cure the Yankees' most recent offensive malaise. They didn't score a run until the sixth inning, and trailing 12-3 after seven innings, the Yankees seemed destined to be blown out in the first of two games at Coors Field.
Then the floodgates opened in the eighth, as the Yankees sent 12 men to the plate and scored seven runs on eight singles. Alas, the late rally ultimately fell short, resulting in an ugly 13-10 loss.
Instead, the Yankees suffered their first loss when scoring at least 10 runs since May 29, 2010 against the Indians. (Should we mention here that the 2010 Indians finished 69-93?) That snapped a streak of 72 straight wins in games with 10-or-more runs, which was the longest active streak among AL teams.
This was also the Yankees second loss in Interleague play when scoring in double digits. It shouldn't be a surprise that the only other time that happened was in this same ballpark – a 14-11 loss to the Rockies on June 20, 2002. The 13 runs they allowed on Tuesday was also their second-most in a road Interleague game, behind only the aforementioned 2002 slugfest against the Rockies in Denver.
Jorge De La Rosa's performance was mostly overshadowed by the offensive fireworks, but he actually shut down the Yankees lineup, holding them to three hits and no runs in five innings. The lefty has a career 4.64 ERA, but has somehow managed to dominate the Yankees in his 13 big league seasons. He's now 4-0 with a 0.00 ERA in his four starts against them dating back to 2006.
De La Rosa is the only pitcher in major-league history to win four straight starts against the Yankees without giving up an earned run. Four guys have put together three-start streaks like that: Schoolboy Rowe (1934-35), Doc Ayers (1917), Babe Ruth (1916) and Walter Johnson (1913).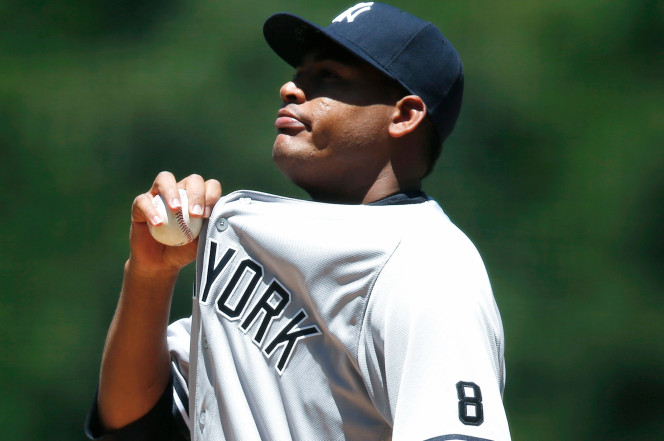 Nova Rocked
Coors Field continued to be a house of horrors for the Yankees, who fell to 4-7 all-time at the ballpark after Wednesday's loss. That's their worst record in the last 100 seasons at any stadium where they've played at least 10 games.
Ivan Nova, despite impressive career numbers against National League teams and in National League ballparks, was no match for the Coors Field curse.
He entered this game with a 2.13 ERA in 13 Interleague games (12 starts), sixth-best all-time among pitchers with at least 10 Interleague starts. Nova was even better on the road, going 5-0 with a 1.12 ERA in six starts at NL stadiums before this series.
And then on Wednesday he gave up five runs in five innings against the Rockies — the same number of earned runs he'd allowed in 40 1/3 innings over his first six career Interleague outings on the road.
When Nova is at his best, his bowling-ball sinker and biting curveball generate a ton of grounders and weak contact. Against the Rockies, his ground ball rate was just 38.9 percent and he gave up a season-high 10 hits. He's now had four starts with a ground ball rate below 50 percent, and his ERA in those games is 6.85 (with at least four runs allowed in each game); in his other four starts he has an ERA of 2.38 (with three or fewer runs allowed in each start).
Let's end with a positive note. One night after delivering a pinch-hit RBI single in his first appearance as a Yankee, Ike Davis started his first game in pinstripes (well, actually road greys) on Wednesday afternoon. Davis, of course, is the son of former Yankee pitcher Ron Davis, making them just the second father-son combo to each play in an MLB game for the Yankees. You might have heard of the other duo: Yogi and Dale Berra.
The elder Davis spent only four seasons in the Bronx but still carved out a niche in the franchise record books. He went 14-2 in 1979 working exclusively out of the bullpen, a mark that is notable for a couple reasons: His 14 wins as a reliever are tied for the second-most by a Yankee in a single season (Luis Arroyo had 15 in 1961); his .875 win percentage is the second-highest by any Yankee pitcher with at least 15 decisions in a season, behind only Ron Guidry's 25-3 (.893) Cy Young-winning campaign in 1978.