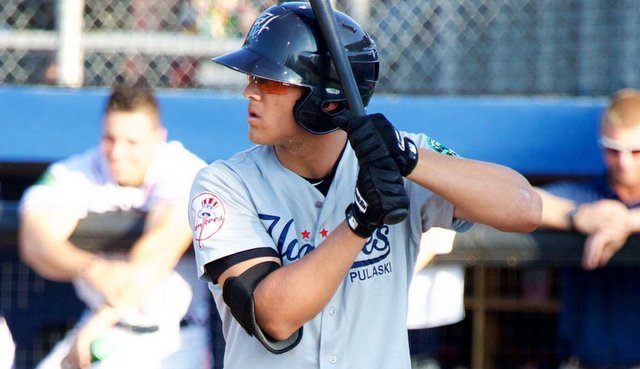 Thanks largely to the trade deadline, the Yankees improved the depth and quality of their farm system substantially over the last six months or so. They added a dozen prospects at the deadline and two more in the recent Brian McCann deal. It sure feels like another trade is inevitable (Brett Gardner?), so chances are more prospects are on the way.
The Yankees also added to their farm system this summer with the annual amateur draft. This year they held a top 20 pick for the second straight year after having only two top 20 picks total from 1994-2014. The current Collective Bargaining Agreement severely limits draft spending, and while it wouldn't be fair to say the Yankees put all their eggs in one basket, their 2016 draft haul has a clear centerpiece who will essentially make or break this draft class.
The Top Pick
Following the end of the 2015 season, the Yankees held the 22nd overall pick in the 2016 draft. They moved up to 18th when the Diamondbacks (Zack Greinke), Orioles (Yovani Gallardo), Nationals (Daniel Murphy), and Giants (Jeff Samardzija) forfeited their first round picks to sign qualified free agents. That was pretty awesome. Moving up one or two spots happens each year. But four? That rarely happens.
Prior to the draft the Yankees were connected to high school pitchers and college bats, so, naturally, they used that 18th overall selection to take a high school position player. Go figure. That player: outfielder Blake Rutherford from Chaminade College Preparatory School in the Los Angeles suburbs. Rutherford was a consensus top ten draft pick who slipped to the Yankees for reasons we'll get to in a minute. Here's a sampling of his pre-draft rankings and write-ups:
By all accounts, Rutherford was one of the ten best players available in the 2016 draft. The Yankees were able to get him with the 18th pick for two reasons:
1. He was already 19. Rutherford was old for a high school prospect. He turned 19 on May 2nd, a month before the draft, whereas most prep prospects are drafted at 18 or even 17 with their 18th birthday coming in the summer. Rutherford has always been slightly older than his competition, both in high school and in showcase events, which made it difficult to evaluate him. Was it really an above-average hit tool, or just an older kid beating up on younger competition? Based on the draft rankings above, everyone seems to believe it's the former.
2. He wanted a lot of money. Aside from injury, nothing causes a draft pick to slip more than bonus demands. Rutherford was strongly committed to UCLA and he was expecting top ten money because, well, he was a top ten talent. The Yankees had a $5,831,200 bonus pool this year, so if they were going to pay Rutherford top ten money, they'd have to skim elsewhere. That's exactly what they did. The Yankees signed Rutherford to a $3,282,000 bonus on June 29th, well above his $2,441,600 slot value. They essentially gave him 11th overall pick money ($3,286,700). When it was all said and done, New York was left with $177 in draft pool space. Not $177,000. $177. The Yankees were like two Xbox games away from forfeiting their 2017 first round pick. They maxed out their spending limit to sign Rutherford.
The Yankees rarely have access to top of the draft caliber talent and they were able to acquire three such players this year by selecting Rutherford and trading for Gleyber Torres and Clint Frazier. Acquiring Torres and Frazier took some hard work. There was a lot of luck involved in getting Rutherford. The Yankees had zero control over the 17 selections made before their first round pick. It just so happened those 17 teams passed on Rutherford, giving the Yankees a premium draft talent at a non-premium pick.
Rutherford's pro debut did nothing to dispel the notion he was a top ten draft talent. The kid hit .351/.415/.570 (171 wRC+) with eight doubles, four triples, and three home runs in 33 rookie ball games before a minor hamstring injury sidelined him for the final week of the regular season. He was healthy enough to participate in Instructional League a few weeks later. Here, via MLB Farm, is Rutherford's spray chart: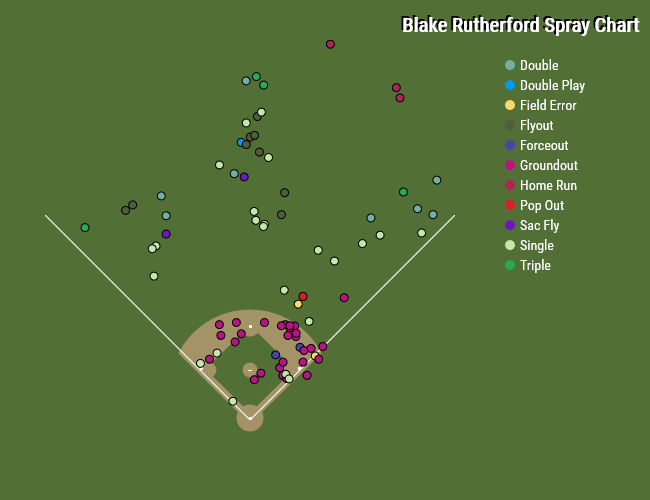 Base hits to all fields and over-the-fence power to the pull side as a left-handed hitter. It's a beautiful thing for a 19-year-old kid in his first few weeks in pro ball. Baseball America recently ranked Rutherford as third best prospect in the farm system behind Torres and Frazier, so all aboard the hype train.
When we look back at the 2016 season in a few years, it'll be remembered as the year the Yankees traded veterans for prospects at the deadline and rightfully so. They've built up one heck of a farm system through those trades. The opportunity (and willingness) to draft Rutherford shouldn't be overlooked though. The Yankees haven't selected a draft talent this highly regarded since Gerrit Cole in 2008.
The Other Over-Slot Signee
Because the Yankees needed to rob Peter (other draftees) to pay Paul (Rutherford), they didn't have much extra draft pool money to throw around. Their only other 2016 draftee to receive an over-slot bonus was third rounder Nolan Martinez, a right-hander from a Southern California high school. Martinez received a $1,150,000 bonus, nearly double his $608,200 slot value.
The Yankees selected Martinez with the 98th pick in the draft, which is essentially where the various scouting publications had him ranked. Baseball America was high on him (67th) while Keith Law (94th), MLB.com (99th), and Baseball America (108th) had Martinez right where New York selected him. He's the second best prospect the Yankees drafted this year (in my opinion) as a three-pitch righty with some semblance of command. Underwhelmed? Well, that's the system. The Yankees went with players they knew they could afford after rolling the dice with Rutherford.
The Numbers Prospect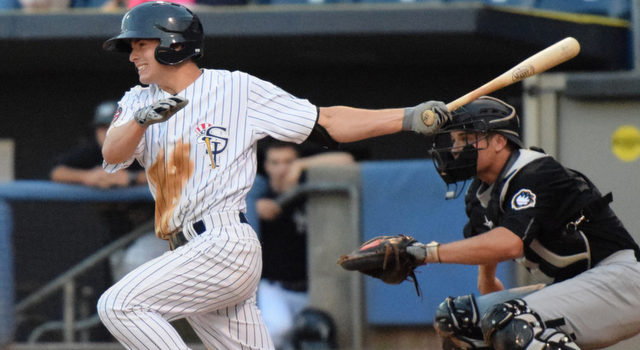 There is more stat line scouting these days than I can ever remember. That isn't to say stats aren't important, because they are, but they only tell you so much of the story. And the further away from MLB you get, the less the stats mean. Nick Solak, a second baseman out of Louisville, figures to be one of those prospects who gets an inordinate amount of attention due to his stats, a la Rob Refsnyder.
Solak, who was selected in the second round by the Yankees, hit .321/.412/.421 (155 wRC+) with three homers, eight steals, and nearly as many walks (10.8%) as strikeouts (14.0%) in his 64-game pro debut with short season Staten Island after signing for a below-slow $950,000 bonus. Solak has contact skills and knows the strike zone, but he doesn't have much power and his ability to stay at second is questionable at best.
After three excellent years at a major college program, we're not going to be able to glean much from Solak's performance until he gets to Double-A, and it's entirely possible that will happen at some point in 2016. A guy like him should have no trouble with Single-A pitchers. Solak is a good prospect whose long-term outlook will improve drastically if he shows he can handle second full-time. His stats may cause him to get overrated though.
The Best of the Rest
Outside of the top three picks, the two best prospects the Yankees drafted this summer were fourth rounder (duh) Nick Nelson, a JuCo righty from Florida, and 12th rounder Taylor Widener, a righty out of Alabama. Keith Law's (subs. req'd) scouting report on Nelson sounds too good to be true — "(Nelson) works with a plus fastball up to 95 and a plus curveball, with good command for his age, and his arm action and delivery point to future plus command as well," wrote Law — and while I'm not quite that optimistic, he has good velocity and can spin a breaking ball. That works for me.
Widener had an insane pro debut, pitching to a 0.42 ERA (1.41 FIP) with 65 strikeouts and seven walks in 42.2 innings. That's a 43.9% strikeout rate and a 4.7% walk rate. Widener does it with a low-90s fastball and a wipeout slider out of the bullpen, and while the Yankees could be tempted to move him quickly as a bullpen arm, his changeup and control are good enough that giving him a try in the rotation might be worthwhile. The Yankees have a history of trying college relievers as starters in pro ball, most notably Chance Adams and Jonathan Holder, and I wouldn't be surprised if Widener is next in line in 2017.
Other notables include 11th rounder Connor Jones, 17th rounder Mandy Alvarez, and 21st rounder Timmy Robinson. Jones is a hard-throwing southpaw likely destined for relief long-term because he lacks quality secondary pitches and command. Alvarez had a solid pro debut and can get the bat on the ball, but he's short on power and might not remain at third base long-term. Robinson is a tool shed; the former USC standout has legitimate power and good athleticism, which serves him well in the outfield. The holes in his swing will likely limit him to reserve outfielder status.
* * *
Needless to say, Rutherford is the centerpiece of the Yankees' draft haul this summer. Solak and Martinez can do some things, and I'm interested to see what happens with Nelson and especially Widener from here on out, but Rutherford is the guy. He was a top draft prospect who fell into the team's lap and prompted them to max out their bonus pool. The Yankees tend to do well in the late rounds of the draft, unearthing players who are used in trades or get a cup of coffee in the show, and hopefully that will happen again this year. Right now, this draft class is all Rutherford. He deserves all the attention.