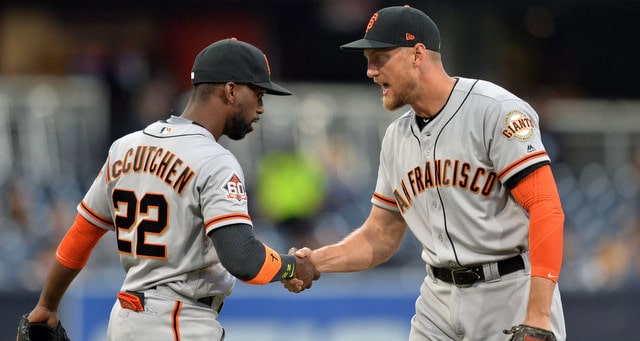 For only the the fifth time in the last 12 games, Shane Robinson did not start for the Yankees last night. Robinson has played so much lately because Aaron Judge and Clint Frazier are on the disabled list, and because Giancarlo Stanton is nursing a hamstring injury. The Yankees are so short on outfielders at the moment that Neil Walker has started the last three games in right field.
There is still no firm timetable for Judge or Frazier to return from the disabled list, or for Stanton to resume playing the outfield. The Yankees tried to acquire another bat at the deadline but came up empty, though the need remains. Robinson's playing too much and I'm not sure Walker in right field is viable long-term. The Yankees could use another outfielder, for sure.
Ideally, whoever the Yankees acquire will be comfortable slotting into a bench role once Judge returns. Being a bench player is not easy. We saw how much Walker struggled earlier this year when he was playing sparingly. As always, there are plenty of spare part bats on the August trade market, some of which are more attractive than others. Here are a few who could interest the Yankees while Judge and Frazier are sidelined.
John Andreoli, Mariners
2018 Batting Line: .279/.392/.390 (113 wRC+) with 19 steals in 21 attempts in Triple-A
Why Him? The players in this post are listed alphabetically, though I suppose it's only right we start with the guy no one knows. Andreoli, 28, was a career minor leaguer with the Cubs before joining the Mariners as a minor league free agent. He has three games worth of MLB experience, all with Seattle this year, and over the last four years he's posted a .370 OBP with lots of walks (13.8%) and lots of steals (121-for-156, 76%) in nearly 2,000 Triple-A plate appearances. There's even a little pop in his bat.
Andreoli is a speed and defense outfielder who takes his walks, steals some bases, and will catch everything in all three outfield spots. Even with Judge and Gary Sanchez sidelined, the Yankees have some power to spare. A speedy outfielder who hits ninth and puts together long at-bats can fit the lineup well right now.
Why Not Him? I have no idea whether Andreoli is an upgrade over Robinson. He's five years younger, I know that much, but Andreoli has no MLB track record. Robinson is another speed and defense outfielder, remember. They're kinda the same player. You say tomato, I say tomahto. Trading for Andreoli might be at best a lateral move and potentially even a downgrade.
What Will It Cost? This can probably be a cash trade. The Yankees got fellow Quad-A types George Kontos and Gio Urshela in cash deals earlier this month.
Jose Bautista, Mets
2018 Batting Line: .195/.335/.368 (98 wRC+) with nine home runs
Why Him? If nothing else, Bautista will still draw walks (16.7%) and get on base at a respectable clip while running into the occasional fastball. His platoon split is relatively small (102 wRC+ vs. 94 wRC+), so he doesn't necessarily need to be platooned, plus Bautista can also play first and third bases, if necessary. He's done both this year. He knows the AL East and he's not going to be scared away by a postseason race.
Why Not Him? Even with last night's homer, Bautista stopped hitting a few weeks ago. He's at .161/.282/.259 (59 wRC+) in 131 plate appearances since July 1st, and the whole "he can play the four corner positions" thing doesn't help much given his overall below-average defensive play. Right now, the only thing you can count on 37-year-old Jose Bautista to do is draw walks. Does that make him an upgrade over Robinson? Maybe! Enough to make it worth the hassle? Eh.
What Will It Cost? Probably another cash trade. Cash or a very fringe prospect. I can't imagine any team would pay much for a declining player who didn't sign until mid-April and has already been released once this year. That all said, are the Mets willing to trade with the Yankees? I'll need to see it to believe it.
Carlos Gomez, Rays
2018 Batting Line: .218/.309/.354 (88 wRC+) with eight homers and nine steals
Why Him? Gomez remains a strong defender even at age 32, though he's much better in the corners than in center at this point. There's not much thump in his bat these days. He can still ambush a fastball and steal the occasional base, and that's about it. His platoon split (99 wRC+ vs. 84 wRC+) is small, so it's not like the Yankees would be bringing in a bona fide lefty masher. Gomez is better than Robinson though, has been his entire career, and he's still young enough that there might be a good dead cat bounce in here.
Why Not Him? Fair or not, Gomez is the type who rubs some people the wrong way. The Yankees might not want to bring anyone in who could potentially disrupt the clubhouse, especially since we're talking about a bit player who will get pushed into a bench role once Judge returns. Whatever little bit Gomez gives you on the field might be negated by him getting on everyone's nerves.
What Will It Cost? A lower ranked prospect who might not crack his team's top 30 list. Spare parts like Jay Bruce and Lucas Duda were traded for fringe top 30 prospects last August. That's the benchmark.
Curtis Granderson, Blue Jays
2018 Batting Line: .234/.333/.414 (105 wRC+) with ten home runs
Why Him? Who doesn't love the Grandyman? Granderson still takes his walks (12.1%) and will sock some dingers, plus he knows how to use the short porch. Few left-handed hitters have done it better since the current Yankee Stadium opened a decade ago. Granderson can still hold his own against high-end pitching …
… and his .240/.336/.429 (109 wRC+) batting line against righties is far better than anything Robinson will give you. Granderson has been used as a platoon bat for a few years now, so he's comfortable with a part-time role, plus he's a Grade-A dude who fits in any clubhouse. I suspect that, if the Yankees brought Granderson back, it'd be like David Robertson last year. Like he never left. He'd fit right in.
Why Not Him? Granderson is a strict platoon bat, so you can't use him against lefties, and his defense has slipped with age. Also, his 29.5% strikeout rate is a career high, and the Yankees don't really need to add more strikeouts to the lineup. Otherwise, Granderson is a rental on a bad team, and he'd be a clear upgrade over Robinson, even in a part-time role.
What Will It Cost? Last August the Mets traded Granderson for a Triple-A reliever (Jacob Rhame) who was a prospect, but not a very good one. No reason to think it'll cost more to get him this time around.
Andrew McCutchen, Giants
2018 Batting Line: .255/.355/.413 (114 wRC+) with 13 home runs
Why Him? McCutchen's days as an MVP candidate are over, but he remains an above-average hitter who draws walks (12.4%), doesn't strike out excessively (21.7%), and hits lefties hard (124 wRC+). He is someone the Yankees (or any team, for that matter) could run out there on an everyday basis with no issues whatsoever. McCutchen can still hit and hit in the middle of a contending team's lineup. Get him out of AT&T Park and his power numbers will increase for sure. He's an obvious fit.
Why Not Him? First of all, the pro-rated portion of his $14.5M salary doesn't fit under the $197M luxury tax threshold. The Yankees would have to get the Giants to eat some money to make it work, which means giving up more in return. Also, McCutchen's defense is not very good at this point, even in right field, and how does he handle being bumped into a reserve role once Judge returns? He seems like a more realistic option for a long-term injury. As far as we know, Judge remains on track to return at some point soon. If he were going to miss the rest of the season, then McCutchen would fit.
What Will It Cost? McCutchen has real trade value, and the more money the Giants eat, the more they can demand in return. San Francisco gave up a good prospect (Bryan Reynolds) and a big league reliever (Kyle Crick) to get McCutchen in the offseason, though they acquired a full season of him. Now they're giving up less than one-third of a season of him. I don't think asking for a quality mid-range prospect would be unreasonable. A Domingo Acevedo type, with the Giants eating some money to make the luxury tax plan work.
Hunter Pence, Giants
2018 Batting Line: .213/.250/.287 (45 wRC+) with one home run
Why Him? Well, he's definitely available. The Giants have bumped the obviously declining Pence into a fourth outfielder's role, so he'll be okay with that once Judge returns. As with McCutchen, the Giants would have to eat salary to make this work — Pence is making $18.5M this year — though he should come cheap anyway. Think along the lines of the Vernon Wells salary dump.
Why Not Him? Pence can't hit — he owns a .150/.203/.183 (4 wRC+) line against lefties, so you can't even platoon him — can't play defense, and can't really run anymore. He is definitely more name value than on-field value at this point. Maybe being back in a postseason race will re-energize Pence and the Yankees can catch lightning in a bottle. At this point though, it is entirely possible if not likely he is no better than Robinson.
What Will It Take? Cash or non-prospects. Even if the Giants eat money. There's just not much here.
Danny Valencia, Orioles
2018 Batting Line: .263/.316/.408 (93 wRC+) with nine home runs
Why Him? The Orioles designated Valencia for assignment over the weekend as part of the process of clearing roster space for younger players. He is a career southpaw masher and this year he owns a .303/.368/.505 (132 wRC+) line against lefties. Valencia can fake the four corner positions as well, so there is some versatility here. And considering he's currently in DFA limbo, he should cost next to nothing to acquire. The Yankees might even be able to wait until he becomes a free agent, then sign him to the pro-rated portion of the league minimum.
Why Not Him? Valencia is useless against righties (64 wRC+) and he's a terrible defender anywhere, so the versatility just means he can cost you runs at more positions. Also, Valencia has a reputation for being a bit of a headache in the clubhouse. There's a reason he's played for seven different teams since 2012 despite solid offensive numbers.
What Will It Take? Well, he's in DFA limbo now, so nothing. Cash trade or wait until he gets released, then just sign him.