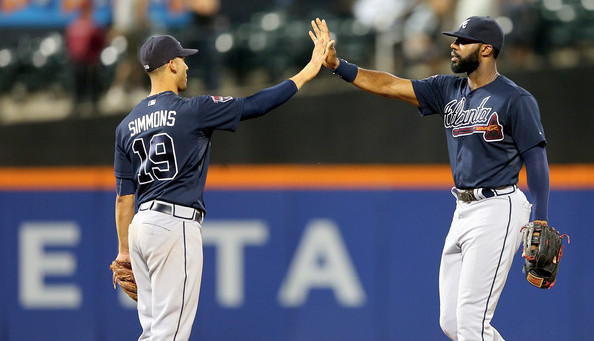 Last offseason we learned the Yankees and Braves discussed a blockbuster trade that would have brought Jason Heyward and Andrelton Simmons to New York for a package of prospects. We later found out Luis Severino would have been part of that trade, which makes sense. The Braves were focusing on young pitching in all their trades last winter and Severino was the best young pitcher the Yankees had to offer.
The trade didn't go through, obviously. Heyward was traded to the Cardinals, Simmons spent another year in Atlanta before being traded to the Angels, and Severino remains a Yankee. Late last night, Jon Heyman reported some more details of the blockbuster proposal, and it was a five-for-five swap. Check out this deal:
To Yankees: Heyward, Simmons, B.J. Melvin Upton, Chris Johnson, David Carpenter
To Braves: Severino, Aaron Judge, Gary Sanchez, Ian Clarkin, Manny Banuelos
Holy moly, that is a lot of players and a lot of talent. And also some dead roster weight. Heyman says Heyward was told the Yankees were close to getting him "many times" last offseason, for what it's worth. Keep in mind Heyward was traded to the Cardinals on November 17th, so the Yankees and Braves discussed this blockbuster very early in the offseason. Anyway, I have some thoughts on this.
1. Heyman says the Yankees were the team that declined to pull the trigger, indicating the Braves suggested the five-for-five swap. That makes sense. I have a hard time believing the Yankees would have been willing to put that much young talent on the table — unproven minor league young talent, but young talent nonetheless — and take back what amounted to one long-term piece in Simmons. Heyward was a year away from free agency, Upton and Johnson had albatross contracts, and Carpenter was only a reliever. A good reliever (with the Braves, at least) but still only a reliever. I guess the Yankees could have signed Heyward to an extension, though that doesn't really change the evaluation of the trade. It's not like the Braves are giving you the extension. The trade and extension are separate transactions. Based on my 2015 Preseason Top 30 Prospects List, that trade would have sent New York's four (!) best prospects to the Braves. Sheesh. Too much. Glad they didn't pull the trigger.
2. I found it pretty interesting Simmons was traded this offseason to the Angels, who are now run by former Yankees assistant GM Billy Eppler. I wonder if Eppler was the driving force behind the Yankees' interest in Simmons. At the very least we know he was on board with trying to acquire Andrelton. That's understandable. Simmons is the best defensive shortstop in the world and one of the best in history. That said, I am perfectly happy with Didi Gregorius, aren't you?

Simmons is very good. I would so much rather have Gregorius at the price it took to acquire him than Simmons at the price it would have taken to acquire him, and that was true last offseason. And that's coming from someone who expected Shane Greene to have a really good year last season. I didn't foresee him struggling that much at all. Simmons is a very good shortstop with big name value. Didi's production is comparable, he came at a much lower cost, and he's cheaper. In the past the Yankees went for the big name, not the smart pickup. Who is this team and what have they done with the Yankees?
3. The Heyward angle is interesting because the Yankees had a full outfield. They had Brett Gardner, Jacoby Ellsbury, and Carlos Beltran last offseason. What they didn't have was an idea what they'd get from Alex Rodriguez coming off his suspension. I guess the plan was to put Heyward in right field, move Beltran to DH, and then figure things out with A-Rod later. The Yankees approached last offseason as if Rodriguez was going to be a non-factor. They re-signed Chase Headley to play third base and one of the reasons they acquired Garrett Jones was to ensure they had a backup plan at DH. (Also, Beltran was coming off surgery to remove a bone spur from his elbow, so he was a question too.) They never needed that backup plan. Rod mashed from Day One. Making the four-man outfield work would have been tricky, but remember, Gardner missed a few games in April after taking a pitch to the wrist, and Ellsbury missed seven weeks after hurting his knee in May. These things have a way of working themselves out.
4. This trade was talked about very early in the offseason, so had it gone through, the Yankees probably would not have re-signed Chris Young and instead let Upton fill that role. What else would they do with him? Bossman Jr. was a total disaster in his two years with the Braves — he hit .198/.279/.314 (66 wRC+) in just over 1,000 plate appearances from 2013-14 — but he did actually have a nice year with the Padres in 2015, putting up a .259/.327/.429 (110 wRC+) batting line with five homers and nine steals in 228 plate appearances around a foot injury. That includes a .254/.369/.423 (124 wRC+) line against southpaws. Nice numbers, but as with Gregorius over Simmons, give me the guy the Yankees actually acquired (Young) over the guy they could have acquired (Upton), especially considering the acquisition cost.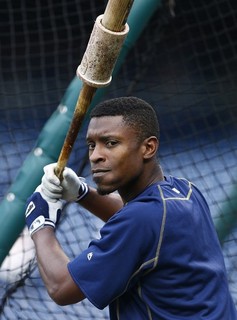 5. The Braves would have had to kick in money to make this trade work, right? I can't imagine they realistically expected the Yankees to give up all that young talent and take on all that salary. Not counting the arbitration-eligible Carpenter, the four guys who would have come to New York in the trade were owed a combined $133.15M across 13 contract seasons. I know a $10.24M average annual value doesn't sound bad, but it's not actually spread out across 13 seasons. Most of those seasons overlap. Heyward's very good and so is Simmons, but how could the Braves not kick in money to facilitate this trade? Substantial money too. They'd have to pay down something like $30M or even $40M of that $113.15M. Giving up all that talent and taking on all that money makes no sense for the Yankees, not when only one of the five players they were set to receive was a significant long-term asset (Simmons).
6. I think both the Yankees and Braves are better off now than they would have been had the trade gone through. The Yankees kept Severino, kept their other prospects, and acquired Gregorius to take over at short. The Braves turned Heyward into Shelby Miller, then Miller into three really good young players (Ender Inciarte, Dansby Swanson, Aaron Blair). Simmons fetched a top 20 pitching prospect (Sean Newcomb), another very good pitching prospect (Chris Ellis), and a tradeable veteran (Erick Aybar). Upton's contract was dumped on the Padres in the Craig Kimbrel trade with actual prospects going back to Atlanta, and Johnson was sent to the Indians for Nick Swisher and Michael Bourn in a trade that rearranged money to make things more favorable for both teams. (The Indians got a lower average annual value and the Braves now have the money coming off the books a year earlier than they would have.) And then Banuelos and Carpenter ended up being traded for each other anyway. I'm sure both the Yankees and Braves were disappointed they weren't able to work out a trade last year. From the looks of it, both teams are better off with the way things worked out.
7. I'm (very) glad the Yankees walked way from this trade — I don't mean that in a prospect hugging way, it's just a lot of talent to give up for two impact players, one of whom was a year away from free agency — and I'm also glad to see they're at least willing to discuss their top prospects in trades. Too many teams out there seem completely unwilling to even consider making their best prospects available. Young talent is important! It's also fairly unpredictable and risky. I really like Judge and think he has a chance to be a +4 WAR outfielder down the road, but at the same time, I also recognize he might never get there because he's so damn big and strikeouts will always be an issue. Banuelos hasn't been the same since Tommy John surgery. Clarkin got hurt a few weeks after the blockbuster was discussed. I'm glad the Yankees are emphasizing young talent now. That's what they need to do at this point. They'd also be smart to not make all their top prospects off-limits. There's always a point where dealing a highly touted young player makes sense, and teams owe it to themselves to explore those opportunities. They're often fleeting.