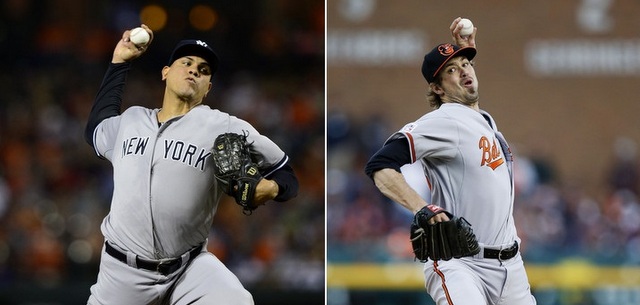 After the 2013 season, Mariano Rivera retired and left the Yankees with a closer problem. Or at least a lot of people acted like they had a closer problem. It was weird. David Robertson was as qualified as any closer-in-waiting in the game and, sure enough, he handled the ninth inning last year just as well as he handled the eighth inning from 2011-13. It was a seamless transition.
The Yankees again have a closer problem this offseason, but only in the sense that they don't have a set closer right now, more than five weeks before the start of Spring Training. They've spent the winter adding bullpen depth and have a number of closer candidates already in-house. Replacing Robertson — who the Yankees let walk as a free agent — is not a question of whether the Yankees have anyone who can do it, but who they will pick to do it.
The two primary closer candidates are Dellin Betances and Andrew Miller, both of whom were among the four or five best relievers in baseball last season. They're actually quite similar, at least in the sense that they are both former top prospects who fought command problems due in part to their height — did you know Miller is 6-foot-7? I had no idea until the Yankees signed him — earlier in their careers and didn't figure things out until they moved into the bullpen full-time. Either guy could step in and close no questions asked.
The Yankees don't have anyone with actual closer experience — among pitchers currently on the 40-man roster, Adam Warren and David Carpenter have the most career saves with four apiece — but their closer options go beyond Betances and Miller. They could go with Warren or Carpenter, or give Justin Wilson a try. Jacob Lindgren could be the closer of the future, or he could be the closer of the present. The Yankees have a clean slate and are free to pick their closer.
Having lots of options doesn't lessen the important of picking a closer, however. Everyone in the bullpen seems to fall in line once the closer is set, and relievers do like to know their roles. Who can blame them? No one would like going to work everyday not knowing what you'll be asked to do. Relievers like to know their role so they know how and when to prepare. Baseball players are creatures of habit, and bullpen roles fuel that habit. Here are things the Yankees will surely consider when picking their next ninth inning guy.
Saves Pay
If you're a reliever, the easiest way to make money is to accumulate saves. They pay in arbitration and they still pay in free agency. Addison Reed, with his 101 saves and career 98 ERA+, is projected to get $3.8M during his first trip through arbitration this winter. Robertson went into his first arbitration year (2012) with two career saves and a 112 ERA+ and received only $1.6M. Saves do pay. It's dumb but that's the system.
Should Betances get the ninth inning and rack up, say, 30+ saves this year and next, his 2017 arbitration salary will be much higher than it would be if he remains setup man. That also carries into future years too — his salaries in 2018 and 2019 will be higher as well. The same is true with Carpenter, Warren, Wilson, whoever. This might not be such a big deal with Betances, but if someone like Carpenter or Warren closes, their salary could exceed their actual value in a hurry, making them non-tender candidates.
Miller, on the other hand, has a multi-year contract. He's getting paid $9M in each of the next four seasons no matter what. The Yankees could opt to use Miller — who is more than qualified for the job, remember — as the closer and keep costs down with the rest of the bullpen. That's not being cheap, that's being smart. Miller's making what he's making. That's already set. If Betances starts making big money as the closer too, then that's less money the Yankees can use elsewhere.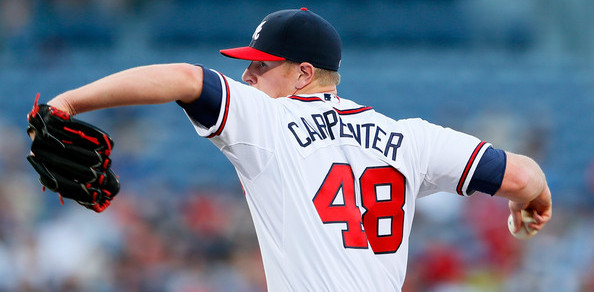 Does Handedness Matter?
Right now, the only full-time left-handed closers in baseball are Aroldis Chapman, Sean Doolittle, Glen Perkins, and Zach Britton. Doolittle and Britton just got the job last year. Since 1990, nine lefties have saved 25+ games in multiple seasons while 88 righties have done so. The innings pitched split in baseball has historically been about 75/25 in favor of righties, but the closer split the last 25 years has been 90/10 or so. For whatever reason, there's a bit of a bias against lefty closers.
Miller is no ordinary lefty, of course. He dominates both righties and lefties and is just as capable of pitching a full inning as any righty reliever in baseball. That isn't the question. The question is whether the Yankees and Joe Girardi want a bullpen in which three of their six non-closers could be left-handed, with Wilson and either Lindgren or Chasen Shreve joining Miller. Betances, Warren, Carpenter or another righty would be closing in that scenario.
Personally, I don't think the Yankees would care one bit about having three or four lefties in the bullpen if they are among the seven best bullpeners in the organization. If they were all matchup specialists in the mold of Clay Rapada, then yeah, it would be a problem. You can't have three pitchers like that in one bullpen. But these guys aren't Rapada types. They throw hard and don't have platoon concerns. The Yankees have the luxury of having several quality relievers, and some of them just happen to throw left-handed. For New York, handedness is no concern right now.
Why Not Use Co-Closers?
The bullpen by committee idea just doesn't work for whatever reason. A few teams have tried it — most notably the 2003 Red Sox — but it just doesn't hasn't worked. Things seem to fall apart once guys don't have a set role and don't know when they'll pitch day after day. Having that one set guy in the ninth inning changes the entire bullpen dynamic for the better.
A few years ago though, the Braves used lefty Mike Gonzalez and righty Rafael Soriano as what were essentially co-closers. Gonzalez faced the tough lefties whenever they were due up, either in the eighth or ninth, while Soriano faced the tough righties and pitched the other inning. Gonzalez wound up with ten saves and Soriano with 27. The Yankees could try something similar with the lefty Miller and righty Betances.
In theory, the Yankees could use a similar co-closer system in 2015. They certainly have the right personnel to try it. But, Girardi has shown he very much likes to have a set closer and a set eighth inning guy, and will rarely deviate from that strategy. Would he be open to a platoon closer/setup man combination? Possibly, sure. But I'm going to bet against it. Girardi likes his relievers in set roles and that's perfectly fine. He makes it work. Co-closers or a closer by committee can be chaotic.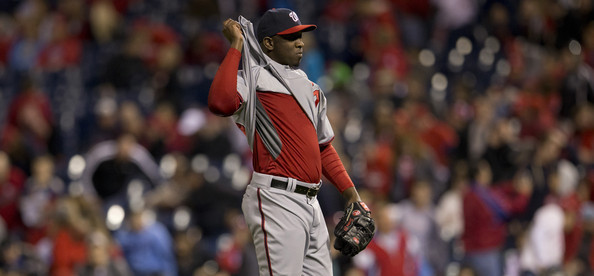 Free Agents?
There are still some quality — and by quality I mean big name more than big production — closers on the market in Soriano, Francisco Rodriguez, and Casey Janssen. I wouldn't ever rule out the Yankees signing a free agent, though I don't expect it right now. They've accumulated a lot of bullpen arms this winter and the plans seems to be to use that depth. If they're going to spend a decent amount of money on a player at this point, it'll probably be someone who can help the rotation. A free agent closer signing is always possible. At this point it seems unlikely.
Dellin's Destiny!
I would be remiss if I didn't mention the eerily similar career paths of Betances and Rivera. Both guys were underwhelming minor league starters who moved into the bullpen and dominated as multi-inning setup men in their first MLB season at age 26, then, the next year, they took over as closer after the team's incumbent ninth inning guy left as a free agent. This year it was Robertson. In 1997 it was John Wetteland. The parallels are freaky. Clearly it is Dellin's destiny to take over as closer, right?
* * *
Okay, so let's get back to reality. The Yankees will have to pick a closer at some point before the start of the regular season and this isn't something they can determine with a Spring Training competition. They couldn't send Miller and Betances out there in March and tell them the guy who performs best in his seven or eight Grapefruit League innings gets the glory of closing. That would be silly. The only way Spring Training should effect the closer situation is if someone gets hurt.
Girardi and his coaching staff and I'm sure the front office will get together to discuss the team's closer for the upcoming season at some point That could have happened already for all we know, or they could mull it over until the very end of camp. The team's bullpen depth is a great weapon but it doesn't lessen the importance of the decision. Everyone else falls into place in the bullpen once the closer is picked. It's not a decision that will make or break the season, but it isn't one the Yankees should take lightly either. Closer is a position they want to get settled as soon as possible.
Who should be the closer?