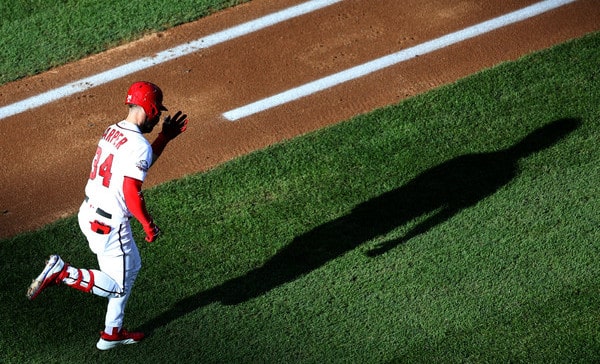 Earlier today the Yankees officially re-signed CC Sabathia and, according to Jon Heyman, the team is still looking to import two more starting pitchers this offseason. Music to my eyes. CC is forever cool with me, but I prefer him as the No. 5 starter on the depth chart. Anyway, here's the latest from the GM Meetings in sunny Southern California.
Boras pushing Harper at first base
Scott Boras has started his Bryce Harper campaign. During a radio interview yesterday Boras said Harper is capable of playing first base, and while he didn't mention any teams by name, it's not hard to connect the dots. The Yankees have a full outfield but questions as first base. "He takes ground balls there all the time in the offseason. He can help a team in many ways. Bryce has the feet, hands, and skill to certainly adapt to first base," Boras said to Casey Stern.
"Do I think Bryce Harper could play first base? I don't know. Obviously he's extremely talented and athletic. As I said, we'll assess everything in the marketplace and how it might fit us," Brian Cashman said to Brendan Kuty. For what it's worth, Chelsea Janes says the Nationals offered Harper a ten-year deal worth $300M recently, which was rejected. Was that a sincere first offer or a token "we tried" offer? Well, whatever. Part of me hopes this Harper stuff plays out like Mark Teixeira back in the day. The Yankees lie in the weeds them bam, surprise signing. Would be cool.
Yankees among teams "laying groundwork" with Britton
The Yankees are among the clubs "laying groundwork" for a deal with Zach Britton, reports Kuty. A signing is not imminent. Free agency is still in its infancy and although teams and players are talking, we're still weeks away from most decisions. Britton is a Boras client and Boras tends to play it slow with his top clients. It wouldn't surprise me to see Boras wait until Craig Kimbrel signs, then market Britton as the best available closer.
Britton, 31 next month, started slowly with the Yankees but finished very well, throwing 25 innings with a 2.88 ERA (4.08 FIP) and a 77.8% ground ball rate in pinstripes. He got better and better — and his velocity climbed higher and higher — as he got further away from the offseason Achilles injury that delayed his season debut until mid-June. If the Yankees are going to spend big on a reliever, I prefer David Robertson to Britton. He's older, yeah, but Robertson has a cleaner injury history and I think he's the better pitcher. Britton's pretty good too though.
Yankees checking medicals for Hudson, Morton, Phelps
According to Joel Sherman, the Yankees have requested medical information for free agent right-handers Daniel Hudson, Charlie Morton, and David Phelps. I should note this is likely early offseason due diligence. Teams request medical information for tons of players each offseason. Hudson is a two-time Tommy John surgery guy, Phelps is rehabbing from Tommy John surgery right now, and Morton has a long injury history, including shoulder trouble late in 2018.
Hudson, 31, threw 46 innings with a 4.11 ERA (4.38 FIP) for the Dodgers this past season. Meh. Phelps blew out his elbow in Spring Training and didn't pitch at all in 2018. From 2016-17, he had a 2.72 ERA (3.09 FIP) with a 29.8% strikeout rate as a setup man for the Marlins and Mariners. The 32-year-old Phelps is an interesting lower cost relief option. Morton, 35 next week, is the biggest name here. He threw 167 innings with a 3.13 ERA (3.59 FIP) with Houston this season, though he faded in the second half. Morton was considering retirement for a bit but recently confirmed he wants to continue playing.