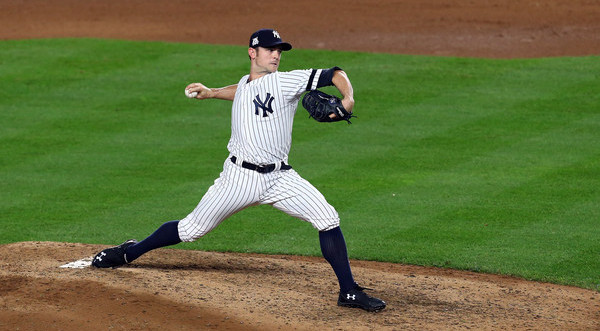 One of my favorite things about the 2017 Yankees was the return of David Robertson. The Yankees brought him back at midseason and he almost immediately took over as Joe Girardi's most trusted setup man. Robertson was unreal in the postseason too. He played a big role in getting the Yankees to within one game of the World Series. It was awesome to have him back.
Robertson was not a rental. The upcoming 2018 season is the final year on the four-year, $46M contract he signed with the White Sox three years ago, a contract that comes with an $11.5M luxury tax number and a $13M actual salary for 2018. Robertson with an $11.5M luxury tax hit looks awfully good when guys like Bryan Shaw and Tommy Hunter are getting $9M per year as free agents this offseason.
There is still an entire season to play before this becomes a real issue, but for whatever reason I've found myself thinking about Robertson's future beyond 2018 quite a bit lately. It stands to reason the Yankees will want to bring him back, right? Robertson is very good, he's made it clear he's willing to pitch in any capacity, and having a deep bullpen is a necessity these days. Keeping him long-term just makes sense.
Of course, Robertson turns 33 in April, so the wheels could come off this season. That's baseball. But, if he is willing to stay with the Yankees beyond 2018, could it be done in such a way that helps the Yankees stay under the $197M luxury tax threshold this coming season? In other words, could the two sides work out an extension that lowers his already team friendly $11.5M luxury tax hit? A few things about this.
1. The salary scale for top relievers has changed. A few years ago, when the Yankees signed Andrew Miller, they gave him what was then the largest contract for a non-closing reliever in baseball history. His four-year deal was worth $9M per season. The previous record was Jeremy Affeldt's three-year deal worth $6M annually with the Giants. The Yankees and Miller blew the old record out of the water.
Now, three years later, Miller is incredibly underpaid. Now guys like Hunter and Shaw are getting $9M per season. They're good, don't get me wrong, but they're not Miller. It wasn't that long ago that only top shelf closers inked contracts worth $9M+ a year. We're basically one offseason away from setup men getting $10M annually. Because of that, signing Robertson to an extension that lowers his luxury tax number figures to be difficult.
Let's say, for example, the Yankees convince Robertson to sign a three-year extension worth $30M tomorrow. For luxury tax purposes, it would act like a four-year contract worth $43M when you add his 2018 salary, meaning his luxury tax hit would be … $10.75M. The Yankees wouldn't even save a million bucks against the luxury tax next year with such an extension. Hey, savings is savings, but you can't do anything meaningful with those savings.
And of course, a three-year extension worth $30M would represent a pay cut for Robertson, who might be able to fetch $12M or even $14M per year on the open market next year, even at his age. Wade Davis is 32, has all sorts of physical and control red flags, and he just signed for $17.3M a year, the largest reliever annual salary ever. Why would Robertson sign anything that represents a pay cut? He'd have to really, really, really love being a Yankee.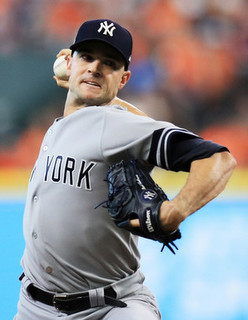 2. Luxury tax won't be a concern in 2019, in theory. I'm not sold on the Yankees going back to spending like crazy once they reset their luxury tax rate next year. The luxury tax penalties are so harsh that they effectively act as a salary cap. Yeah, the Yankees would reset their tax rate from the maximum 50% to the minimum 20%, but there are all sorts of surtaxes as well. It's not quite as simple as resetting the tax rate and raising payroll.
But, for argument's sale, let's say the Yankees are willing to exceed the luxury tax threshold come 2019, especially if it means signing someone like Bryce Harper or Manny Machado. In that case, paying whatever it takes to keep Robertson wouldn't be a big deal, even if it is $14M per season. That would be crazy high for a setup man in his mid-30s, but Robertson is not your normal setup man. He's excellent and he can pitch whenever. He's very valuable.
If the Yankees are willing to go over the luxury tax threshold in 2019, even by a little bit, it could be enough to justify waiting out Robertson. Rather than trying to extend him now, they could let next season play out, and see where things stand come October. That would allow them to walk away should Robertson's performance crater this year. I don't think it'll happen, but you never know. It could also mean having to pay more to keep him, but if they're willing to exceed the luxury tax, who cares about a few extra million?
3. Does it make sense for the Yankees to trade Robertson? I brought this up a few weeks ago. The Yankees have a deep bullpen, at least on paper, and in an effort to stay under the luxury tax threshold next year, trading a spare pricey reliever could make some sense. I mentioned Dellin Betances and Adam Warren as possible trade candidates. But what about Robertson? A Robertson trade would lead to some serious savings.
Personally, I think it would be crazy to trade Robertson. He's so good — I think he is the Yankees' best reliever, even ahead of Aroldis Chapman — and the Yankees are a legitimate contender. They should be looking to add to Robertson, not subtract him. That all said, what if trading Robertson nets a promising young arm who could step right into the bullpen (plus more!) and frees up enough to cash to, say, sign Yu Darvish? Trading Robertson and improving the 2018 Yankees seems like a bit of a stretch, but it is doable.
The Yankees are typically open to anything. They'll listen to offers for Robertson because there's no reason not to listen to offers for anyone. You just listen more closely on some players than others. Maybe some team comes along with a big offer — one of the teams that was trying to get Zach Britton before he blew out his Achilles, for example — and it makes sense to act. Ultimately, I think the Yankees keep Robertson. I also think trading him is not off the table.
* * *
When Robertson returned this year, it almost felt like he never left. It was kinda like when Andy Pettitte returned. Pettitte spent three years in Houston, then came back to the Yankees, and it just felt natural. Pettitte and the Yankees decided they were best for each other and he finished his career in pinstripes. Maybe the same thing will happen with Robertson. That'd be neat.
Signing Robertson to an extension that lowers his 2018 luxury tax hit was an okay if implausible idea before every reliever worth a damn started getting $9M per year. I don't think an extension that lowers Robertson's luxury tax hit is at all realistic now. Enjoying that below market $11.5M luxury tax hit in 2018, then trying to find common ground on an extension after the season seems like the most logical outcome here.