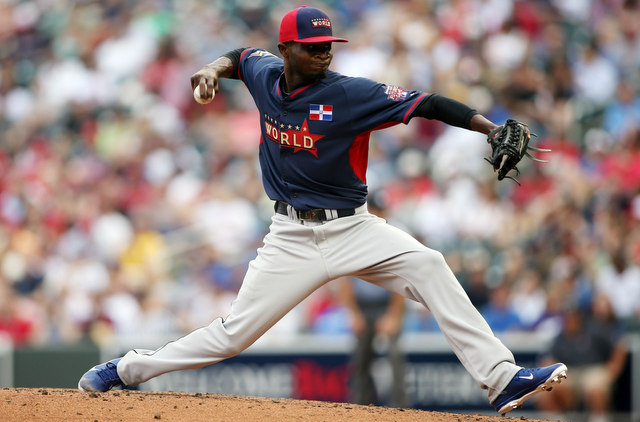 Got a whole bunch of miscellaneous minor league notes and links to pass along, most involving some sort of prospect ranking. Let's get to it …
Baseball America's updated top ten lists
Baseball America finished their annual series looking at the top ten prospects in each organization a week or two ago, but, as usual, there were several trades that threw a wrench in the rankings. Earlier this week they released updated top ten lists to reflect all the transactions that went down this offseason. The Yankees' list is unchanged one through nine, but the recently acquired RHP Domingo German jumps into the tenth spot, bumping 3B Miguel Andujar down. German ranked sixth in the Marlins' system before the trade, for what it's worth.
Keith Law's top ten prospects by position
Two weeks ago, Keith Law released his team top ten prospect lists and overall top 100 list. Last week he posted his top ten prospects by position (subs. req'd) and only two Yankees' farmhands made the cut: 1B Greg Bird and OF Aaron Judge rank third among first baseman and outfielders, respectively. Bird is behind Mariners 1B D.J. Peterson and Mets 1B Dominic Smith, Judge is behind Twins OF Byron Buxton and Cubs OF Jorge Soler. Law's really high on Judge, obviously. The most notable omissions are RHP Luis Severino, 2B Rob Refsnyder, and C Gary Sanchez, but I don't think it is at all unreasonable to say those three are not among the ten best prospects at their positions right now.
MLB.com's just missed prospects
MLB.com published their top 100 list and top ten prospects by position a few weeks ago, and both Jim Callis and Jonathan Mayo followed by writing up their "just misses." The guys who, well, just missed the top 100 and top ten by position lists. C Gary Sanchez just missed the top 100 ("Though he hasn't lived up to his $3 million bonus yet, he still has big raw power and a bazooka arm and is only 22.") and OF Aaron Judge just fell short of the outfield top ten ("There's a lot more power in his 6-7 frame, too, though I like how he focused on just hitting. The power's going to come and he fits the RF profile perfectly.") So Law has Judge as the third best outfield prospect in the game and MLB.com has him outside the top ten. That's ranking prospects for ya.
Top 100 prospects by ZiPS projections
This is sort of a goofy exercise but I found it interesting. Dan Szymborski ranked the top 100 prospects in baseball using his ZiPS system and their projected mean career WAR (subs. req'd). Needless to say, there are caveats abound with something like this. It's not meant to be a hardcore analysis. Cubs 3B Kris Bryant sits in the top spot and is followed by Dodgers OF Joc Pederson and Indians SS Francisco Lindor. OF Aaron Judge (48th) and 1B Greg Bird (60th) both make the top 100. No Sanchez or Severino. Ex-Yankees farmhand C/1B Peter O'Brien ranks 99th, interestingly enough.
Palmer suspended 50 games
SS Tyler Palmer, who signed with the Yankees as an undrafted free agent last June, has been suspended 50 games after testing positive for amphetamines and a drug of abuse (second offense). The 22-year-old hit .255/.350/.431 (125 wRC+) in 52 games for the rookie GCL Yanks last year. Palmer was the No. 1 NAIA prospect heading into the draft, according to Baseball America. His back story is pretty interesting: Palmer was the Marlins' fourth rounder out of high school in 2011 and was set to sign with the team for $600,000, but he suffered severe nerve damage to his throwing arm in a freak broken window accident days before signing the contract, so the Marlins withdrew the offer. Palmer rehabbed, mashed for a season in junior college even though he still hadn't regained full use of his thumb, then needed another surgery that kept him out of baseball until the spring of 2013.
Yankees sign undrafted free agent Marzi
The Yankees have signed undrafted free agent left-hander Anthony Marzi, according to Dom Amore. Marzi pitched at UConn and had a 3.13 ERA in 299.1 innings across four years. His 217/96 K/BB doesn't exactly stand out, however. "I couldn't be happier with the way things worked out, and the organization I'm getting a chance with. I've been a Yankees fan all my life. My whole family are Yankees fans, and they're seriously pumped up," said Marzi to Amore. He figures to start the season as an extra arm with either Low-A Charleston or High-A Tampa.