Nine questions this week, so it's another rapid fire mailbag with short-ish answers. Use the Submit A Tip box in the sidebar to send us anything at anytime.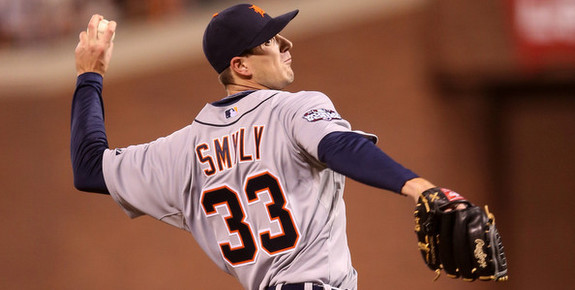 Peter asks: Should the Yankees speak to the Tigers about trading for Drew Smyly and turn him back into a starter? How well do they match up and what would you give up?
To answer the question, yes, I think the Yankees should look to trade for Smyly so they can convert him back into a starter. Jon Morosi says the Tigers are fielding offers for Max Scherzer, Doug Fister, and Rick Porcello as a way to plug other roster holes and clear payroll with Smyly taking over the vacated rotation spot. The Yankees should have interest in all of those guys — slightly less interest in Porcello, who needs a good infield defense to be effective — including Smyly. I looked at the 24-year-old southpaw as a trade candidate last winter and everything still holds true, except he now has a season as elite reliever (2.37 ERA and 2.31 FIP) under his belt and one fewer year of team control. Tigers GM Dave Dombrowski doesn't trade for prospects (he trades them away), he'll want big league pieces in return. Detroit needs bullpen help and I'd give them David Robertson (free agent after 2014) for Smyly (free agent after 2018) in a heartbeat, but I suspect it'll cost a bit more than that.
Ross asks: With the focus on the $189 million goal this off-season, what's the likelihood the Yankees give extra years to free agents with a lower average annual value to separate their offers from other bidders?
An example of this would be signing Brian McCann for eight years and $81M ($10.125M luxury tax hit) instead of five years and $75M ($15M tax hit). The extra years lower the average annual value and thus the luxury tax hit while putting a little more money in McCann's pocket for his cooperation. The Collective Bargaining Agreement covers potential luxury tax circumvention, and this type of maneuver would fall under that. The league would flag it and probably void the deal. It's a good idea in theory — I've seen people suggest giving Alex Rodriguez a multi-year extension worth $1M a year to lower his tax hit — but I don't think it would fly in reality. MLB doesn't take too kindly to teams trying to game the system.
Mark asks: How do you like Chris Iannetta as a consolation prize for losing out on McCann? Would add a little bit more power to the bottom of the order.
Iannetta, 30, hit .225/.358/.372 (111 wRC+) this past season and has a 100 wRC+ with a 15.5% walk rate over the last three seasons. He's also usually good for double digit homers. Iannetta isn't a good defensive catcher these days (2013, 2012, 2011, 2010 rankings) and he's owed $10.225M through 2015 ($5.1125M tax hit). The Angels are looking to stay under the luxury tax threshold themselves and one way they've discussed doing that is by dealing Iannetta and giving the catching reigns to young Hank Conger. Iannetta is better than the guys the Yankees have in-house and if they don't bring in another catcher via free agency, he makes sense as a trade target. The Halos want pitching, so maybe something like Adam Warren for Iannetta makes sense for both sides. Not sure if that's enough though. Just spit-balling here.
Glen asks: The White Sox are open to trading Alexei Ramirez. What would it take to get him and should the Yankees do it?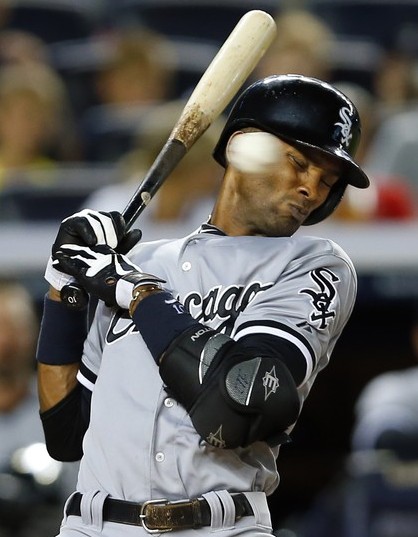 Well, according to Mark Gonzales, the White Sox turned Carlos Martinez when the Cardinals offered the one-for-one swap prior to the trade deadline. Jon Heyman shot that down, which makes sense because I can't imagine Chicago would decline an offer like that. They'd be crazy. The 32-year-old Ramirez is basically Eduardo Nunez with a better glove and a much more expensive contract ($10.25M tax hit through 2015). He's a total hacker (3.2% walk rate last two years) with no power (.098). I would prefer simply signing Brendan Ryan, who will play similar (if not better) defense and hit for a lower average but come far, far cheaper. I know good shortstops are hard to find, but I am not a Ramirez fan at all.
Bill asks: Any interest in Matt Kemp as a trade target?
Yes, but two things need to happen first. For starters, the Dodgers would have to eat a whole bunch of money. Kemp is owed $128M through 2019 ($21.3M tax hit) and I'd be willing to take him on at $16M or so annually. That means Los Angeles would have to kick in about $32M or so, a lot in the real world but little relative to the contract. Secondly, Kemp would have to go through a very thorough physical. The guy had ankle surgery a few weeks ago and left shoulder (labrum) surgery last winter, plus he's missed a bunch of time with hamstring problems the last two years. There is evidence that hitters who have their front shoulder surgically repaired (like Kemp last winter) can lose bat speed and power for a long time and perhaps permanently. Adrian Gonzalez is a very good example — his power isn't nearly what it was pre-2010 shoulder surgery. It has to do with the mechanics (and biomechanics, I suppose) of the swing and everything like that. Click the link, it's interesting stuff. Kemp just turned 29 in September and his upside (MVP level performance fro, 2011-2012) is so very high that it's hard to ignore. The salary needs to be offset and the body (especially the shoulder) needs to be checked out first, but yes, I'm interested.
Aaron asks: Any interest in Gordon Beckham for 3B? I know its been a few years but I think he's still young enough to handle the switch back over.
Not anymore. I liked Beckham a few years ago and thought he was salvageable, but we're going on nearly 2,500 career plate appearances with an 86 wRC+ now (88 wRC+ in 2013). Yes, he is only 27 and a breakout could be right around the corner, but Matt Swartz projects him to earn $3.5M next year and that's a little pricey for a reclamation project in my opinion. I don't think the transition from second base over to third will be much of a problem — hell, he still might be an option at shortstop — but it's everything else that comes along with it, namely the price tag and noodle bat.
Travis asks: I'm thinking outside the box and more than likely this is one of the stupidest things you've heard in a while, but what if a team traded for Josh Beckett and made him a closer? He's a former Red Sock, so I wouldn't suggest Yankees, but someone?
That is stupid outside the box. (Kidding!) Beckett, 33, made only eight starts this year before needing surgery for Thoracic Outlet Syndrome, which is what effectively ended Chris Carpenter's career. It's serious stuff but not always a career-ender. Dillon Gee and Matt Harrison have both dealt with it recently and come back perfectly fine. Beckett's stuff has been fading in recent years and he was only sitting 90-91 with his fastball before getting hurt this year, and he's a very different pitcher at 90-91 than he was was 95-96 a few years ago. Maybe a move to relief will bring back some velocity. If he can't hold up as a starter anymore following the surgery, the bullpen would be worth exploring. I wouldn't want to be the one to trade for him and try it, though.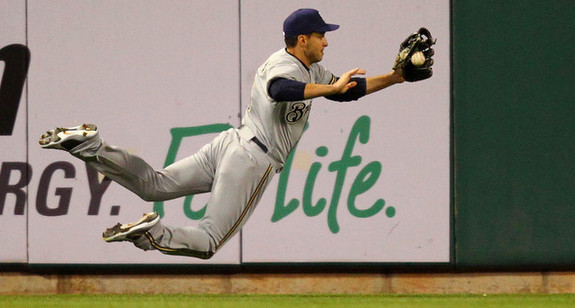 Mark asks: Assume the Yankees part ways with Robinson Cano, any chance you see them trying to acquire Ryan Braun? Or does he have too much baggage with his PED suspension? Not sure the Brewers are open to dealing him, but I suspect they are given how bad the team is. Assuming he is available, he could fill the void in RF or 3B (can't be much worse than Miguel Cabrera), is just 29 and is signed to a super team-friendly deal through 2021 (when he turns 37) at $16.5 million per year.
Believe it or not, Braun is still pretty popular in Milwaukee. This isn't an A-Rod situation where pretty much everyone hates him. Braun is beloved by fans and his team (again, unlike A-R0d) and there's no real desire to get rid of him. He's the franchise cornerstone and they're going to move forward with him as the centerpiece despite the PED stuff. Even if they wanted to get rid of him, I don't think the Yankees don't have the pieces to get a player of that caliber. It's not like the Brewers would just give him away to save face and money. It's a nice idea — he'd fit wonderfully in right field (third base isn't happening, I don't think "can't be much worse than Miguel Cabrera" is a good enough reason to play him there) — and in the middle of the lineup, but it ain't happening.
Mike asks: Would Jed Lowrie make sense as a possible trade target? He's in his last year of arbitration this season before becoming a free agent in 2015. He's a SS who has played 3B and 2B in the past, and he had a good year where he stayed healthy (finally) in 2013. If Billy Beane was inclined to deal him (would he be?), what kind of package would the Yankees have to give up?
Yes, he definitely makes sense. The 29-year-old Lowrie managed to stay healthy for a full season for the first time in his career this past summer, hitting 15 homers with a 121 wRC+ in a pitcher's park. He can play shortstop but his defense is spotty, though he does make up for it with the stick. Matt Swartz projects him to earn $4.8M in 2014 and there's a decent chance he'll be worth a qualifying offer after the season, meaning he'll net a draft pick if he doesn't sign a long-term contract. Again, I'm not sure if the Yankees have enough to swing a trade for a player of Lowrie's caliber — for what it's worth, Joel Sherman hears the Athletics aren't looking to trade him in the wake of the Nick Punto signing — but he's a definite fit at this point in time.