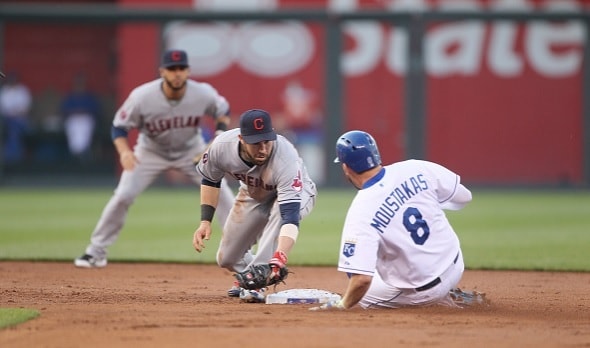 Pitchers and catchers report next week and still so many free agents remain unsigned. There are over a hundred of them, but as far as legitimate big leaguers go, there's maybe 50 free agents out there looking for a job. That's a lot! They should all be signed and preparing for the start of camp by now. Instead, they're still unemployed. Crazy.
The Yankees have about $22M to spend under the $197M luxury tax threshold, though when you remove the $10M they're planning to set aside for midseason additions, it's more like $12M. That's a lot! And with the free agent market moving so slowly, the Yankees still have an opportunity to spend that money on a quality player. Usually by now all the best free agents would be signed. Not this year.
We know the Yankees want another starting pitcher. They went after Gerrit Cole, Chris Archer, Michael Fulmer, and Patrick Corbin at various points this winter. The Yankees don't just want another starter, they want a really good starter. Even in this free agent market, I'm not sure that $12M is enough to land a quality starter though. Would Alex Cobb or Lance Lynn really be available at that price? If so, why haven't they signed already?
Aside from a starter, the Yankees could also add an infielder given their second and third base openings. In fact, Jon Heyman recently reported the Yankees are considering free agent infielders Todd Frazier, Neil Walker, and Eduardo Nunez, and at some point last week they checked in on Mike Moustakas as well. On the trade front, the Yankees have shown "on-and-off" interest in Jason Kipnis according to Ken Rosenthal, "but for now it seems mostly off."
On one hand, "considering" a free agent is meaningless. Every team considers every free agent at some point. On the other hand, these reports indicate the Yankees are monitoring the market in case something comes together at what they consider a bargain price. That's usually how Brian Cashman & Co. operate. If something is available on their terms (see: Stanton, Giancarlo), they'll pounce. If not, they'll stay the course. A few things about the infielder search.
1. Kipnis might come surprisingly cheap. Even as successful as they've been the last few years, the Indians are notoriously cash-strapped, and Kipnis' contract is standing in the way of other moves. He'll make $13.5M in 2018 and $14.5M in 2019 before a $16.5M club option ($2.5M buyout) comes into play for 2020. That's a minimum of $30.5M from 2018-19. He's not cheap, especially for the Indians.
The Yankees are seemingly more concerned about the luxury tax payroll than their actual payroll. Kipnis has $30.5M in real money coming to him the next two years, but his luxury tax hit is a much more palatable $8.75M based on his six-year, $52.5M extension. That fits nicely under the luxury tax threshold and still leaves the Yankees about $13M total to spend on whatever. A pitcher, the trade deadline, whatever.
Kipnis will turn 31 in April and he hit .232/.291/.414 (82 wRC+) with 12 homers in 90 games around a series of hamstring problems last season, so you can understand why the Indians might be worried his best years are behind him. If they can unload Kipnis and his salary, they can put Jose Ramirez at second and Giovanny Urshela at third, and spend the savings on whatever else they need. Given his salary, the Indians might be willing to part with Kipnis for something less than a big return. Based on the Dee Gordon salary dump, three low-to-mid-range prospects might do it.
What would the Yankees do with Kipnis? Well, use him as a stopgap at second base, for starters. He'd make it easier to send Gleyber Torres to Triple-A to shake off the rust after elbow surgery buy an extra year of control. And I guess the Yankees would also hope Kipnis can play some first and third? He's never played either position, but he does have a little outfield experience. Teaching a player a new position(s) on the fly is never easy, but it's not impossible. Kipnis' lefty bat would balance the lineup and allow him to take aim at the short porch. There's a fit. Not a perfect fit, but it could work.
2. Am I wrong in not wanting Moustakas? I feel like the reality of Mike Moustakas isn't as good as the perception of Mike Moustakas. He's a good player, no doubt. But I don't consider him a top ten third baseman in baseball (Steamer agrees) because he's never gotten on base (career .305 OBP) and his mobility in the field was compromised last year after tearing his ACL in 2016. Now, that said, Moustakas is a left-handed hitter who pulls a lot of balls in the air …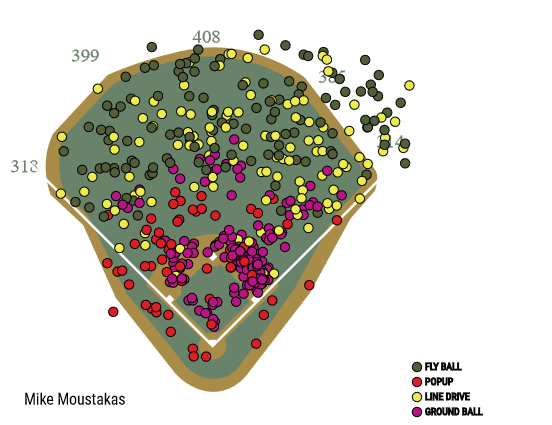 … and that makes him a wonderful fit for Yankee Stadium. Is that enough to a) block Miguel Andujar, and b) give up two draft picks (second and fifth rounder) and $1M in international bonus money to sign him? Maybe it is. The Yankees are trying to win the World Series and Moustakas' certainty might be better than Andujar's upside. I dunno. Anyway, if Moustakas ends up taking a one-year contract, other teams figure to outbid the Yankees given the luxury tax plan. If the Yankees are going to sign a veteran, I'd prefer Frazier, who's a better defender than Moustakas, going to post similar OBP and power numbers, and won't cost draft picks and international bonus money.
3. Get an infielder, but don't block the kids. The Yankees have been going young pretty much wherever possible, which is the main reason we kinda have to believe them when they say they are willing to start the season with Torres at second and Andujar at third (or Tyler Wade, or Thairo Estrada, etc.). That doesn't mean they won't add a veteran, but it stands to reason they'll want to add a veteran without blocking the kids. That's not easy.
How do you do that, exactly? If they trade for Kipnis, what happens when Torres (or Wade or Estrada) is deemed ready? If they re-sign Frazier, how do they made room for Andujar when the time comes? I'm a "just get the talent and it'll work itself" guy, so I don't consider this a huge deal. For the Yankees though, they have to keep this stuff in mind. Where does Kipnis fit after Torres gets called up? How do Frazier and Andujar co-exist? They don't have to have an answer right now. It's just something to keep in mind.
4. Versatility is important. This ties back to the last point. If Kipnis can handle first and/or third base, then he could become something of a super utility guy when Gleyber and Andujar arrive. He provides protection behind the kids and backs up Greg Bird. Frazier can't play second. (He says he can, but I'm not buying it.) It's first or third only for him. Moustakas is third base only. Walker played first, second, and third last year, and he switch hits!
Another reason versatility is important: The pitching staff. The Yankees went with an eight-man bullpen for long stretches of time last season, which means a three-man bench, and one of the three is the backup catcher. You need players who can play multiple positions. The Yankees might also go with a six-man rotation at times this year, even if they only call up a sixth starter for one day to make a start before sending him right back down. They've played with a short bench quite often the last two or three years, and I have no reason to believe that will end this season. The more versatile the veteran infielder, the better.
* * *
The Yankees have $12M or so to spend under the luxury tax threshold before we even get to their $10M buffer for midseason additions, and that $12M is going to get spent. I'm sure of it. The Yankees will do what they always seem to do this time of year. They'll see which free agents (or trade candidates) slip through the cracks and become "value buys." Last year it was Chris Carter and hey, that didn't work out. Doesn't mean you stop trying though.
You could make a case any of the available infielders makes sense for the Yankees. Kipnis is a lefty bat with a luxury tax friendly contract and some versatility. Moustakas will cost nothing but cash and he'll abuse the short porch. Frazier is available for nothing but cash and he brings energy and production. Walker is a switch-hitter and versatile. Nunez makes gobs of contact and is versatile. Josh Harrison brings energy and versatility. They all make some degree of sense in their own way.
Torres and Andujar are the future though, and any move the Yankees make will be made with those guys in mind. I would be stunned if the Yankees signed, say, Moustakas to a three-year contract that leaves Andujar with no place to play. Same with Walker at second base. I expect a short-term deal only. Balancing winning now with breaking in Torres and Andujar won't be easy! But this is a good problem to have. The Yankees are in position to get a good deal on an infielder, and if it doesn't happen, well they'll just go with their top 100 caliber prospects.