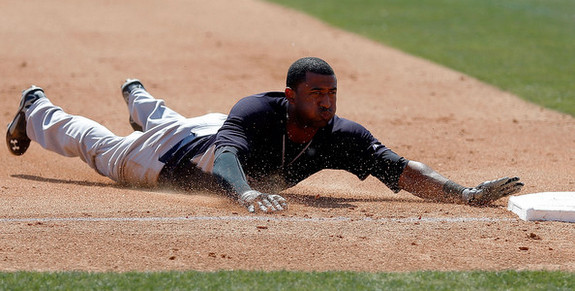 The Yankees designated Eduardo Nunez for assignment on Tuesday, giving them ten days to trade him, release him, or slip him through waivers. That is down to eight days now, and considering the waiver process takes three days, it's really more like five days. This situation could be resolved before the start of next week.
According to Marly Rivera, the Astros and Mariners* are among the teams with interest in Nunez. The middle infield bar is pretty low around the league right now, especially at shortstop, so I figured there would be some interest. That the Yankees couldn't work out a trade before designating him suggests interest isn't that high though. For what it's worth, George King hears Nunez is expected to wind up elsewhere, either through a trade or waivers.
* As you surely remember, the Mariners wanted Nunez as part of the failed Cliff Lee trade a few years ago, so their interest now is not surprising.
Since he's been designated for assignment, Nunez has pretty much zero trade value. He had very little trade value before being removed from the 40-man roster, but this clinches it. The Yankees forced their own hand with the move and other teams know they have to move him. That's the way the DFA game has been and always will be. If they were to ship him to the Astros or Mariners, the likely return would be a nondescript non-40-man minor leaguer, cash, or a player to be named later. Don't get your hopes up.
Nunez, 26, has hit .267/.313/.379 (86 wRC+) in parts of four seasons, in a league where the average shortstop put up a … wait for it … 86 wRC+ from 2010-13. His offense isn't the problem, especially since he can steal bases on top of the league average-ish production. The issue has been and always be his defense, which hasn't improved after years and years of work. This has been a career long problem and his career started in 2005.
The Yankees are short on shortstops right now, especially with Brendan Ryan hurt. Derek Jeter appears to be healthy and is moving fine in the field, but at age 39, he's not someone who can play the position day after day. Joe Girardi's going to mix in some DH days every once in a while. He has to. Dean Anna is the backup shortstop, Yangervis Solarte the emergency backup, and the Triple-A starter is Carmen Angelini according to Chad Jennings. (Addison Maruszak was released yesterday according to Donnie Collins.) The 25-year-old Angelini had a 73 wRC+ at Double-A Trenton last year, so yeah.
Even though his defense is nightmarish, it wouldn't be the worst thing in the world if Nunez slipped through waivers and went to Triple-A (he can't elect free agency since it would be his first outright assignment), at least until Ryan returns. The Astros and Mariners and whoever else probably won't give up anything of value for him in a trade, so keeping Nunez around as an emergency backup plan is better than losing him for nothing. Especially with no shortstop at Triple-A. If he doesn't stick around, they'll have to find someone just like him to stash in the minors.