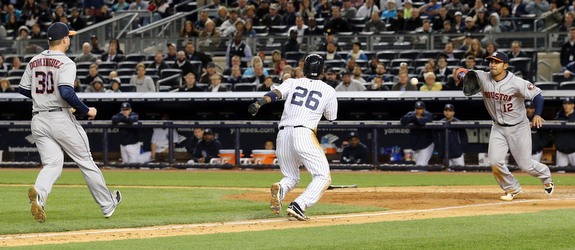 I can't imagine this has been a comfortable offseason for Eduardo Nunez. The Yankees' incumbent backup infielder and wannabe shortstop of the future has watched the team give Derek Jeter a raise, re-sign Brendan Ryan, sign Kelly Johnson, trade for Dean Anna, and sign Scott Sizemore. They're still looking for infield help too, so there could be even more names added to the list. That's a lot of moves involving players who play the same positions as Nunez.
Even before these moves, it was obvious the Yankees needed to prioritize middle infield depth this offseason. There was never a chance Jeter was leaving, even if he declined his player option. That just wasn't happening. But, as we saw last year, he is not invincible and the team needed a better backup plan. That's where Ryan comes into play. He can't hit a lick but you can run him out there on an everyday basis if need be because of his slick glovework. Anna can play the two middle infield spots and has some nice on-base skills, plus he was basically free, so why not? Johnson and Sizemore are second and third baseman but two more infielders nonetheless.
None of this is good news for Nunez. Or at least it isn't a vote of confidence, I should say. If the team had any real faith in his ability to play shortstop on a full-time basis should Jeter go down with another injury, they probably wouldn't have given Ryan two years (and an option!) so early in the offseason. That just doesn't strike me as something you do if you have a 26-year-old shortstop you believe in long-term. Am I wrong? If Nunez had shown any improvement with the glove — his throwing was way better early last year but that didn't last — or more promise with the bat, finding a replacement for 2014 and 2015 wouldn't have been much of a priority.
It's not all bad news, however. Nunez did keep his job while others infielders like Jayson Nix and David Adams were non-tendered weeks ago. That's better than the alternative. Cutting Nix was an obvious move given his projected salary ($1.4M) but keeping Nunez over Adams was not a given. Both players have a minor league option remaining and both will earn something close to the league minimum in 2014, so that stuff wasn't a factor. The Yankees decided Nunez, who has a standout tool in his speed (and ability to make contact, really), was the one worth keeping. I know what Adams has done over the years and I'm not convinced the team made the wrong move, especially since Sizemore is almost the exact same player. Betting on the guy who can run and consistently put the ball in play is not unreasonable.
"[Nunez] has options and he could be a utility player. I wouldn't want to start him [at third]. Regardless how he feels about it, I would want to find someone that I feel more comfortable with," said Brian Cashman to George King earlier this winter, making it clear the Yankees have knocked Nunez down the depth chart a peg or two. There is only so much patience you can show with a guy who, even if everything breaks right, still projects to be a solid regular more than a star. In a perfect world, Jeter will play shortstop next year with Ryan backing him up and Nunez sitting Triple-A, rotating between second and short with Anna. That's the best situation for the Yankees but a big step down for Nunez, who probably sees it coming.