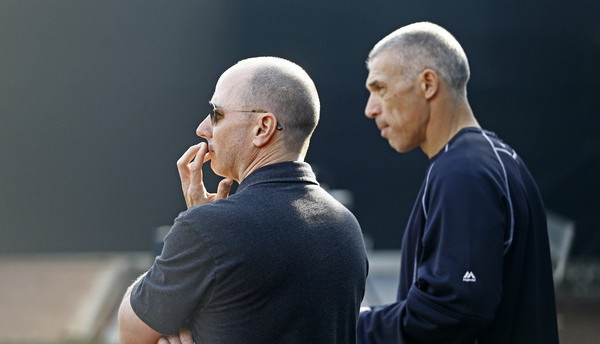 Despite trading away valuable veterans at the deadline, the Yankees remain in the wildcard race and have a chance to at least make these last few weeks interesting. Are they the front-runners for the second wildcard spot? No. But they're within striking distance, and as long as they're close, they should continue to push for a postseason spot. If you're not going to do that, what's the point?
The Yankees are an obviously flawed team that is now at least fun to watch. They were pretty boring for most of the season. All of the recent call-ups have made things way more interesting, and I'm pretty sure they've made the Yankees an overall better team too. There are still ways to get better, and the Yankees can still make upgrades through waivers trades in the coming weeks.
A really quick crash course on trade waivers: every player on the 40-man roster has to go through trade waivers to be traded after the deadline. If the player goes unclaimed, he can be traded anywhere. If he is claimed, he can only be traded to the claiming team. Trade waivers are completely revocable, so if a player is claimed, he can be pulled back. Pretty much every player is placed on trade waivers this month. By putting everyone on waivers, teams mask the guys they actually want to trade.
Players must be in the organization by 11:59pm ET on August 31st to be eligible for the postseason roster and that's a hard deadline. There are no loopholes around that one. Obviously if you make a waiver trade, you want to be able to take that player into October. But the Yankees aren't in position to think that far ahead yet. They have to get to the postseason first, and if that means making a trade after August 31st, so be it.
The Yankees are committed to this transition and playing the kids, as they should be. There are still ways to upgrade the roster around them and improve the team's chances of contention, and the Yankees should look to do that in the coming weeks. Here are the obvious spots Brian Cashman & Co. could look to upgrade for the stretch drive, plus some potential targets on teams out of the race.
The Sixth Starter
The last turn through the rotation has gone well thanks to Chad Green and Luis Cessa, who are replacing the injured Nathan Eovaldi and the ineffective Luis Severino. Severino is the sixth starter by default right now, which isn't great because he has some things to work on in Triple-A. There's always room for more pitching, though right now, the pickin's are slim. Unless you want to pay big for someone like Jeremy Hellickson, that is. One veteran candidate stands out as a possible trade target.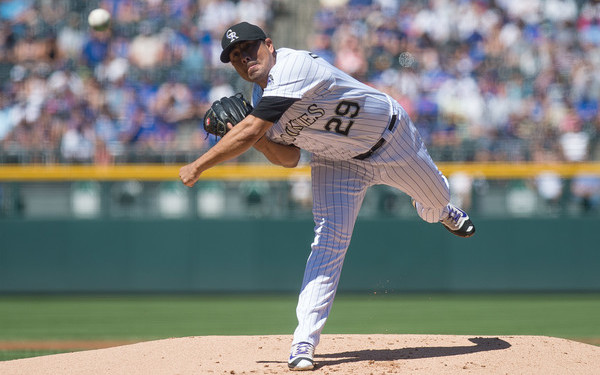 Jorge De La Rosa, Rockies: The Rockies were three games back of a wildcard spot as recent as August 4th, though they've struggled of late and have slipped to seven games back. De La Rosa, an impending free agent, has a 5.07 ERA (5.19 FIP) in 110 total innings this season, though that doesn't tell the whole story. He started the year in the rotation, pitched terribly, got demoted to the bullpen, then eventually rejoined the rotation.
De La Rosa made his first start back in the rotation against the Yankees and held them scoreless over five innings, as you may remember. Since rejoining the rotation the 35-year-old southpaw has a 3.56 ERA (5.00 FIP) in 78.1 total innings. The Yankees have been connected to De La Rosa before, both as a free agent and in trades, so there may be lingering interest. You could do a lot worse than a guy with a history of missing bats, getting grounders, and experience pitching in a harsh home ballpark for your sixth starter.
The Extra Reliever
No, they're not Andrew Miller and Aroldis Chapman, but Adam Warren and Tyler Clippard have done a fine job in the seventh and eighth inning since the trade deadline. The middle relief is still a bit sketchy — Tommy Layne and Blake Parker haven't done much to solve things — and besides, there's always room for another quality reliever. Reliever prices have been pretty high, though there's a chance they may come down as rebuilding teams look to unload impending free agents rather than lose them for nothing after the season. Here are some potential bullpen targets.
Jim Johnson, Braves: The Braves have been signing and flipping scrap heap arms for prospects all year. They did it with Bud Norris, Jhoulys Chacin, Jason Grilli, and Lucas Harrell. Johnson has a 3.50 ERA (3.32 FIP) in 46.1 innings thanks to an improved strikeout rate (24.2%) and his typically excellent ground ball rate (56.6%). He's been closing the last few weeks, ever since Arodys Vizcaino landed on the DL with an oblique problem. Johnson's on a cheap one-year contract.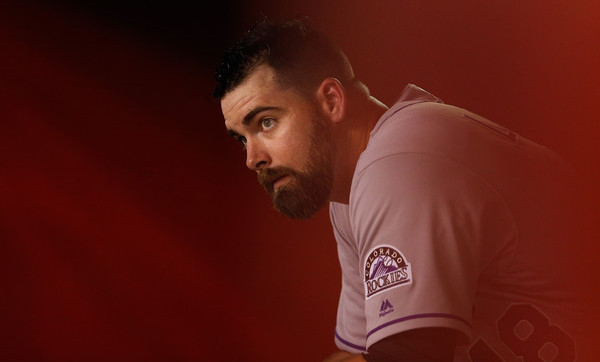 Boone Logan, Rockies: The Yankees went from having two of the three best lefty relievers in baseball to no reliable southpaws at the trade deadline. Miller and Chapman are gone, leaving guys like Layne, Chasen Shreve, and Richard Bleier to pick up the slack. It hasn't gone too well. Logan is having a phenomenal contract year, pitching to a 2.65 ERA (2.42 FIP) in 37.1 innings. More importantly, he's held left-handed batters to a .148/.213/.253 batting line with a 32.6% strikeout rate and a 62.5% ground ball rate. He's been a shutout left-on-left matchup guy.
Carlos Torres, Brewers: Don't ask me why, but I've been an irrational Carlos Torres fan for a few years now. He's have a strong season in Milwaukee (2.86 ERA and 3.78 FIP) and he's a rubber-armed swingman, someone who can throw two or three innings at a time and pitch back-to-back-to-back days with no problem. As an added bonus, Torres would remain under team control as an arbitration-eligible player through 2018. The Yankees don't have a long man at the moment and Torres would fill that void well.
The Big Bench Bat
Pitching is pitching and teams always need it. These next two positions are September specialties. Only once rosters expand does it make sense to dedicate a spot to an extra lefty bench bat, something the Yankees lack right now. (Their current bench is Mark Teixeira, Aaron Hicks, Ronald Torreyes, and Austin Romine.) Expanded rosters give teams the flexibility to carry a dedicated pinch-hitting specialist, which can come in handy. Here are two candidates.
Ryan Howard, Phillies: Go ahead and laugh. After all, Howard is hitting .198/.252/.445 (78 wRC+) on the season and he's been a punchline for three or four years now. He hasn't even hit righties this year (.206/.268/.472). So why target him? Because Howard is a short porch friendly left-handed hitter who can still hit a baseball to the moon …
… and he's hitting .378/.425/.838 (228 wRC+) this month. The Phillies have been trying to give Howard away for close to two years now. Picking him up for cash considerations, say the pro-rated portion of the league minimum, to pinch-hit 12-15 times in September as literally the 40th man on the 40-man roster is a super-low-risk move. One well-timed dinger in those 12-15 September at-bats would make it all worth it.
Justin Morneau, White Sox: The Howard logic applies to Morneau, though Morneau is at least hitting a respectable .275/.312/.480 (108 wRC+) in limited time with the White Sox this year. They signed him at midseason following offseason elbow surgery and the club has since fallen out of the race, so there's not much point in keeping him. As with Howard, Morneau could be a strategic September pinch-hitter as long as he comes super cheap.
The Pinch-Runner Specialist
Designated pinch-runners have become a September staple. The Yankees don't have a true burner in Triple-A, and in fact their best pinch-runner option may be Jorge Mateo, who will have to be added to the 40-man roster for Rule 5 Draft protection after the season anyway. Is it worth calling him and starting his service time clock for that? Maybe. There are other candidates around the league though.
Emilio Bonifacio, Braves: Bonifacio never has been able to carve out as a role as a super utility guy, but he can still run, and he currently leads the Triple-A International league with 37 steals (in 42 attempts). He's always been a bit reckless on the bases, which isn't necessarily a good thing, but at least he won't hesitate to run. Bonifacio is mighty aggressive.
Michael Bourn, Diamondbacks: Bourn's days as an elite base-stealer are over because he's old by speed guy standards (33), but he can still run a little and is 12-for-17 in steal attempts this year. I also think there's something to be said for his base-stealing experience and knowing pitchers (and their moves) around the league.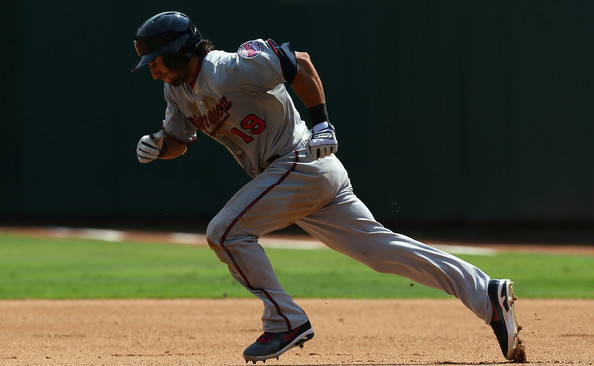 Darin Mastroianni, Twins: A sexy name? Nope. But neither was Rico Noel last year, and Rico did the job well. Mastroianni has been up-and-down and hurt this year, so he hasn't played much and only has ten steals (in 13 attempts). This is a guy who went 56-for-67 (84%) in steal attempts from 2013-15 though. Remember, the September pinch-runner only has to run. He doesn't have to hit or even field. Just run. Mastroianni can run.
* * *
The important thing here is expanding rosters. There's no sense in acquiring someone like Howard or Mastroianni right now. They're guys you acquire on August 31st and activate on September 1st, once rosters expand so you don't have to cut someone loose. The Yankees can still commit to playing the kids while upgrading the margins of their roster, either with some extra arms or bench players. And as long as they're in the postseason race, even minor league upgrades are moves worth making.