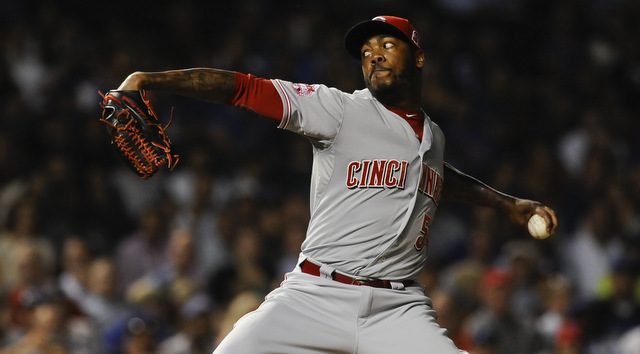 The best end-game bullpen in baseball just got even better. The Yankees have acquired left-hander Aroldis Chapman from the Reds for four prospects, the team announced. Third baseman Eric Jagielo, righty Rookie Davis, righty Caleb Cotham, and second baseman Tony Renda are going to Cincinnati in the four-for-one swap. Both teams have announced the trade, so it's a done deal. Official.
For what it's worth, Brian Cashman confirmed the plan is add Chapman to Andrew Miller and Dellin Betances to form a Murderer's Throw (h/t @rileysteele11) bullpen, not trade someone away. "We completed this trade with the intent of having Chapman, Miller, and Betances as a real force in the back-end of the bullpen," said the GM on a conference call with reporters.
Chapman, 27, is currently being investigated by MLB under the new domestic violence policy due to an incident that occurred in October. Tim Brown and Jeff Passan have the details. Long story short, Chapman's girlfriend said he choked her and threw her against a wall during an argument. He also fired eight shots in the garage of his Miami home. No arrests were made.
Cashman said the Yankees did their "due diligence" before the trade and noted the Reds had "modified" their "price point" in recent weeks, meaning they lowered their asking price following the incident. The incident caused a deal that would have sent Chapman to the Dodgers to fall apart a few weeks ago. MLB is investigating and there's a chance Chapman may be suspended.
Chapman is currently scheduled to become a free agent next offseason and a suspension of at least 46 days would delay his free agency another year. The domestic violence policy is new so no precedents have been set yet. We'll see what happens. MLBTR projects Chapman to earn $12.9M through arbitration next year, so it's a hefty salary by reliever standards, but it is only a one-year commitment. (For now, anyway.)
On the field, Chapman is the hardest thrower in baseball history and one of the most dominant relievers in the game. He used a fastball that averaged 100.4 mph (!) to post a 1.63 ERA (1.94 FIP) and 116 strikeouts in 66.1 innings this past season. That 41.7% strikeout rate was actually Chapman's lowest since his rookie season in 2011. He's struck out 45.0% of the batters he's faced the last four seasons. That's just bonkers.
For all intents and purposes, the trade is Chapman for Jagielo and Davis. Cotham and Renda are basically throw-ins. Cotham was a 27-year-old rookie this past season who was stuck in an organization with more upper level bullpen depth than they know what to do with. Renda, who came over from the Nationals in the David Carpenter trade this summer, is a light-hitting contact guy whose arm relegates him to second base. He went unselected in the Rule 5 Draft a few weeks ago.
Jagielo, 23, was New York's first round pick in 2013 (26th overall) and is the best prospect in the trade, in my opinion. He hit .284/.347/.495 (141 wRC+) with nine homers in 58 Double-A games this past season before jamming his knee sliding into home plate in June and needing season-ending arthroscopic surgery. The knee and an oblique strain have limited Jagielo to 143 games the last two years.
The 22-year-old Davis broke out with High-A Tampa this past season, pitching to a 3.70 ERA (2.22 FIP) in 97.1 innings before a late-season bump to Double-A Trenton. He was the Yankees' 14th round pick in 2011. Davis is a huge guy (listed at 6-foot-3 and 235 lbs.) with a mid-90s fastball and a curveball. He made significant strides with his command in 2015 and earned himself a spot on the 40-man roster after the season.
The Yankees traded away Justin Wilson and Adam Warren earlier this offseason and Chapman more than makes up for the loss of Wilson. The team does still need rotation help however, preferably someone they could rely on to soak up innings. Betances, Miller, and Chapman are a hell of a thing, but Joe Girardi doesn't want to have to use them every single day either.