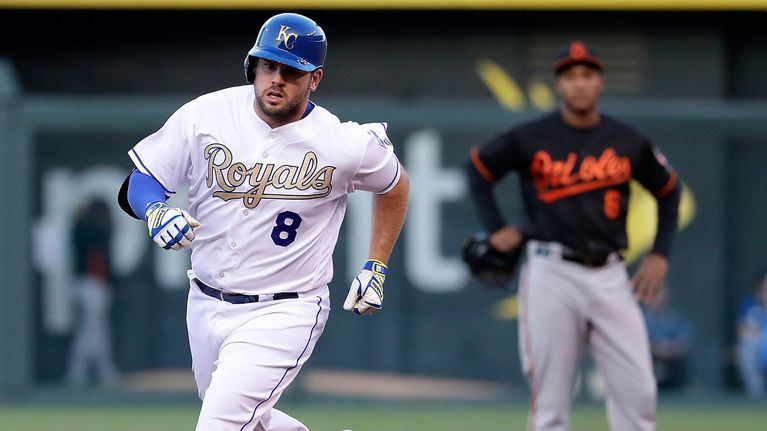 Make no mistake: Mike Moustakas fits well with the 2018 Yankees. Not perfect by any stretch, but well enough that, should the right situation present itself, the Yankees should seriously consider signing him. Until this point in the off-season, however, that did not seem feasible.
Given how slowly the hot stove has unfolded, it is only natural that we'll hear speculation about certain players taking pillow contracts. If history is any indication, most of those players will end up with long-term deals. How many times have we heard that Scott Boras overplayed his hand, only to secure a meets (or exceeds) expectations contract in January?
At the same time, baseball is at a strange juncture. The Dodgers and Braves just worked out a junk swap that allows Los Angeles to manipulate the luxury tax situation. The Yankees, as we well know, have a mandate to stay under the $197 million luxury threshold so they can reset their rate. Might it be worth the whiles of players such as Moustakas to sign one-year deals this year in order to cash in when at least two big-market teams are ready to spend?
Ultimately, I'd guess that Moustakas lands a multi-year deal for high eight figures sometime in January — something like five years, $85 million. But until that happens, there is no shame in speculating. And Buster Olney got us started down that path.
Before we start imagining Moustakas popping baseballs over the wall in right, let's be clear about one thing: The Yankees can't make this work with Jacoby Ellsbury's full contract still on the books.
I mean, by the most technical definition they could. According to our latest Yankees payroll update, they have roughly $24.5 million left to spend. The above-guessed contract has an AAV of $17 million. Even if we go with that number and don't go to, say, $20 million to help justify the short commitment, that leaves the Yankees with $7.5 million left. That's close to the amount they'll likely retain heading into the season so that they can make mid-season maneuvers.
Do they really want to go down that path?
By all indications, they're trying to add another starting pitcher. Unless they land Michael Fulmer, that pitcher will cost them more than $7.5 million. They could trade a reliever, but Mike argued pretty solidly against that idea. Looking around the roster, if it's not an expensive reliever changing jerseys it'd have to be Ellsbury.
Practical considerations aside, adding Moustakas's left-handed power to the lineup would create a run-scoring bonanza the likes of which we haven't seen since the 1931 Yankees*. The 2017 home run total for the projected starting lineup is 252 — which is more than any other team in 2017 including the Yankees themselves.
*And since none of us saw that, we should probably say the 1999 Indians. But, you know, Yankees Only.
Another advantage to adding an established third baseman such as Moustakas: it's much easier to justify opening the season with Gleyber Torres at second. Opening the season with two inexperienced players in the infield? Not out of the question, but also not ideal. Adding a third baseman such as Moustakas, however, makes that decision easier. It also gives Miguel Andujar a season to take reps at third at Scranton. You know, just in case they don't get Manny Machado. Which is the entire idea behind finding a stopgap third baseman.
To reiterate, were I a betting man I wouldn't bet against Boras getting Moustakas a good multi-year deal this off-season. That's largely because I've learned not to bet against the best in the biz, but also because Moustakas is a good enough player that he should get a decent contract. That's out of the question for the Yankees, for good reason. But if we're imagining the possible, it's easy to dream on a 275-homer team.