Acquiring decent bench players has always been difficult for the Yankees. First and foremost, bench players are like relievers. They tend to be good one year and terrible the next. Secondly, the good ones who hit free agency never want to sign with New York because they know they'll be stuck behind someone with a big name or a big contract or both. Players want to play. The Yankees over the years haven't been able to promise much playing time to bench guys.
So the Yankees have instead had to grow their own bench players. Either that or acquire them in trades, which is how they ended up with Brendan Ryan and Garrett Jones. Ryan came over in a trade with the Mariners in September 2013 before taking a two-year contract to be Derek Jeter's caddy. Jones was part of last offseason's Martin Prado-Nathan Eovaldi swap. Both were part of the 2015 bench. For at least part of the season, anyway.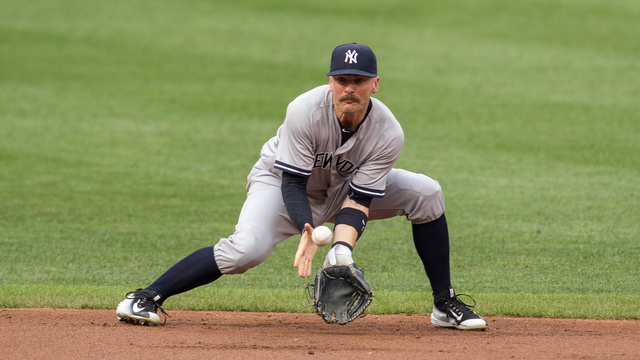 The Utility Infielder, Because You Need One
For the second straight year, Ryan was not healthy enough to be on the Opening Day roster. He had an ongoing back problem in Spring Training, then, once his back was healthy, he strained his calf making a play in the field during a Grapefruit League game. That landed him on the 15-day DL and eventually the 60-day DL. (Ryan was transferred to the 60-day DL to make 40-man roster room for Jacob Lindgren in late-May.)
Eventually Ryan got healthy. He played in some minor league rehab games — that was his Spring Training, basically — before being activated off the DL on June 10th. Ryan made his season debut that day and, naturally, went 2-for-3 with a triple. He reached base three times in the game overall.
Ryan's return lasted less than two weeks. He appeared in six games over the next eleven days — he started three of them and went 4-for-13 (.308) overall — before returning to the 15-day DL with another back injury on June 22nd.
It wasn't until after the All-Star break that Ryan returned to the Yankees. He played sparingly the rest of July though did finish the month very well. Ryan went 6-for-16 (.375) with three doubles and a triple in the span of three games at the end of the month. That includes a 2-for-6 with two doubles night in that 21-5 blowout win over the Rangers.
Of course the offense wasn't going to last though. Ryan has never been much of a hitter and one of those doubles that night looked like this:
That, ladies and gents, is some good ol' fashioned BABIP luck. It happens.
Ryan stayed healthy the rest of the season but was just awful at the plate. He had four hits in August. Four. Four hits in 35 at-bats (.114) spread across 17 games, including ten starts. A seven-hit September followed. For a while Joe Girardi used Ryan in a straight platoon with Stephen Drew, and, to Ryan's credit, he did hit .283/.321/.453 (109 wRC+) against southpaws this summer.
All told, Ryan hit .229/.275/.333 (64 wRC+) with a 28.2% strikeout rate and a 4.9% walk rate in 103 plate appearances this past season. He did not hit a home run or steal a base, and 53 of those plate appearances came against lefties. Believe it or not, the 64 wRC+ represents Ryan's best offensive season since 2011 with the Mariners (84 wRC+).
Ryan makes his living in the field, not at the plate. The defensive stats say he was a below-average defender this summer but it's hard to take them seriously. He played 261.67 innings in the field. That's slightly more than 29 full games. The eye test told me Ryan is still really good in the field. He can still do stuff like this:
For the most part Ryan played the middle infield and third base. He also dabbled at first and even spent a few innings in right field. Heck, Ryan threw not one, but two (!) scoreless innings in a blowout loss to the Astros on August 25th. He threw 20 of 28 pitches for strikes and even got a swing-and-miss. What a time to be alive.
As expected, Ryan exercised his $1M player option shortly after the end of the World Series. I suppose the Yankees could look around for an upgrade — Cliff Pennington just signed a two-year contract worth $3.75M, if you're wondering what backup infielders are going for on the open market — but I consider it a low priority. Utility infielders typically aren't very good. Ryan still plays strong defense, he's cheap, and he's an A+ clubhouse dude. I'm not sure what more you could want from a position that is lucky to crack 150 plate appearances in a season.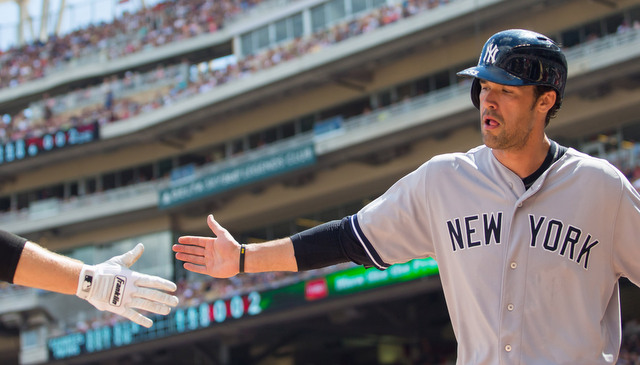 The Perfect Fit That Wasn't
Coming into this season there were a lot of questions about Carlos Beltran (offseason elbow surgery), Mark Teixeira (terrible second half), and Alex Rodriguez (suspended all of 2014). The Yankees didn't really know what to expect from any of them. All three could have been at the end of the line.
So, to get themselves some protection, the Yankees acquired Jones in that five-player trade with the Marlins. Jones had experience playing right (Beltran) and first (Teixeira), and could also step in at DH (A-Rod). He provided depth at all three spots. The Yankees had been after Jones for years — they first tried to get him from the Pirates in the A.J. Burnett trade — and they finally got him last winter.
Once it became clear A-Rod and Teixeira still had something left in the tank, it was very hard for Jones to get playing time. He appeared in only 18 of the team's first 41 games, starting just eight of them. Jones went 6-for-40 (.150) with one walks and eleven strikeouts in those 41 team games. It wasn't until May 22nd that he hit his first home run. The next day he pitched in a blowout loss.
Jones actually got into a bit of a groove in late-May, going 11-for-25 (.440) with three home runs in the span of 13 team games. The biggest of those three home runs — and Jones' most notable moment as a Yankee — was a game-winning three run homer in extra innings against the Mariners on June 2nd.
That was a huge hit at the time. The Yankees had lost 13 of their last 19 games and needed someone, anyone, to come through with a huge hit. And that was it. Jones came through. The homer earned him another start the next day and Jones went deep again. It looked like he was finally going to contribute.
It didn't last though. Jones went back to playing sporadically and eventually the Yankees cut him loose at the end of July. They acquired Dustin Ackley to effectively replace Jones. Ackley could play right field and first base like Jones, as well as fill-in at second base. Plus he's seven years younger. It made sense. It seemed like a small upgrade at the time but it was an upgrade nonetheless.
The Yankees cut Jones loose, then, after Ackley hurt his back a few days after the trade, the Yankees ended up re-signing Jones to fill his old roster spot. The timing was a bit awkward, I'd say. Ackley missed the entire month of August but Jones never did get appear in another game with the Yankees. He remained with the team for another two and a half weeks or so, then was designated for assignment when Greg Bird got called up.
Jones was unable to hook on with another team after that. I thought maybe someone would pick him up as a lefty power bench bat once rosters expanded in September, but it didn't happen. All told, Jones hit .215/.257/.361 (65 wRC+) with five home runs in 152 plate appearances spread across 57 games with New York. He played 24 games in right field, 21 at first base, four at DH, four in left field, plus one on the mound. And he pinch-hit a few times.
On paper, Jones was a great fit for the 2015 Yankees. He gave them some protection at first base, right field, and DH, three positions with questions, and his left-handed power looked like a perfect match for Yankee Stadium's short right field porch. It didn't work out. That's baseball. The Yankees paid Jones $5M this season and he's a free agent. No reason to think he'll be back next year.