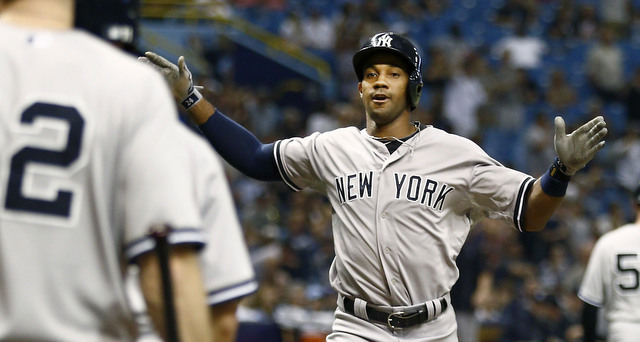 From 2013-14, the Yankees hardly qualified as the Bronx Bombers. The Yankees had their worst set of back-to-back offensive seasons since the early-1990s and a shortage of power was a main culprit. The team hit 200+ homers 12 times in 13 years from 2000-12 — including a franchise record 245 homers in 2012 — before falling to 144 homers in 2013 and 147 homers in 2014. The 101-homer drop from 2012-13 is the largest from one year to the next in baseball history.
The lack of power stemmed from a little of everything — injuries, roster construction, age, you name it. Mark Teixeira missed just about the entire 2013 season and Curtis Granderson was limited to only 61 games in 2013, for example. Ichiro Suzuki became a regular, Chris Stewart spent a year as the starting catcher, Robinson Cano left as a free agent, Alfonso Soriano went from great to done in an offseason, Alex Rodriguez was suspended … the decline in a power was the result of many things.
As much as the starting lineup was hurting for power the last two years, the bench provided no help whatsoever. The projected bench heading into last season was Frankie Cervelli, Ichiro, Brendan Ryan, and Eduardo Nunez, who lost the job to Yangervis Solarte in Spring Training. Those four combined to hit nine homers — six by Solarte — in 960 plate appearances in 2014. The 2012 projected bench (Stewart, Jayson Nix, Ben Francisco, Brennan Boesch) hit only eleven homers in 746 plate appearances.
Power off the bench just wasn't a thing the Yankees had on the roster the last two seasons after carrying players like Andruw Jones (27 HR in 491 PA from 2011-12), Eric Chavez (18 HR in 488 PA from 2011-12), Marcus Thames (12 HR in 237 PA in 2010), and Eric Hinske (7 HR in 98 PA in 2009) as reserve players in recent years. Go back to the late-1990s and the Yankees always had guys like Darryl Strawberry, Shane Spencer, Jim Leyritz, and Ruben Sierra on the roster. Someone who could come off the bench and be a threat to hit the ball out of the park.
After those two powerless years from 2013-14, the Yankees brought in some bench pop this offseason in Chris Young and Garrett Jones, who have already contributed four homers (all by Young) and ten extra-base hits off the bench through 14 games. Jones has yet to go deep but it's only a matter of time until that happens as a lefty pull hitter playing his home games in Yankee Stadium. He's shown throughout his career that he can hit the ball out of park. Young has been excellent since arriving in New York last September and has filled in more than capably when Brett Gardner (wrist) and Carlos Beltran (illness) missed time last week.
Young and Jones have both contributed off the bench in the early going but I don't think that means they should get more playing time. Both are the type of player who would get exposed with more at-bats at this point of their careers. They have holes in their swings, can swing-and-miss with the best of 'em, and they do their very best work against fastballs. Give them more playing time and we'll go from liking their contributions off the bench to wanting them out of the lineup in a hurry. They're not regulars at this point of their careers.
So far in the early going, Young in particular has served the Yankees very well in his role as fourth outfielder. He's hit and hit for power, something the team hasn't gotten off the bench in recent years. Jones hasn't had much of a chance to play yet, though he already has a three-hit game to his credit and has played first base as well as right field. After two years of getting little offense from their reserve players, Young and Jones have given the Yankees some nice early returns and have added an element of power off the bench the team sorely lacked from 2013-14.