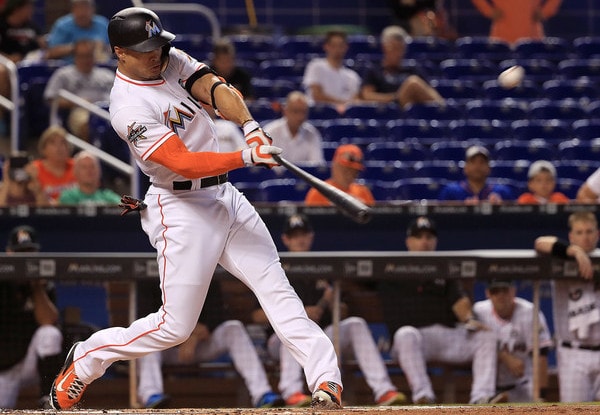 Exit velocity is inescapable these days. Statcast puts the data at our fingertips and now you see it everywhere. On Twitter, on broadcasts, even on the scoreboard. The Yankee Stadium scoreboard showed exit velocity after balls in play this season. I'm not joking. It was right next to pitch velocity.
The Yankees have made it no secret they use exit velocity as an evaluation tool. I remember Brian Cashman saying a factor in the Chase Headley trade was an uptick in his exit velocity after he came back from an injury. We heard Aaron Judge had elite velocity while he was still in the minors. Here is the 2017 exit velocity leaderboard (min. 300 balls in play):
Aaron Judge: 94.9 mph
Nelson Cruz: 93.2 mph
Khris Davis: 92.2 mph
Giancarlo Stanton: 91.9 mph
Paul Goldschmidt: 91.4 mph
League Average: 86.6 mph
We've known hitting the ball hard is a good thing basically since the dawn of baseball. Now we can measure it and that's cool. Exit velocity is just one tool in the shed though. Launch angle and direction is important too. After all, the hardest hit baseball during the Statcast era is a 123.9 mph grounder that went for a 4-6-3 double play. True story. Stanton hit it two years ago.
The best contact is hard contact in the air. Yes, a hard-hit grounder has a better chance to go for a base hit than a weakly hit grounder, but hit the ball hard in the air and good things will happen. On average, fly balls and line drives had a higher average exit velocity (92.1 vs. 82.5), batting average (.468 vs. .249), and isolated power (.454 vs. 022) than ground balls last season. Last season and every season.
So with that in mind, let's take a look at where each current member of the 2018 Yankees hit the ball the hardest last season. I don't mean where he hits it on the field. I mean within the strike zone. Some guys can only put a charge into the ball when it's middle-middle. Some guys are low ball hitters. Others can do damage on pitches pretty much anywhere. Those guys are the very best hitters in the game, the ones who can make great contact anywhere in the zone.
For the purposes of this post, I'm going to consider a hard hit ball a fly ball or line drive with an exit velocity of at least 100 mph. Hitting the ball in the air is good, and 100 mph is a nice round number, so let's go with that as our cutoff. Here's where each 40-man roster member — not including Jake Cave, Thairo Estrada, Billy McKinney, and Gleyber Torres because they didn't play in the big league last year — hit the ball the hardest last season. This post is image heavy, so everything is behind the jump.