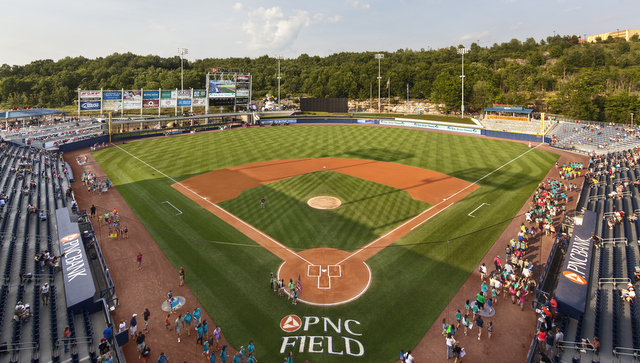 The 2019 minor league regular season begins Thursday and the Yankees announced their Opening Day rosters a few days ago. They never publicly released them that far in advance. Pretty cool. Here are the minor league coaching staffs and here are some miscellaneous notes as the season approaches.
Yankees release 22 minor leaguers
As is the case every season with every team, the Yankees released several minor leaguers at the end of Spring Training. There are only so many innings, at-bats, and roster spots to go around. Here are the 22 minor leaguers the Yankees released in recent days, according to Robert Pimpsner and Matt Eddy:
Catchers: Carlos Rodriguez
Infielders: Griffin Garabito, Jesus Graterol, L.J. Mazzilli, Oscar Sanabria
Outfielders: Devyn Bolasky, Andy Diaz, Jordan Scott
Right-Handed Pitchers: Carfred Espana, Jairo Garcia, Gabriel Gonzalez, Chase Hodson, Kyle Johnson, Jean Luna, Bringnel Mendez, Daison Manzano, Christian Morris, Garrett Mundell
Left-Handed Pitchers: Marcos Arguello, Justin Kamplain, Dallas Martinez, Nestor Oronel
Mazzilli (Lee's son), Bolasky, and Kamplain came up from minor league camp and spent some time with the Yankees as extra bodies for Grapefruit League games this spring. The Yankees simply ran out of full season roster spots for them. Mundell had some sleeper potential as a hard-throwing reliever and Scott was a tools guy who never really figured it out. Just about everyone else is a Dominican Summer League or rookie ball kid.
Culver worked out for Yankees as a pitcher
Former Yankees first round pick Cito Culver worked out for the team as a pitcher during Spring Training, reports Robert Pimpsner. Here's some video. Culver, now 26, hit .227/.299/.314 (58 wRC+) with four homers as a Double-A and Triple-A utility infielder with the Marlins last season. He signed with the independent Rockland Boulders a few weeks ago and their press release indicates he'll play the infield, not pitch.
Culver pitched in high school — the video is long gone now, but I remember MLB.com's draft video was Culver pitching rather than hitting and playing the infield — and his throwing arm was his best tool as a position player. As his bat failed to develop, the possibility of moving to the mound always lingered, though it never happened. The Yankees wouldn't take a look at Culver this spring if they didn't have some interest in signing him. This might be something that gets revisited down the line.
MiLB announces rule changes
Minor League Baseball announced new rule changes and revisions last week that align closely with the rule changes coming to Major League Baseball the next two years. Here are the announced changes:
Three-batter minimum for pitchers at Double-A and Triple-A unless the inning ends.
Extra-innings tiebreaker rule revised so pitchers no longer serve as a designated runner.
Mound visit limits reduced (now five in Triple-A, seven in Double-A, nine in Single-A, no limit in rookie ball).
Josh Norris notes rehabbing big leaguers are exempt from the three-batter minimum, which will otherwise be largely inconsequential. Matching up rarely happens in the minors. Even pitchers who project as matchup specialists long-term are used for full innings so they can try to improve against batters of the opposite hand. J.J. Cooper looked at last season and found only a handful of Triple-A pitching appearances that would've been affected by the new rule.
The extra-innings tiebreaker rule took effect at all levels last season and I am totally cool with using it in the minors. There's no reason to risk injuries and push young developing players deep into extra innings. The minors are about development, not wins and losses, and protecting players should be a priority. The rule was revised this year so that pitchers no longer have to serve as the designated runner to start the inning, which has zero impact on the Yankees because they use the DH. The batter who made the last out of the previous inning serves as the runner. If it was a pitcher, the batter before him runs. Easy peasy.
MLB announces AzFL chances
Two weeks ago MLB announced a series of changes to the Arizona Fall League. Most significantly, the season has been moved up a few weeks. The 2019 AzFL season will begin September 17th and end October 26th. In the past the season started in early-October and ended in mid-November. Now there's much less downtime between the end of the minor league season and the start of the AzFL season. That's an obvious plus. Expecting players to stay sharp without game action for a few weeks was kinda silly.
Furthermore, teams will now be able to send any player under contract to the AzFL. In the past teams could only send one player who spent the regular season below Double-A, so the league was heavy on Double-A and Triple-A players. Now anyone can go. The AzFL press release doesn't say anything about players with MLB service time — players with a full year of service time were ineligible for the Fall League — so I assume that rule no longer applies. Sensible changes and good news all around.
Longtime coach, manager Tony Franklin retires
Longtime minor league coach and manager Tony Franklin retired following Spring Training, according to Mark Didtler. It was his 50th (!) Spring Training in professional baseball. "I enjoyed every minute of it," Franklin said. Franklin, 68, had a nine-year minor league career as a speed-and-defense infielder with the Reds, Cubs, and Expos from 1970-78.
By 1979, Franklin was coaching in the minors, and he joined the Yankees in 2007. Franklin managed Double-A Trenton (2007-14) and Rookie Pulaski (2015), then moved into a rehab coach role in Tampa. He led Trenton to three league championships (2007, 2008, 2013). Franklin was a baseball lifer and incredibly popular with his players and within the organization. Congrats to him on a great career.
Miscellaneous links
And finally, here are some stray links to check out as we wait for minor league Opening Day to arrive:
The MLB.com crew listed one breakout prospect for each team. RHP Deivi Garcia was their pick for the Yankees. "Garcia is so polished that he finished his third professional season in Double-A at age 19. The Yankees love high spin rates, and he has them with his curveball and 91-96 mph fastball. He also shows promise with a fading changeup," says the write-up. Didn't Deivi break out last year?
Jonathan Mayo spoke to farm system head Kevin Reese about the system. Reese mentioned RHP Tanner Myatt and OF Josh Stowers as guys who stood out in Spring Training. "He has a really even-keeled personality. You don't see him get too up or down. His at-bats feed off of that. He has good strike zone knowledge and it seems like he knows when it's time to let it fly and he knows when it's time to sit back and put the ball in play, so that's been impressive," Reese said of Stowers.
Sam Dykstra posted a Q&A with Reese about all the pitching in the system. "I don't think there's anyone that we've brought from 89-91 all the way to 97 with any secret sauce or anything like that. But we're trying to maximize in the weight room. We're trying to maximize nutrition. We're trying to maximize all those of things to allow guys to hit their ceilings," Reese said regarding the Yankees' ability to help pitchers to add velocity.