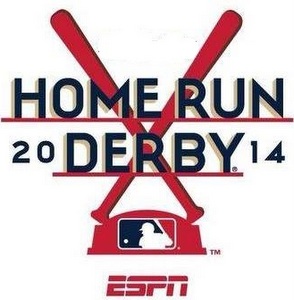 The All-Star break is officially underway and tonight is the annual Home Run Derby. It's an event that, like just about everything else in the history of the universe, is better enjoyed in person than on television. It can get a little slow and start to drag on at times, but hey, I love homers. This is fun.
If you haven't heard, the Derby has a new format this year. There are five players per league and they each get seven outs per round, not ten. The top three homer totals in the first round in each league advance. The player with the most homers in each league gets a bye to the third round while the players with the second and third most meet head-to-head in the second round. The winner of the third round in each league meet in the finals, so it'll be AL vs. NL. Kinda cool. Little more exciting that the old format, that's for sure.
There are no Yankees in the Home Run Derby this year, which isn't all that surprising. Mark Teixeira is pretty much only guy on the roster who belongs in the same sentence as the Home Run Derby but meh. Robinson Cano represented the Yankees every year from 2011-13. Here are the ten Home Run Derby participants. I don't know the order in which they'll swing, but we'll find out soon enough.
American League
Jose Bautista, Blue Jays (captain)
Yoenis Cespedes, Athletics
Josh Donaldson, Athletics
Brian Dozier, Twins
Adam Jones, Orioles
National League
Todd Frazier, Reds
Justin Morneau, Rockies
Yasiel Puig, Dodgers
Giancarlo Stanton, Marlins
Troy Tulowitzki, Rockies (captain)
I thought it was kinda weird there are two Athletics and two Rockies in the Derby, but it turns out it's not uncommon for two teammates to participate. It happened as recently as 2011 (David Ortiz and Adrian Gonzalez) and has happened a bunch of other times throughout history. My official prediction is Frazier over Jones. Don't ask me why. It's just a guess.
The Home Run Derby is scheduled to begin at 8pm ET and you can watch on ESPN. Talk about that or anything else right here. Enjoy.