They don't call them the Bronx Bombers for nothing, s0 I was somewhat surprised to see that just three Yankees have participated in the Home Run Derby a total of four times since the event started in 1985. Robinson Cano will make it four players and five appearances later tonight, when he takes his hacks at Chase Field in Arizona with seven others. It could have been Mark Teixeira, but he decided to spend the All-Star break at home with his family after not making the AL team. Oh well. Let's go back in time and relive the four Derbies the Yankees graced with their presence…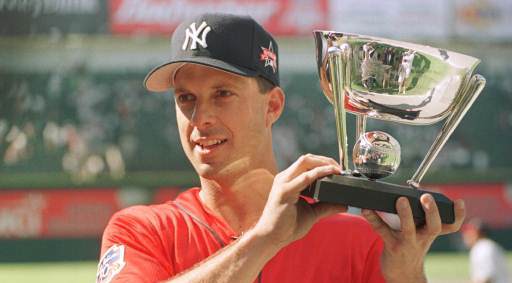 Tino Martinez, 1997
I was pretty young and naive in 1997, so I thought Tino's monster 44 homer campaign was a sign of great things of come. Of course that was his career season, and on only two other occasions did he top even 30 homers (1995 and 2001). Tino's first half in 1997 was beastly, a .302/.370/.619 batting line with 28 homers (!!!) in 85 games. The Derby was a little different back then, it had ten players (not eight) taking their swings at the brand spanking new Jacobs Field in Cleveland.
Tino hit five homers in the first round, tied with Mark McGwire for the second most behind Larry Walker (nine). Martinez went deep eight times in the second round, again the second most behind Walker's nine. Although the Colorado outfielder and eventual NL MVP out-homered the Yankees' first baseman 19-16 over the course of the event, Tino's timing was better. He hit three homers in the finals to Walker's one, and that was that. The first Yankee to compete in the Derby had won it. Tino production dropped a bit in the second half, but he still hit a crazy good .289/.372/.525 with 16 homers in 73 games down the stretch.
Jason Giambi, 2002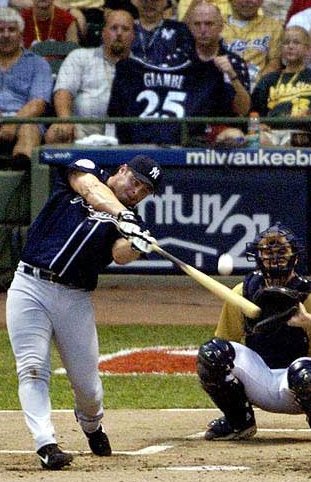 The Giambino's first year in pinstripes was insanely good; he hit .318/.430/.602 with 22 homers in 86 games heading into the break. The first round of the Derby in Miller Park wasn't much of a problem, Giambi hit 11 homers. Only Sammy Sosa (12) had more. Back in those days, the four players that advanced to the second round faced off head-to-head, one seed vs. four, two vs. three. Giambi drew Paul Konerko as the two seed, then out-homered him seven to six in the second round. Sosa (five) beat Richie Sexson (four), so he and Giambi met in the finals even though Konerko had the second most homers in the round.
Sosa was no match in the finals. Giambi out-homered him 7-1 to win the event, and his 24 total homers were the second most all-time behind the 26 Sosa hit in 2000. Two Yankees in the Derby, two wins. Giambi's production didn't slip at all in the second half, he hit .309/.442/.593 with 19 homers in his final 69 games.
Jason Giambi, 2003
MLB invited Giambi to the Homerun Derby for the third straight year and why not? He was one of the game's premier sluggers at the time. He had hit .267/.419/.547 with 26 homers in 91 first half games, so not that far off from his 2002 first half in the OBP and ISO departments. U.S. Cellular Field loves left-handed batters and Giambi took advantage, leading the way with a dozen first round homers. Garrett Anderson hit seven, and no one else topped four. Giambi drew Albert Pujols in the second round, though his eleven homers were not enough. Pujols hit 14 and advanced to the finals, losing to Anderson 9-8. Despite being bounced in the second round, Giambi's 23 total homers were the second most in the event, three behind Pujols. His production dropped in the second half, down to .226/.401/.498 with 15 homers in 65 second half games.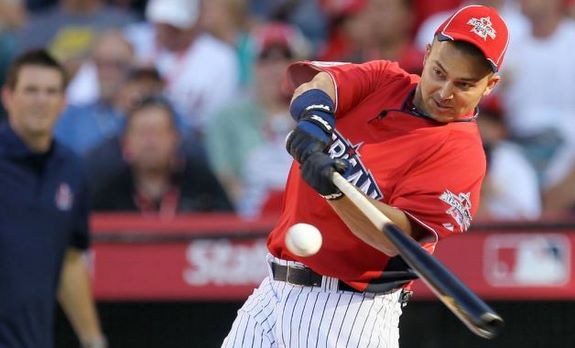 Nick Swisher, 2010
Swisher wasn't even supposed to participate in the event in the first place. He was a replacement for Cano, who had to withdraw due to a sore back. Swish didn't make it out of the first round, hitting just four balls out of Angels Stadium. He was spared the embarrassment of hitting the fewest homers in the event by Chris Young (one) and Vernon Wells (two). David Ortiz eventually beat Hanley Ramirez in the finals. After hitting .298/.377/.524 with 15 homers in 84 games in the first half, Swisher dropped to .275/.336/.494 after the break, but he did hit 14 homers in 67 games.
* * *
Aside from the superhuman Giambi in 2002, everyone's production declined in the second half, but they were hardly useless. I think it has more to do with those guys having outrageously good first halves and just coming back to Earth down the stretch. Cano is at .296/.342*/.521 with 15 homers through the team's first 88 games, and it's worth noting that he's traditionally been a better hitter in the second half. That was not true last year, however. Either way, I'd love to see Cano win the thing, but I'll take the field on this one.
* I was surprised to see his OBP that high, but then I realized that it's inflated by a career-high nine hit-by-pitches. He got plunked eight times last year and eight times 2007. If we remove those HBP's from his time-on-base and plate appearance totals, his OBP is just .326. I don't want to think about what it would be if we removed the four intentional walks.