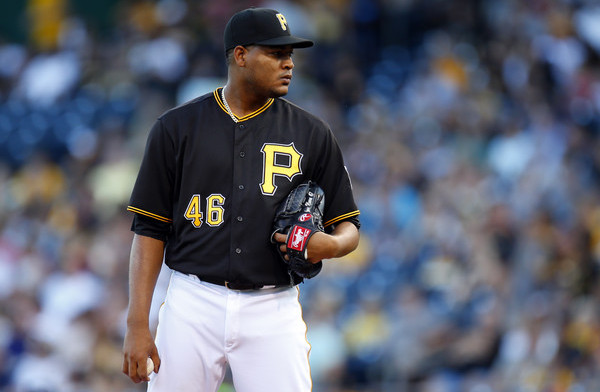 Even after receiving ten prospects in their various trade deadline deals, the Yankees still have two more prospects coming to them. Ivan Nova was traded to the Pirates for two players to named later, and after the trade, Brian Cashman told reporters the Yankees will pick those players from a list after the season. They'll spend the next few weeks scouting before making a decision.
Cashman appeared on Buster Olney's podcast last week, and during that appearance he gave some more details about those players to be named. They're going to be two "legitimate" prospects from the lower levels of the minors. Here's what he said:
"We're getting two prospects from Pittsburgh for Nova, so we have to pick from a list of players and evaluate those the remaining two months (of the season). We'll be bouncing throughout lower levels of the Pirates' system as we make that selection and add two more pieces that are legitimate prospects."
I saw folks I trust on Twitter saying that, in a separate radio interview, Cashman said the Yankees will be picking from a list of four players who are among Pittsburgh's 30 prospects. I can't find that radio interview, but like I said, I trust those who were talking about it. Also, Rob Biertempfel says the two players are not on the 40-man roster.
So, if nothing else, this helps us narrow down the list of players. Two non-40-man roster players in the lower levels who are among the Pirates' top 30 prospects. Top 30 prospects according to whom? Who knows. Maybe Baseball America, maybe MLB.com, maybe probably the Yankees' internal evaluation of Pittsburgh's system. Let's stick with MLB.com's list because it's free. Here are the players who fit that criteria:
5. RHP Mitch Keller
6. 3B Ke'Bryan Hayes
8. SS Cole Tucker
13. RHP Yeudy Garcia
17. LHP Stephen Tarpley
18. RHP Luis Escobar
20. RHP Gage Hinsz
21. 3B Kevin Kramer
25. LHP Taylor Hearn
27. RHP Dario Agrazal
28. OF Tito Polo
The Yankees did exceptionally well in their other trade deadline deals, though this is still Ivan Nova we're talking about, so I doubt any of those first three guys are in play. Keller, Hayes, and Tucker are among the Pirates' best prospects. Also, Hearn just came over in the Mark Melancon trade, so he's probably off-limits too.
Based on all of that, that list of eleven players above has already been whittled down to seven: Garcia, Tarpley, Escobar, Hinsz, Kramer, Agrazal, and Polo. Personally, I really like Kramer and would be pretty thrilled to get him in the Nova deal. Really though, I'll be happy with anyone with actual prospect value. That the Yankees are getting two players is just gravy.
Nova will be a free agent after the season and he's not a qualifying offer candidate, so the Yankees didn't have a ton of leverage in trade talks. His performance since returning from Tommy John surgery didn't helped matters either. The Yankees were smart to trade Nova for whatever they could get rather than lose him for nothing after the season, and it sounds like they might actually get a pair of halfway decent prospects in return.