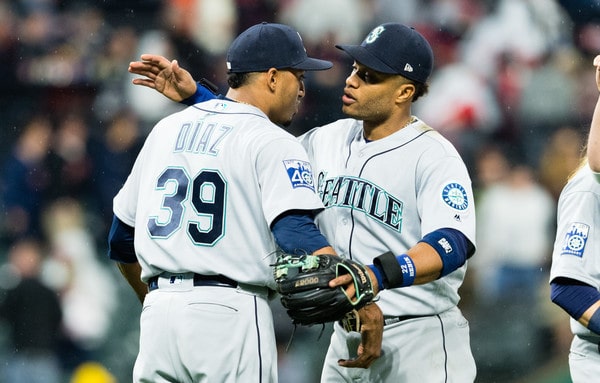 Robinson Cano is coming back to New York. Just not with the Yankees.
According to multiple reports, the Mets and Mariners have (finally) agreed to a five-for-two trade that sends Cano and stud closer Edwin Diaz to Flushing for a combination of prospects and veteran salary offsetters. Here are the trade details:
Mets get: Cano, Diaz, and $20M
Mariners get: Jay Bruce, Anthony Swarzak, Jarred Kelenic, Justin Dunn, Gerson Bautista
Give new Mets general manager — and Cano's former agent — Brodie Van Wagenen credit. This is the most creative move the Mets have made in a long time. Given the way the money works — including Bruce and Swarzak means this trade is close to payroll neutral in 2019 and 2020 — the Mets took on salary down the line with Cano to score four years of a top notch closer.
This trade makes the Mets significant better on the infield and in the bullpen, and they gave up nothing they'll miss off their big league roster. The question now is will the Mets continue to add? This alone isn't enough to get them into the postseason. The Mets went 77-85 this past season but have a strong rotation and the makings of a good lineup. They still need help behind the plate and in center field, in the bullpen, and with overall depth.
As for the Mariners, this trade continues their offseason fire sale, which has already seen Mike Zunino go to the Rays and James Paxton come to the Yankees. Using a player as valuable as Diaz to shed as much of Cano's contract as possible takes a special kind of cheap, but it is what it is. Kelenic (sixth overall pick in 2018) and Dunn (19th overall pick in 2016) are two very good prospects, so it's not like Seattle gave Diaz away. Bautista is an MLB ready reliever too.
The trade has some indirect impact on the Yankees. They've been connected to both Cano and Diaz this offseason, though a trade for either never seemed all that likely to me. The Yankees and Mariners talked Cano for Jacoby Ellsbury but the money was still an obstacle. Diaz would've been a great pickup. It's just hard for me to see how the Yankees win a prospect bidding war for him if guys like Kelenic and Dunn were on the table.
Also, with the Mariners going into tank mode, it means one fewer team to compete against next year should the Yankees have to settle for a wildcard spot yet again. I count six (!) rebuilding teams in the American League: Mariners, Orioles, Rangers, Royals, Tigers, and White Sox. More than one-third of the league is rebuilding. Geez. The Blue Jays and Twins aren't looking so hot either. The AL is very top and bottom heavy right now.