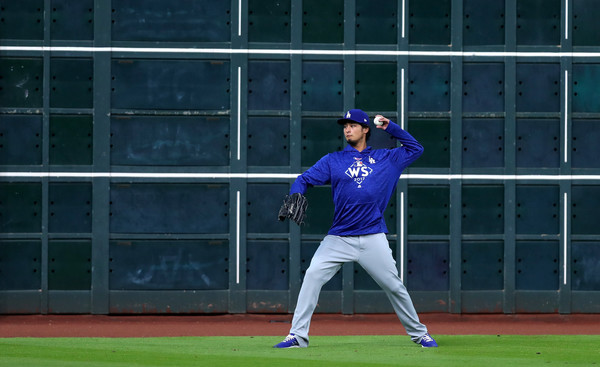 Pitchers and catchers report in less than six weeks and there are a whole bunch of free agents who have to sign between now and then. Good free agents too. I wonder how many will be stuck looking for work in mid-March? We'll see. Here's the latest Yankees-related hot stove news.
Yankees still in on Darvish and Cobb
The Yankees remain interested in Yu Darvish and Alex Cobb, though they are unlikely to get seriously involved unless they can free up more payroll space under the $197M luxury tax threshold, reports Jon Heyman. We first heard about the team's interest in Darvish and Cobb last month. Aside from Tyler Chatwood and CC Sabathia, every significant free agent starting pitcher remains unsigned at this point, with Spring Training less than six weeks away.
Clearly the Yankees want another starting pitcher, and not just a depth arm. They want an impact guy. Just look at their rumored targets: Darvish, Cobb, Gerrit Cole, Michael Fulmer, Chris Archer, etc. That said, I don't think they're all that serious about the free agents — unless they get a sweetheart deal — because of the luxury tax plan. I think Plan A is dipping into the farm system and trading excess prospects for a younger, controllable starter. The Yankees already have five starters, so they can afford to sit back and let the market play out, and see if anything falls into their lap before Spring Training.
Yankees remain interested in Machado
Manny Machado's name continues popping up in trade rumors, and according to Nick Cafardo, the Yankees remain interested in the Orioles third baseman. They have not yet "discussed names that have moved the needle for Baltimore," however. The Yankees have a great big opening at third base, an opening Machado would fill more than capably, though the intra-division/Peter Angelos dynamic makes a trade very unlikely.
Maybe I'm wrong, but trading top prospects for one year of Machado doesn't strike me as something the Yankees would do. Does it improve the 2018 Yankees? Without a doubt. I don't think the Yankees want to pay twice for him, so to speak. They'd have to trade top prospects to get him, then give him a market rate contract to retain him after the season. I've seen the rumors that Machado wants to play in New York, but I think it would be foolish to expect him to take some kind of discount. I don't see the Yankees trading prospects for Machado now when they could simply sign him in a year, even though that doesn't help them in 2018.
Yankees made offer to Choi
According to Jee-Ho Yoo, the Yankees are one of several teams to make an offer to free agent first baseman Ji-Man Choi. I assume it was a minor league contract offer. Choi, 26, spent most of last season with Triple-A Scranton, though he did make a six-game cameo with the Yankees, going 4-for-15 (.267) with two homers. He hit .288/.373/.538 (149 wRC+) with 15 homers in 87 games with the RailRiders.
The Yankees are going to need a pretty good Triple-A first baseman this coming season. Greg Bird is locked into the big league job, but he's had trouble staying healthy the last few years, and backup plan Chase Headley has been traded. Right now Tyler Austin is No. 2 on the first base depth chart and he's had his own health/production issues in recent years. Mike Ford was taken in the Rule 5 Draft, leaving Ryan McBroom as No. 3 on the depth chart. Expect a Choi-esque signing before Spring Training.