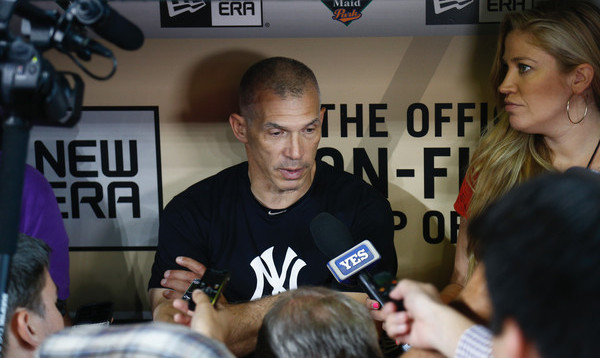 Following this season the Yankees will shed a pair of massive contracts in Alex Rodriguez and CC Sabathia. Those two are making a combined $46M this season — yes, the Yankees are still paying A-Rod — plus it's possible Masahiro Tanaka will opt out of the three years and $67M left on his deal. That'll all go a long way to helping the Yankees get under the $197M luxury tax threshold next season.
Two other key members of the organization will become free agents after the season: Brian Cashman and Joe Girardi. Cashman's quick fix youth movement has been a smashing success so far (despite the last 31 games), so I can't imagine the Yankees won't bring him back. They might have to fend off some suitors — the Marlins under new ownership? — and give him a raise into the Andrew Friedman ($7M annually) and Theo Epstein ($10M annually) pay grade, but I think the chances of a Yankees-Cashman reunion are pretty high.
As for Girardi, he is a favorite of Cashman and Hal Steinbrenner, and other are two pretty good people to have in your corner. Girardi is wrapping up a four-year contract worth $4M annually, which, at the time it was signed, made him the second highest paid manager behind Mike Scioscia. The Yankees and Girardi — and the Yankees and Cashman, for that matter — have not yet discussed a new contract, which isn't unusual. They always wait until the offseason for this stuff.
"To be honest, I only worry about this year," said Girardi to Dan Martin when asked about his contract last month. "I'm not really worried about seven years down the road, ten years down the road. There's a lot of things that could happen in my life that could make me want to do it or make me not want to do it — or prevent me from doing it."
This is, incredibly, Girardi's tenth season with the Yankees. Only Miller Huggins, Joe McCarthy, and Joe Torre have had longer continuous managerial stints in franchise history. I don't think Girardi has had a particularly good year strategically — a bad bullpen makes every manager look bad, though Girardi has had a few too many "this doesn't give the Yankees the best chance to win" moments — and as far as I can tell, he's great in the clubhouse. That to me is every bit as important than the X's and O's on the field.
And yet, I feel like the odds of an offseason divorce — they're not firing him midseason no matter how bad things get, no way, no how — between the Yankees and Girardi are greater than they have been at any other point during his tenure. Two reasons for that:
1. The Yankees might miss the postseason again. There are still 70 games to play this season and the Yankees are right in the thick of the both the division and wildcard races, but missing the postseason again is a very real possibility. The Yankees are 10-21 in their last 31 games. That's rough. If the freefall continues, it'll be one postseason games in five years for the Yankees. How many managers survive that? Even with rebuilding teams?
2. Other teams could come after Girardi. If the Mets (finally) part ways with Terry Collins, I imagine Girardi would among their top choices at manager. The Marlins could come calling under new ownership. Dusty Baker's contract with the Nationals will be up after the season. The Tigers and Pirates could both be in the market for a new skipper too. What happens if Bruce Bochy decides to retire because of his ongoing heart issues? Girardi figures to have some options this winter. It won't be Yankees or bust.
My gut feeling is ownership is happy with their management team and the overall direction of the franchise, even after this rough month, and even if the Yankees miss the postseason again. There's a ton of high-end young players in the organization and the payroll is starting to clear up. As frustrating as these last few weeks have been, the future is awfully exciting. The Yankees have an exciting young core and will soon have a lot of money to spend.
Because of that, I expect both Cashman and Girardi to be back next year. Both will probably leverage opportunities elsewhere into healthy raises because that's what anyone in their shoes should do, but I think they'll be back. Cashman is ultra-loyal to the Yankees and I don't think he wants to leave. I don't think Girardi wants to leave either, and it helps that those above him are on his side.