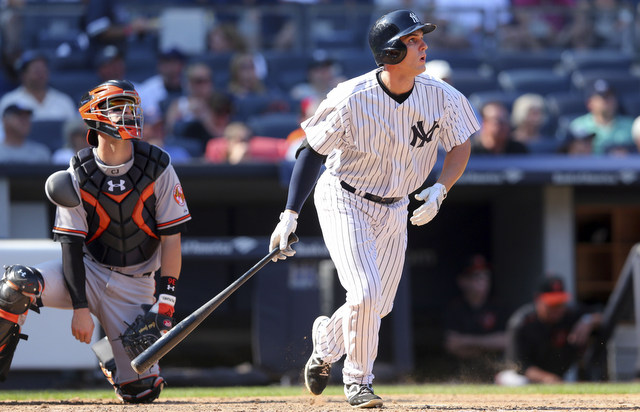 In an effort to improve roster flexibility, the Yankees have both Starlin Castro and Rob Refsnyder working out at third base this spring. It might work, it might not. The only way to find out is to try, and there is no better time to try than Spring Training. Well, except in the minors, where the player can play their new position every day and not worry about sharing playing time.
Over the last few years the Yankees have boosted their farm system and improved the stock of several individual prospects by changing their positions. I don't mean the usual starter to reliever (Dellin Betances), shortstop to third base (Miguel Andujar), and center field to a corner (Aaron Judge) conversions. I mean moves to more challenging positions, with Jorge Posada going from second base to catcher the most well-known example. The Yankees have had some success with similar moves in recent years. Here are the most notable.
Greg Bird: C to 1B
Okay, moving from catcher to first base is a move down the defensive spectrum, but catcher is a unique position, and I think the Bryce Harper principle applies to Bird. Harper was a catcher as an amateur, yet the Nationals moved him to the outfield immediately following the 2010 draft. Why? Because it would reduce injury risk, it would allow them to keep his bat in the lineup every single day, and it would accelerate his development because he wouldn't have to focus on the defensive aspect of the position.
Bird actually started his career as a catcher — he caught three games with the rookie Gulf Coast League Yankees in 2012 — before suffering a back injury, at which point the team said forget it, let's put him at first base. That has allowed Bird to avoid the wear and tear of catching, focus on his offense, and reach the big leagues just three years later. Would Greg Bird be more valuable as a catcher? In theory yes. Except his offense would likely suffer because he'd wear down, he wouldn't play as often, and he'd probably be a nightmare defensively. Moving from catcher to first made Bird a better prospect and allowed him to reach the big leagues sooner.
John Ryan Murphy: IF to C
Back in high school Murphy was primarily an infielder — a third baseman, specifically — who also dabbled in the outfield and caught once in a while. The Yankees moved him to catcher full-time after selecting him in the 2009 draft and Murphy took to the position well, well enough that he reached the show four years after being drafted and was able to settle in as a sturdy big league backup by age 23.
The Yankees received one full season of backup catcher work from the Serial Killer plus 48 other games scattered across two seasons before sending him to the Twins for Aaron Hicks this winter. Given his good but not great offensive potential, Murphy would have been just another guy at third base or in the outfield. The Yankees saw his potential behind the plate and were rewarded first with a quality prospect, and later with a quality big league player.
Peter O'Brien: C to OF
The Yankees are very willing to be patient with bad defensive catchers in the minors — Jesus Montero and Gary Sanchez, anyone? — but even they could not be patient with O'Brien. The team gave him 99 games behind the plate from 2012-13 before pulling the plug and moving him first to third base, then later to the outfield, where he has remained since. As with Bird, the move out from behind the plate has helped O'Brien blossom as a hitter.
In the span of two years, the Yankees turned O'Brien from a bad defensive catcher who might hit into a passable defensive outfielder who can mash taters, which made him good enough to fetch Martin Prado in a trade. They then turned Prado into Nathan Eovaldi. O'Brien was a lost cause behind the plate and keeping him there for a sake of being patient would have been a mistake. The Yankees stuck him where he was most likely to succeed and were rewarded with quality trade bait. (Tyler Austin, who also made the move from catcher to the outfield, didn't work out quite as well.)
Rob Refsnyder: OF to 2B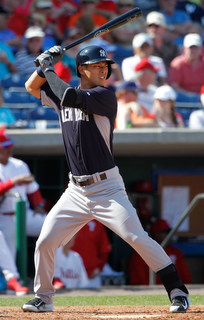 In perhaps the most notable prospect position change, the Yankees moved Refsnyder back to send base after he played the outfield for three years at Arizona. (He played some second in high school.) Similar to Murphy, Refsnyder would be just another guy in a corner outfield spot given his offensive profile. But, put him at second base, and suddenly he has a chance to be above-average at the position.
Refsnyder's defense at second base has improved but is still rough overall, and now the Yankees have him working out at the hot corner. He did reach the big leagues as a second baseman though, and probably could have (should have?) spent a lot more time in the show last season than he actually did. At least one team wanted him in a trade — the A's wanted Refsnyder and Adam Warren for Ben Zobrist last July — and the Yankees claimed they were willing to go into the season with Refsnyder as their primary second baseman. That won't happen, but point is, the move to second has largely been a success.
Luis Torrens: IF to C
As with Murphy, Torrens was primarily an infielder when the Yankees signed him out of Venezuela in 2012, playing mostly third base but also some shortstop. The Yankees moved him to catcher immediately and he has reportedly taken to the position extremely well. Torrens was praised for his defensive work and baseball acumen earlier in his career, before shoulder surgery sidelined him for the entire 2015 season.
It remains to be seen how Torrens will return from the injury — shoulder surgery is no joke, especially for catchers since so much of their defensive value is tied up in their arm — but the early returns at catcher are very promising. "Managers and scouts alike rave about Torrens' defensive skills, noting how advanced he is as a receiver and a blocker for someone his age and with his limited experience," wrote Baseball America (subs. req'd) prior to last season. Torrens is still only 19 with a lot of career ahead of him. For now, the move to catcher looks like a smart one.
Chase Whitley: 3B to RP to SP
This one was pretty outside the box. Whitley was a two-way player in college, playing both third base and pitching out of the bullpen. He hit .364/.464/.564 with ten homers and more walks (31) than strikeouts (27) in 288 plate appearances his draft year while pitching to a 3.68 ERA with 65 strikeouts and 24 walks in 66 relief innings. Ace Whitley was one hell of a college player.
The Yankees drafted Whitley in the 15th round of the 2010 draft and moved him to the mound full-time. He was a rare three-pitch reliever (fastball, changeup, slider) who had a lot of success in the minors, so the team decided to stretch him out in Triple-A to see how he could handle a starting assignment. It worked well, and before you knew it, Whitley had made 16 starts for the Yankees from 2014-15.
Whitley wasn't great (5.02 ERA and 4.23 FIP) and he eventually got hurt and claimed off waivers, but before all that the Yankees were able to develop him into a replacement level spot starter after acquiring him as a part-time third baseman/part-time reliever. All it cost them was a 15th round pick and a small signing bonus too. Considering the expected return for a 15th round pick is basically nothing, Whitley's conversion(s) worked out very well.