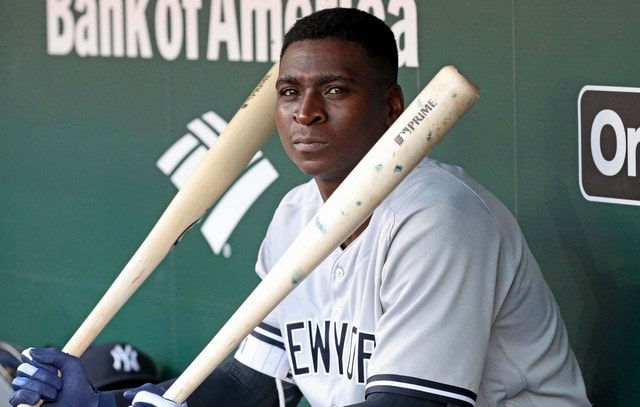 Because it's the Yankees and because it's a day that ends in -y, there is rain in the forecast today. Enough of it for a flash flood watch in Baltimore. The heaviest stuff is supposed to arrive a little later this afternoon, so I'm not sure what the plan is. Wait it out or try to squeeze an official game in? Whatever. The weather sucks but there's nothing we can do about it.
If the Yankees do play today, they'll look to win their fourth straight game and further improve their MLB best winning percentage. The standings are weird right now. The Yankees have the best winning percentage in the game but they are a half-game behind the Red Sox because they've been rained out so many times. Those games will be made up soon enough. Just keep winning games and keep winning series. Here are today's lineups:
New York Yankees
1. LF Brett Gardner
2. RF Aaron Judge
3. 1B Greg Bird
4. DH Giancarlo Stanton
5. C Gary Sanchez
6. SS Didi Gregorius
7. CF Aaron Hicks
8. 3B Miguel Andujar
9. 2B Gleyber Torres
RHP Masahiro Tanaka
Baltimore Orioles
1. RF Joey Rickard
2. CF Adam Jones
3. SS Manny Machado
4. DH Mark Trumbo
5. 2B Jonathan Schoop
6. LF Trey Mancini
7. 1B Chris Davis
8. 3B Danny Valencia
9. C Chance Sisco
RHP Kevin Gausman
Like I said, there's rain in the forecast this afternoon. Today's game is scheduled to begin at 4:05pm ET and you'll be able to watch on YES. Enjoy the game.
Injury Update: Jordan Montgomery (elbow) played catch again today. That is at least the fourth time he's thrown on flat ground. I wonder how much longer it'll be until he gets up on a mound.
Awards! Gleyber Torres has been named the AL Rookie of the Month for May, so congrats to him. Torres hit .317/.374/.659 (176 wRC+) with nine homers in 24 games last month. He's the first Yankee to named Rookie of the Month since (who else?) Judge last year. Judge was the AL Rookie of the Year in April, May, June, and September last season.
Update (3:42pm ET): The tarp is on the field and the game will not start on time. There's no word on a start time, and given the forecast, we might be waiting a while. Sucks.
Update (5:08pm ET): The game is tentatively scheduled to begin at 5:45pm ET. How about that?