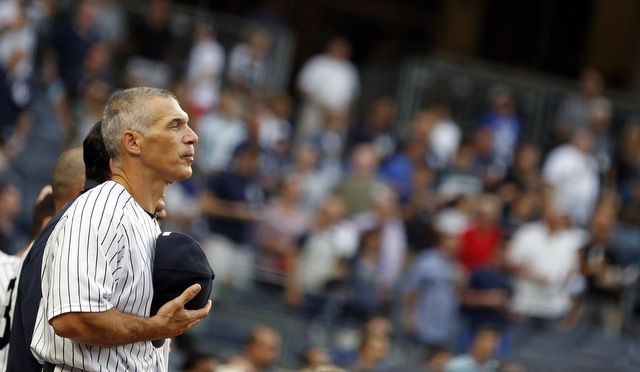 Over the weekend the Yankees clinched a postseason spot — heck of a rebuilding transitioning year, eh? — and pretty soon they'll lock down homefield advantage in the Wild Card Game. The magic number to do that is one because the Yankees hold the tiebreaker over the Twins. The Yankees are mathematically alive in the AL East race, but forget that. Wild Card Game it is.
Because the Yankees clinched with a week to spare in the regular season, they have the luxury of using these last few regular season games to prepare for the postseason. Line up the rotation, rest the regulars, give those bumps and bruises a chance to heal … that kinda stuff. The obvious stuff every team hopes they get a chance to do before playing in October.
"I think the physical part of it is really important for our players so that they are strong going into the playoffs, and they're not beat up and they feel rested. That's really important," said Joe Girardi yesterday. "There's a balance there because you want everyone to feel confident and feel good about where they are going into the playoffs … Going into the playoffs, you want guys to feel confident and feel that they're right where they want to be."
Resting players and lining up the postseason rotation — right now Luis Severino is lined up to start the Wild Card Game and Sonny Gray is lined up to start Game One of the ALDS, so that part is done already — are the obvious big picture goals this week. What else do the Yankees need to accomplish before their season is on the line in the Wild Card Game one week from today? Here are nine other goals for the Yankees this week, in no particular order.
Clinch homefield advantage in the Wild Card Game
A formality with the magic number sitting at one, yes, but the Yankees have to actually do it at some point. They can't go into cruise control just yet. Clinch homefield advantage and do it soon. The sooner the better. Lock into the top Wild Card spot and be done with it. That's not something you want to let linger, you know?
Try to get Betances straightened out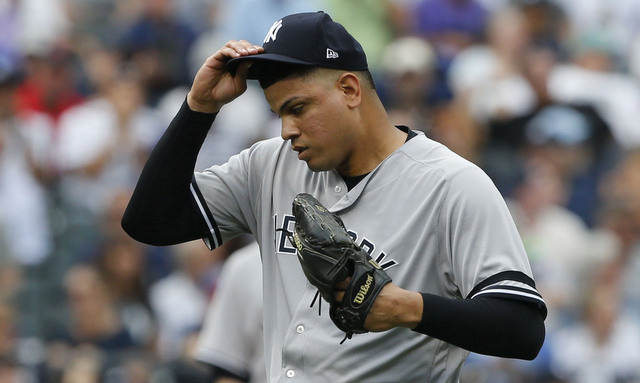 I gotta say, I was pretty surprised to see Dellin Betances go five days between appearances last week. It's not like Girardi didn't have chances to use him. The Yankees won by eight runs Wednesday and lost by seven runs Friday. Want to get Dellin straightened out in low-leverage spots? Well, there were two low-leverage spots, and Betances was nowhere to be found. Hmmm.
The Yankees are a potentially dominant postseason team because their bullpen is so deep with power arms, so they figure to have the advantage in the late innings pretty much every night. Betances is a big part of that bullpen, and the Yankees need him to be at his best in October. Dellin's not going to right the ship by sitting in the bullpen. Heck, the longer the sits, the worse he gets. He has to get enough work this week to try to figure things out.
"I think best case scenario is we'll be able to get Dellin in three — maybe four — games this week if we can to get him going," said Girardi. "If you feel like he's going and you don't need to push him as hard, you can do that too. He's important to us. Much like (Aroldis Chapman) — Chappy had a little period where he was struggling, and we got him going. We need to do the same with Dellin."
Let Green pitch back-to-back days
With Betances still having control problems, Chad Green has taken over as the third option in the bullpen behind Chapman and David Robertson. You could argue Green is the best option out of the bullpen, though that's a waste of time. They're all pretty great. Girardi clearly trusts Green and he's going to see plenty of high-leverage work in the postseason. Lately Girardi has been using him as a one-inning setup man, which is kinda new.
Anyway, because he's done the multi-inning reliever thing pretty much all season, Green hasn't pitched back-to-back days much. Just once, in fact. He threw 14 pitches in a perfect inning on July 22nd, then threw 37 pitches in 2.1 perfect innings the next day. Green hasn't pitched back-to-back days since. Should the Yankees advance to the ALDS, they're probably going to need to use Green back-to-back at some point, and you don't want that to be a new experience. Get his feet wet. Use him two straight days at some point this week so he knows what's up.
Keep running Bird out there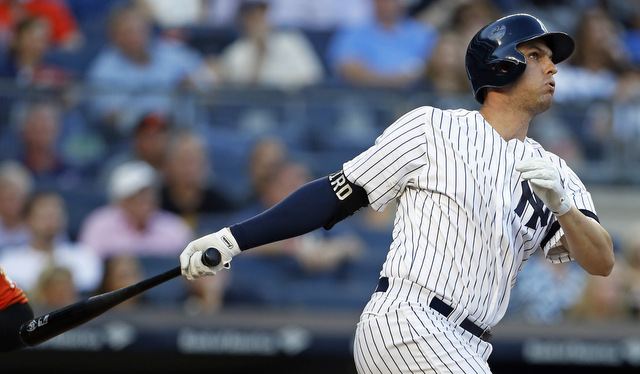 For the first time all season, Greg Bird really looks comfortable at the plate. He's gone 6-for-14 (.429) with three doubles and two home runs in his last four games — he was 5-for-40 (.125) in his first 14 games this month — and you want him to keep building on that. I know this is the time to rest players and all that, but it shouldn't be for Bird. He was out too long earlier this season. Play him every game the rest of the way — against righties and lefties — and let him continue to find his stroke. Bird can be a impact hitter and provide a big time boost to the lineup.
Let Sanchez catch Montgomery
For whatever reason Austin Romine has become Jordan Montgomery's personal catcher. Romine has caught Montgomery's last ten starts now, and I guess this is why:
Montgomery with Romine: 3.78 ERA (4.31 FIP) in 102.1 innings
Montgomery with Sanchez: 5.19 ERA (4.35 FIP) in 26 innings
That's all well and good, but here's the thing: Romine can't play in the postseason. He just can't. Girardi twice started Jose Molina in the World Series so he could catch A.J. Burnett, but Romine is no Molina. Molina was at least a great defensive catcher, plus he'd occasionally run into a fastball for a double. Romine does neither of those things. (Plus Burnett was much more important to the 2009 Yankees than Montgomery is to the 2017 Yankees.)
As things stand, Montgomery will not be in the postseason rotation. He might not even be in the postseason bullpen. But! If the Yankees need a replacement starter due to injury at some point, Montgomery figures to get the call over Jaime Garcia, and he and Gary Sanchez need to be on the same page. The postseason is no time for personal catchers, especially with your fifth starter. Montgomery is starting tonight and could start Game 162 as well. Let Sanchez catch him so they can get reacquainted. You don't want them paired up for the first time in three months in a postseason game.
Play Hicks as much as humanly possible
Earlier today the Yankees activated Aaron Hicks off the disabled list, so he will be in uniform tonight. And now that Hicks is back, the Yankees should play him as much as possible. Basically every game from here on out. Even if Hicks is slated to be a bench player in the postseason, it wouldn't take much to push him into regular duty and the Yankees should want him ready in case that happens. He's missed a lot of time and needs the at-bats.
Girardi said yesterday the Yankees plan to give the regular outfielders a rest this week — they've played a ton the last month or so — and that creates the perfect opportunity for Hicks. Play him every game, move him around the outfield as needed, give the regulars rest. Heck, bat Hicks first or second too, so he could maybe get that one extra at-bat each game. Every little bit helps. We saw Hicks be an impact player earlier this year. After the long layoff, giving him as much playing time as possible to help get him back to being that impact player is a no-brainer as far as I'm concerned.
Make sure Warren gets all the way back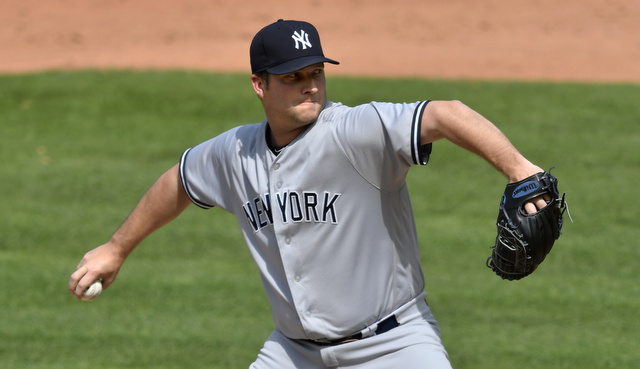 As with Hicks, the Yankees will get Adam Warren back from injury this week, and they need to make sure he's on track prior to the postseason. Warren, who hasn't missed nearly as much time as Hicks in the second half, will throw a simulated game today, and figures to be activated as soon as tomorrow if that goes well. The big name late-inning guys get all the attention, but Warren is a really important part of the bullpen as the Swiss Army knife reliever who can get one out in the tight spot or throw two innings in the middle of the game or fill-in as the setup man for a day. He's an underappreciated weapon for Girardi and the Yankees want to make sure Warren is ready to go come October.
Test Wade as a pinch-runner
With Jacoby Ellsbury playing his way back into the starting lineup and the Yankees not bringing in an Eric Young Jr. or Rico Noel type to pinch-run this month, Tyler Wade is the obvious designated pinch-runner candidate for the postseason. And maybe the Yankees decide they don't need that guy. Even if they don't, it would be smart to give Wade a bunch of pinch-running opportunities this week. I know it doesn't sound like much, but coming off the bench cold and stealing a base in a big spot is not easy. Wade's been an everyday player pretty much his entire life. Getting him prepared for a potential pinch-runner role makes sense even if the Yankees aren't planning to carry him on the postseason roster. One injury could land him on the postseason bench.
Win at least three more games
In the grand scheme of things, there is nothing important about this. Heck, once they clinch the top wildcard spot, you could argue the Yankees should lose as much possible to improve their draft position! I won't do it, but I'm sure someone out there is thinking it. Anyway, I want the Yankees to win at least three more games because damn, a 90-win season sure would be sweet. Lots of people, myself included, pegged this team for 82-84 wins. Somewhere in that neighborhood. Plenty of pundits were picking them to finish under-.500 for the first time in an eternity. It's not happening. Seeing the Yankees join the 90-win club for the first time since 2012 sure would be a nice cherry on top of an otherwise wildly successful rebuilding season.