Another Friday, another mailbag. This week our focus is on players currently with the team that may or may not be next season, plus some miscellaneous stuff about C.J. Wilson and prospects. Remember to use the Submit A Tip box in the sidebar if you want to send in some questions.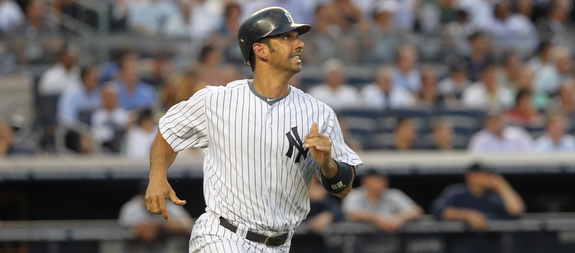 Ryan asks: Do you guys think that Posada makes it onto the playoff roster?
I do think he'll make it, assuming the Yankees get to the postseason, of course. We don't want to jinx anything. Jorge Posada still has some value as a veteran pinch-hitter against right-handed pitchers, plus it won't be a real chore to carry him on the roster since they figure to drop down to an eleven man pitching staff. I try not too put too much stock into intangibles, but we know Posada won't be overwhelmed in a big spot in October, which is comforting (if nothing else).
Chris asks: If Posada does not retire at the end of the season do you see him trying to get a catching job in the NL or as a DH in the AL? I think he has a chip on his shoulder and would be looking to prove the Yankees (and Girardi) wrong.
I think he's going to retire, but if he doesn't, I imagine he'll go to an AL club to DH. Maybe he's open to being a part-time first baseman and primary pinch-hitter for an NL club, but I think that's a big if. I see two likely destinations if he sticks around after 2011: the Rays and Mets. Both are close to home for him and could use someone for those roles.
Tucker asks: What trade value does Eduardo Nunez hold? Ken Rosenthal recently wrote that he has a lot because he's hitting well and can "play" premium positions. What's your take?
You all know that I'm not Nunez's biggest fan, but there's no denying the dude has some serious trade value. He's shown that he can hit in the limited at-bats he's gotten this year, and his impressive contact rate is in line with his minor league track record and scouting report. His defense has improved as the season has gone on (likely because he's getting more reps), and he's a legitimate shortstop. That last part alone is hard to find.
Let's be conservative and says he's a .320 wOBA, 25+ stolen base, average defense guy going forward. That's basically this year's version of Erick Aybar, who's already a two-win player with six weeks left in the season. Five years of that guy at a bargain price will have a ton of value on the trade market. I don't think that it's an accident the Mariners wanted him in a potential Cliff Lee trade last year, legit middle infielders that are more than zeroes with the bat are pretty rare these days.
Preston asks: What are the chances the Yankees would/could trade or cut Burnett at the end of the season?
Maybe they'll try to trade him, but I'm positive the Yankees won't just release A.J. Burnett this offseason. If they do that, they're still on the hook for his entire contract, so why not just keep him to see if he can give you anything, even as a reliever? For better or for worse, the Yankees are stuck with A.J. for the next two seasons.
Jeff asks: What do the Yankees do with Russell Martin in the off season? He narrowly qualifies as a Type A player. Do the Yankees offer arbitration whether he is Type A or B? Are Montero or Romine ready to take the job as a catcher in the big leagues? Could the Yankees platoon those two guys with Montero getting some time at DH?
The Type-A stuff doesn't matter because he doesn't have six full years of service time yet. You can't get compensation picks for players you non-tender, and Martin won't get those six years of service time until after next season. He'd probably get something like $6-6.5M his final time through arbitration after the season, which is a steep price but not the end of the world. The Yankees could use him as a caddy with either Jesus Montero or Austin Romine, breaking those guys in gradually rather than just handing them the starting catcher's job.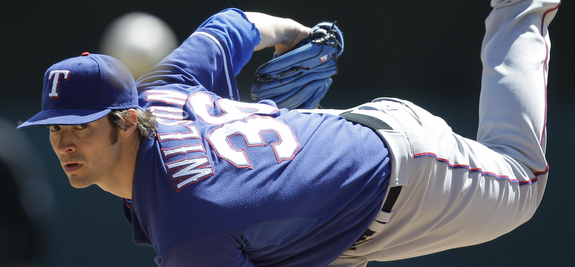 Mark asks: Do you see the Yankees and Rangers getting into another testy free agent battle for C.J. Wilson this offseason? If yes, do you think he's worth the high cost and whose spot in the rotation he would take? Thanks!
I have a feeling that we're going to spent a lot of time talking about Wilson in November and December, so I don't want to get too deep into it now. He's obviously worth inquiring about, but I can't see how in the world he gets less than Burnett or John Lackey did. He's straight up better than those guys were at the time of their free agency, he's left-handed, and he doesn't have the recent injury history either. I like Wilson but I don't love him, especially at that price. But as the second best starter on the market, the Yankees are bound to show some interest.
As for the last part of your question, I'm guess that one of Freddy Garcia or Bartolo Colon will not be back next year. Even if they are, it won't be too difficult to free up a rotation spot for a pitcher of Wilson's caliber.
Chris asks: I read an article that said the Phillies haven't depleted their farm system in spite of all the trades of the last few years. A) is this true and if so, B) how is it the Yankees are seemingly one deal away from depleting their own? Is the Phillies system that much better?
To answer (A) first, the Phillies have traded 13 prospects (not counting J.A. Happ, who technically wasn't a prospect) for Roy Halladay, Cliff Lee, Roy Oswalt, and Hunter Pence over the last two years or so, and they've somehow managed to hold onto Domonic Brown. They started out with a very good farm system and have done a nice job of replenishing it by developing mid-round picks. That said, you can see the toll all those moves have taken on their farm system. They had to scrounge up a pair of Single-A kids to headline a package for Pence because they didn't have the players in Triple or Double-A to get it done.
The Phillies are in the middle of the best stretch in franchise history and are rightfully in win now mode, because guys like Jimmy Rollins, Ryan Howard, Chase Utley, and even Lee and Halladay are on the wrong side of 30 and will see their skills decline over the next few years. Their window isn't infinite, and at some point the well will dry up. It's kinda like what happened to the Yankees in 2005 or so, but they obviously had a much higher margin of error given their payroll.
As for (B), it's just a matter of perception. The Yankees could deal two of Jesus Montero, Manny Banuelos, and Dellin Betances and still boast a very strong farm system with two legitimate number one type prospects (whichever one of those three is left plus Gary Sanchez), one super-toolsy guy with some major helium (Mason Williams), and a cast of rock solid prospects close to big leagues (Austin Romine, Adam Warren, David Phelps, Corban Joseph, etc.). Yeah, the farm system would take a big hit dealing two of those three, but it would still be in much better shape than half the farm system's out there.