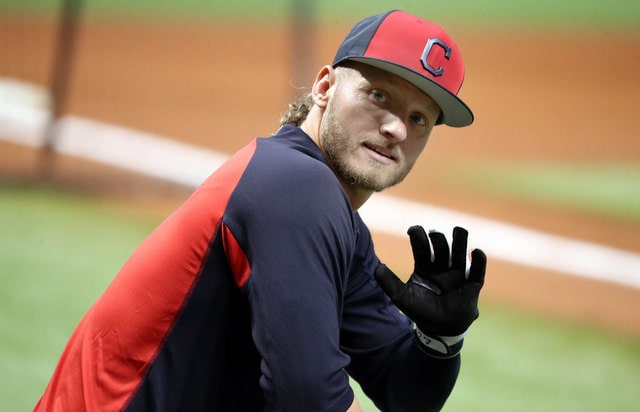 The final homestand of the 2018 regular season continues later today with the middle game of the three-game series against the Blue Jays. That's a 4:05pm ET start. Here are some links and notes to check out in the meantime.
Yankees among teams upset about Donaldson trade
According to Ken Rosenthal (subs. req'd), the Yankees are among the teams to reach out to MLB to voice displeasure with the Josh Donaldson trade. Specifically, they are unhappy Donaldson was deemed healthy enough to be placed on trade waivers, only to have the Indians place him right back on the disabled list right after the trade. Rosenthal says the Red Sox and Astros also weren't happy with the deal. The teams that might face Cleveland in the postseason, basically.
Players have to be on the active roster or on a minor league rehab assignment to be placed on trade waivers. Donaldson had been out since May with a calf injury, then conveniently started a rehab assignment a few days before the August 31st postseason-eligibility deadline. He cleared waivers, was activated, then was traded and put right back on the disabled so he could play more rehab games. Fishy. That said, the Yankees (and Red Sox and Astros) would've done the same thing in a heartbeat. Don't like it? Then you should've claimed Donaldson on trade waivers to block a deal. (Donaldson went unclaimed, so he was free to be traded anywhere.)
A-Rod hoping for Hall of Fame call
We are three years away from Alex Rodriguez's name appearing on the Hall of Fame ballot, and, when the time comes, he hopes to get into Cooperstown. Can't say I'm surprised. A-Rod spoke about about his Hall of Fame hopes during a recent feature with, uh, Cigar Aficionado? Cigar Aficionado. Here's a partial transcript of the video:
"There's rules, and you have to follow the rules. I made those mistakes, and at the end of the day I have to live by those mistakes. Whether I get in or not — and let's be clear, I want to get in, I hope I get in, I pray I get in — if I don't, I think I have a bigger opportunity yet again. And the platform of my mistakes, the good the bad and the ugly, has allowed me to have a loud voice to the next generation, to say when in doubt, just look at my career … The other message is, maybe I'm not a Hall of Fame player, but I get a chance to be a Hall of Fame dad, a Hall of Fame friend."
Barry Bonds and Roger Clemens have made some gains on the Hall of Fame ballot in recent years, though they're still well short of induction, and neither guy served a year-long performance-enhancing drug suspension like A-Rod. Rodriguez hits the ballot in 2021 and he can remain on the ballot ten years. That's a long time — he can potentially remain on the ballot until 2031 — and lots of minds can change. Right now, I don't think he'll get in. Come 2031? Who knows.
Should A-Rod ever make the Hall of Fame, he'd have to go in as a Yankee, right? He played more games with the Yankees (1,509) than the Mariners and Rangers combined (1,275). Same deal with homers (351 vs. 345), though not WAR (+54.2 vs. +63.6). Also, Rodriguez won two of his three MVPs in New York and also his only World Series ring. Yeah, he'd had to go in as a Yankee. No question.
Yankees on track to stay under luxury tax threshold
According to Ronald Blum, the Yankees are indeed on track to stay under the $197M luxury tax threshold this season. I've been doing my best to keep tabs on the team's luxury tax payroll situation all season, and I'm glad to have some confirmation. I had the payroll at $191.8M (without bonuses) in my last estimate. Blum's source in the commissioner's office has the payroll at $192.1M. I'm quite proud my estimate is within half-a-million bucks.
The Yankees will have to pay out some playing time bonuses (CC Sabathia's innings, Neil Walker's plate appearances, etc.), plus Chance Adams was called up two days ago, and that adds to the luxury tax payroll. Even with all that, they have plenty of room to get under the threshold. Blum says the Red Sox ($238.4M payroll) and Nationals ($203.9M) are the only teams over the luxury tax threshold this year. The Dodgers, like the Yankees, trimmed payroll this year to get under the threshold.