Just four questions this week but they're really good ones. The best way to send us anything is through the Submit A Tip box in the sidebar.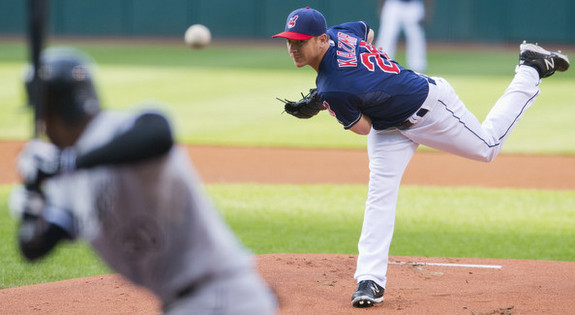 Travis asks: Should the Yankees look to sign Scott Kazmir for 2014?
It's hard to believe Kazmir is still only 29 years old. He won't even turn 30 until January. Kazmir missed essentially all of 2011 and 2012 due to shoulder and back injuries before showcasing himself in an independent league. He turned a non-roster invite from the Indians into a rotation spot in Spring Training, beating out Daisuke Matsuzaka. Kazmir has pitched to a 4.25 ERA and 4.00 FIP in 125 innings across 23 starts this year, his best season since 2009 and a very impressive comeback. He deserves some major props for sticking with it.
Kazmir hasn't gotten many ground balls (40.3%) and he has been homer prone (1.22 HR/9 and 12.2% HR/FB) this summer, but his strikeout (8.28 K/9 and 21.6 K%) and walk (2.95 BB/9 and 7.7 BB%) rates are really good. He's handled left-handed batters very well (.242 wOBA and 2.22 FIP), righties not so much (.361 wOBA and 4.80 FIP). After all the injuries, the thing you worry about most is the quality of his stuff. He uses his two-seam fastball far more than four-seamer at this point and the velocity has been fine all year: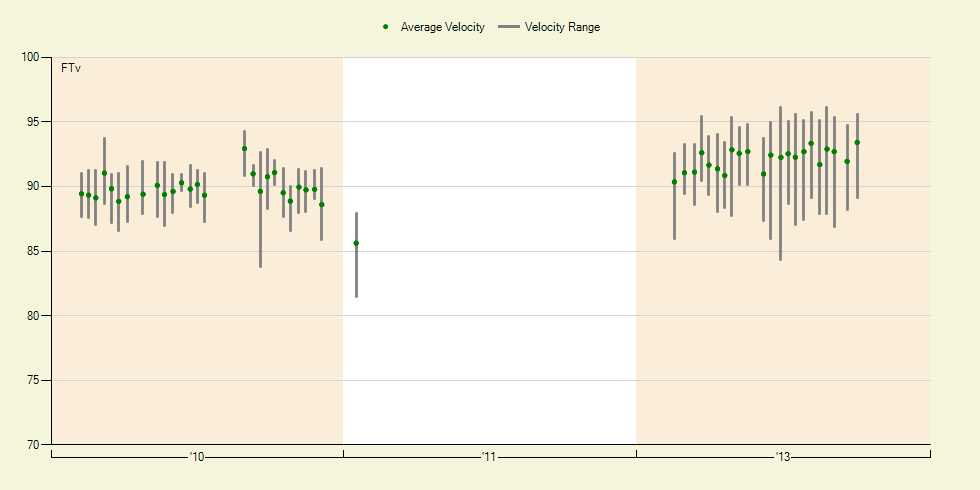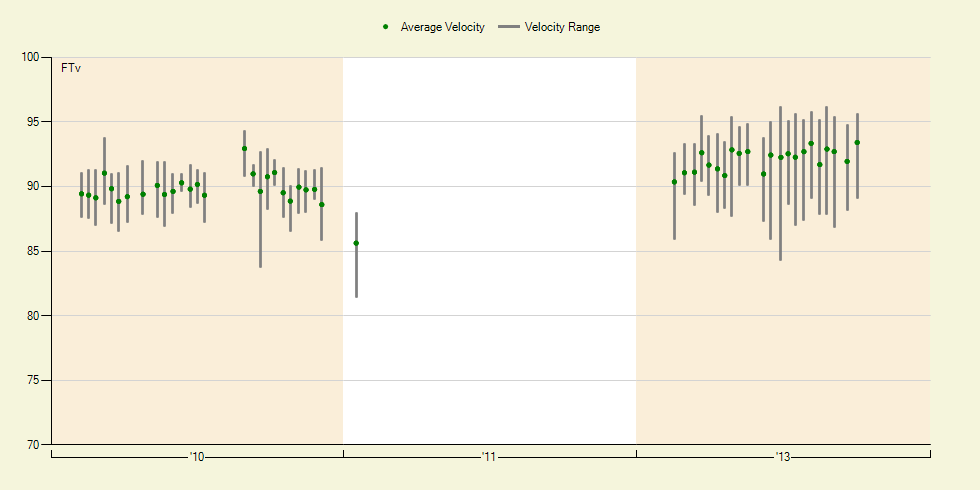 It's not the blazing upper-90s heat he had back in the (Devil) Rays days, but that will work. His trademark slider averages 82.8 mph and more importantly, PitchFX says it's averaging 4.6 inches of movement overall. That's in line with 2007-2009 (the first years of PitchFX) and better than what he showed in 2010. Having seen him pitch a few times this year, I'm comfortable saying it isn't the same wipeout slider that helped him lead the AL in strikeouts at age 23. The pitch is more effective than it has been in years, however. Kazmir also works with an upper-70s/low-80s changeup.
When I first read the question, my initial reaction was "no way." I mean, c'mon. It's Scott Kazmir. He hasn't been effective in like forever. But, when I saw that he was missing bats, limiting walks, sustaining his fastball velocity, and getting more break on his slider, I have to say that I'm intrigued. I would be very skeptical about giving him a multi-year contract though. Yes, he is only 29, but he's got an ugly (arm) injury history and he is still a homer/fly ball prone lefty with a massive platoon split. Lots of red flags. There's a non-zero chance he could turn back into a top shelf starter, but I think you have to consider him more of a back-end guy at this point. The Yankees will need starters this winter and while Kazmir might not be the most ideal solution, he's someone worth considering.
Damix asks: Josh Johnson was both terrible and injured this year, but given the budget and rotation uncertainty, is he worth a shot for next year?
Johnson, who turns 30 in January like Kazmir, was indeed awful (6.20 ERA and 4.61 FIP) in 81.1 innings across 16 starts for the Blue Jays this year. He missed a little more than a month with a triceps issue earlier this season and is now done for the year with a forearm strain. Johnson had Tommy John surgery way back in 2007 (has it really been that long already? geez) and missed most of 2011 with shoulder inflammation. He had a 3.81 ERA and 3.41 FIP in 191.1 innings with the Marlins last summer, and that's the guy Toronto was hoping they'd get in 2013.
Unlike Kazmir, Johnson is injured right now and will head into the free agent market as an unknown. There's still time for Kazmir to break down, but that's besides the point. It's been three years since Johnson was truly dominant in a full season of work, but he did miss bats (9.18 K/9 and 21.6 K%) and get ground balls (45.1%) for the Blue Jays this year. He also gave up a ton of homers (1.66 HR/9 and 18.5% HR/FB) and got slaughtered by right-handed batters (.441 wOBA). If they could get him on a one-year contract with a low base salary and bunch of incentives, great. The Yankees won't have a ton of money to spend under the $189M luxury tax threshold and they can't afford to spend $10M or so on a reclamation project pitcher. They need some more certainty.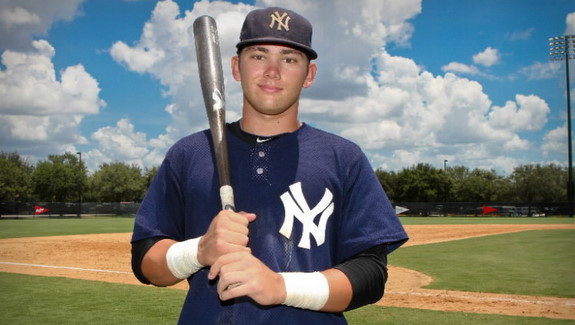 Michael asks: Please give me a statistical reason to think that Dante Bichette Jr. is not done as a prospect.
First things first: statistics are just a small part of the prospect pie. The further you get away from the big leagues, the less meaningful the stats become. The scouting report should always come first in my opinion.
That said, it's tough to defend DBJ at this point. He hit .248/.322/.331 (84 wRC+) with three homers in 522 plate appearances for Low-A Charleston last season, was sent back there this year, and responded by hitting .210/.291/.322 (80 wRC+) with ten homers in 470 plate appearances. The increase in power (.083 vs. .112 ISO) comes with an increase in strikeouts (18.0 vs. 24.0 K%). Bichette, a righty bat who turns 21 next month, managed a .250/.319/.440 line in 94 plate appearances against lefties this year, so I guess that's the reason to think he's still a prospect.  He was productive against southpaws. Things are looking grim, but I wouldn't write him off yet at this age.
Stephen asks: Half-embarrassed to admit this, but I had no idea Alfonso Soriano was close to 400 homeruns. I figured at the end of his career he may be closing in on that, but at this point, he is close to making 500 a real possibility. Is Soriano a Hall of Famer? I have honestly never even considered the possibility because he has only had two really good years, but his career numbers are pretty solid. He'll also probably get his 300th stolen base in the next year or two as well.

Soriano hit his 400th career homer on Tuesday night, making him only the 43rd player in history with 2,000 career hits and 400 homers. He's only the sixth with those two milestones plus 250 career steals. Only 24 of those 43 players are in the Hall of Fame, but I count ten more who will be or should be enshrined at some point: Barry Bonds, Alex Rodriguez, Albert Pujols, Chipper Jones, Ken Griffey Jr., Jeff Bagwell, Frank Thomas, Jim Thome, Manny Ramirez, and Mike Piazza. A few others are on the bubble. Obviously guys like Bonds, A-Rod, and Manny have no prayer of getting into the Hall at this point, but their bodies of work are Hall of Fame worthy.
Anyway, out of those 43 players in the 2,000-hit/400-homer club, Soriano's career 28.2 WAR ranks … 43rd. I guess that makes sense since he just joined the club, but it goes to show how much of his offensive value was squandered on defense over the year. Soriano should zoom passed Paul Konerko (28.7 WAR) at some point, but the next guy on the list is Carlos Delgado (44.4 WAR). That would be very hard to do at age 37 (38 in January). He hasn't hit fewer than 20 homers since his rookie year in 2001 and even though he's about to have his second consecutive 30+ homer season, it will probably take him at least four and possibly five seasons to get to 500 career. Even if he does, I don't think 500 homers is an automatic ticket into the Hall of Fame anymore.
I remember being so enthralled by Soriano when he first broke into the league because he was this rail-thin guy who huge power and big speed. He was so exciting. It's hard to believe his career is coming to an end now and even harder to believe how much he's accomplished. Four-hundred homers? Two-thousand hits? Almost 300 steals? Did anyone realistically think that was possible when he was a rookie? Crazy. Soriano is a career .272/.321/.504 (113 OPS+) hitter who's had a brilliant career. A brilliant career at is just short of Cooperstown worthy in my eyes.