Six questions today, covering topics from the farm system to potential draft picks to trade targets. The Submit A Tip box in the sidebar is the way to go if you want to send in any questions…

Matthew asks: The success of Al Aceves in Boston got me thinking about how he got away from the Yanks. Shouldn't he have had an option left? Did the Yanks let him go simply for the sake of a 40-man slot? Thanks!
Aceves had two minor league options left. He's been good but not great for the Red Sox (2.60 ERA but a 5.34 FIP), though the longer he stays healthy, the more his non-tender looks like a total blunder on the Yankees' part. Maybe the medical staff didn't evaluate his back properly, maybe Brian Cashman misread his willingness to sign a minor league deal, maybe Randy Levine stepped in, we don't know. I do know that it wasn't a 40-man roster issue, he was non-tendered in early December when the Yankees had something like eight spots open.
Mo asks: What would you rate the farm system up to this point this year? I feel like its sucking in comparison to last year's great run…
It was going to be tough to repeat last year's success, almost everything went right in 2010. This year is much more normal, in that some things are going right (Ramon Flores, pre-brawl Slade Heathcott, J.R. Murphy), some are going wrong (Adam Warren's walks, Jesus Montero's lack of power, High-A Tampa's everything), and some guys have gotten hurt (Manny Banuelos and Dellin Betances with the blisters, Graham Stoneburner's neck). It feels like a down year compared to last season, but there isn't an overwhelming amount of injuries or guys have down years, so overall it's been pretty positive. An average year, really. That said, we're seven weeks into the minor league season, so it's tough for things to change much in one direction or the other. It's still a top ten system.
Drew asks: Now that Kanekoa Texeira has been DFA'd, I think the Yankees should pick him up, I know the K/9 is down and his BB/9 are up but man does he throw hard. I think Rothschild could fix him. Agree?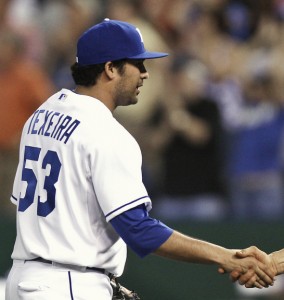 Heh, to say the strikeout rate is down would be an understatement, he hasn't struck out any of 35 batters he's faced this season. Texeira doesn't throw that hard, PitchFX has him at 89-91 this year, which is down a little from last year. I'm sure most of you remember that he was in the Yankees organization for a while, coming over from the White Sox in the Nick Swisher trade before the Mariners took him in last year's Rule 5 Draft. He ended up in Kansas City on a waiver claim last summer.
Anyway, he's a sinker-slider guy that gets ground balls but not an absurd amount of them (51.9% career), and lefties hit him pretty hard. Texeira's a fine up-and-down kind of reliever, better use of a 40-man roster spot than Amaury Sanit, but he's not much more than that. Maybe Rothschild could fix him, but I'm not sure what he could do.
Matt asks: I was just wondering what you thought about Kyle Winkler. Most mock drafts and draft boards I've seen him at about 40, and he is probably rising. He's so close to the Yankees that it's possible that he drops, so what do you think?

Winkler, a right-hander at Texas Christian, has stepped in as the staff ace following Matt Purke's struggles, and has struck out 96 while walking just 13 in 85.1 IP this year (1.48 ERA). The stuff is legit (sits 91-94 with the fastball, low-80's slider, and a changeup) and he commands it well, and pretty much the only knock is his size (listed at 5-foot-11, 205 lbs.). Winkler is expected to go somewhere in the sandwich round or early second round, and he seems like Damon Oppenheimer's kind of guy because he's got command and pitched well in the Cape Cod League a few summers ago. He wouldn't be a bad pick for the Yankees with their first selection (51st overall), but I'm not much of a college righty kind of guy unless we're talking about the truly elite.
Matt asks: Andrew Brackman is not off to the best of starts down in Scranton. He's already 25 so isn't this almost a make or break year for him? Can you see him in a relief role?
I wouldn't call it a make or break year, not at all. At the end of the day, who really cares how old a guy is when he debuts as long as he's contributing positively? They don't check I.D.'s on the mound, as the old saying goes. Brackman's struggled this year (6.00 FIP), no doubt about it, but if he keeps struggling then they can option him back to the minors next year and keep working on it. He won't run out of options until 2013 at the earliest. There would have be a lot of improvement over the next month or two for Brackman to be a relief option at this point, he's got to show he's move beyond the struggles and there are also some guys ahead of him on the relief pitcher call-up depth chart.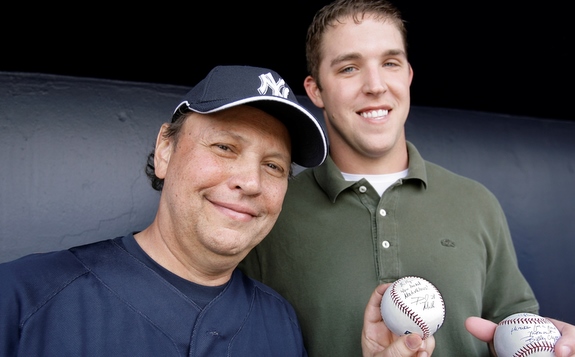 Bryan asks: What are the chances the Yanks pursue Paul Maholm if the Pirates make him available? He's got a pretty good ground ball rate at 52% and also has a good xFIP at 3.77. Would he be worth a crack for the right price?
I've never really been much of a Maholm fan at all because he doesn't miss any bats (6.23 K/9 this year is a career high by a decent margin) and his walk rates aren't anything special (3.67 BB/9 this year, 3.08 career). Starting pitchers with sub-2.00 K/BB ratios in the American League have a hard time being anything better than average, historically. Then again, average doesn't mean bad and he could probably help the Yankees. Maholm is in the last year of his contract ($5.75M salary with a $9.75M option for 2012 will be bought out for $750,000) and could give some innings, but I would hope the Yankees don't bend over backwards to acquire him. They need another high-end pitcher, not another back-end filler type.
Also, while ground balls are preferable because they don't turn into homeruns, we have to remember that the Yankees' infield defense isn't all that great. Mark Teixeira is fine at first, but Derek Jeter has the range of a potted plant, Alex Rodriguez is comfortably below average, and Robinson Cano has been playing with his defensive head up his ass this year.
Stephan asks: Tim Norton-seems like he's legit. I've seen a little about him and his rehab around the web, but what are your thoughts? He's gotta get a promotion soon(ish) right?
He's legit in that he's a potential relief option, but he's no future closer or anything great like that. Norton's an older guy (turns 28 on Monday) that was slowed by some major arm issues, but he's obviously healthy now and doing a fine job of missing bats (14.5 K/9) and throwing strikes (2.9 BB/9) in Double-A. NoMaas interviewed him a few weeks ago, and I recommend reading for info about his stuff, back story, etc. It's going to take more than 51 dominant innings (dating back to last season) for Norton to really start forcing the organization's hand, but he's definitely put himself on the map. A promotion to Triple-A will certainly be in the cards at some point this summer.