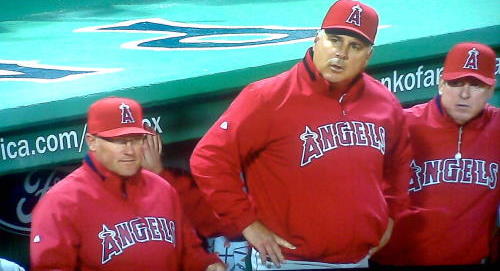 It's only early-August, but this is probably the Yankees' most important series of the season (to date). The Angels are their primary competition for the AL wildcard at the moment, and this series will give them a chance to really bury them in the race for a playoff berth. These two clubs have played one other series this year, with the Yanks taking two of three in Anaheim back in May.
What Have The Angels Done Lately?
We're focused on the Angels as a wildcard threat, but they're only one game back of the Rangers for the AL West lead. I'm sure that's what they're focusing on. The Halos have won three of their last four games and eight of twelve as they've trimmed their deficit in the division from four games to one already this month. They did just win a series against the punchless Mariners, though they only scored four runs in the three games. Overall, the Angels are 63-52 with a +22 run differential.
Angels On Offense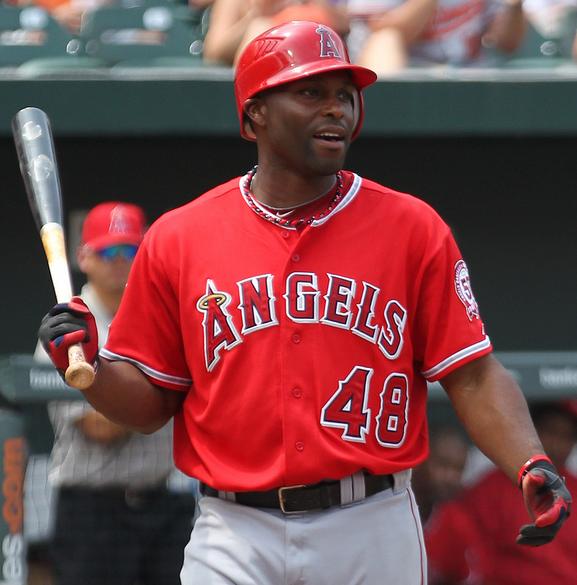 Despite all the big names on their roster, the Angels have the fourth worst team wOBA (.308) in the AL this season. Their best offensive player pretty much all season has been Howie Kendrick, a .302/.359/.446 hitter that hasn't hit for much power since a big April (.100 ISO since May 1st with just two homers). Rookie masher Mark Trumbo took over for the injured Kendrys Morales at first and he leads the club with 22 homers, but he's a hacker (4.7% walk rate) and can be pitched too. Just don't make a mistake in the zone, he's a bomb threat.
The big three – Bobby Abreu, Torii Hunter, and Vernon Wells – are sporting .326, .313, and .277 wOBA's, respectively. Abreu, unsurprisingly, is the team's best on-base threat with a 15.0% walk rate and .367 OBP. His power is all but gone at age 37 though (.089 ISO). Wells is the exact opposite, he's all power (.171 ISO) with no on base ability (4.2% walk rate). Hunter's pretty much right in the middle, with a .149 ISO and an 8.9% walk rate. Kinda funny how that works. The Angels have a really awesome rookie center fielder, but it's not Mike Trout (he was shipped back to the minors about a week ago), it's Peter Bourjos. His game is all speed, he'll steal bases (15-for-19 this year) and most of his extra base hits are hustle doubles and triples. Bourjos is also a Brett Gardner-level defender in center as well, the kid's MLB.com highlights page is outfield defense porn.
The rest of the offense is fairly unspectacular. You've got Maicer Izturis (.316 wOBA), Erick Aybar (.320), Alberto Callaspo (.327), Russ Branyan (.258), utility infielder Andrew Romine (one hit in seven plate appearances so far, and yes he is Austin's brother) and the catching duo of Jeff Mathis (.212) and Bobby Wilson (.226). I assume Mike Scioscia is unaware of Branyan's Yankee Stadium exploits and will have him on the bench like he has most of the season. The Halos will steal bases as usual; Bourjos, Kendrick, Aybar, and Abreu all have 10+ steals, and Wells, Trumbo, and Izturis are closing in on double-digits.
Angels On The Mound
Tuesday, RHP Dan Haren (vs. A.J. Burnett): It's kinda hard to believe that after all these years, Haren is just now having the best season of his career. His 2.72 FIP, 1.27 BB/9, and 0.58 HR/9 are all career bests, though his strikeout rate (7.27 K/9) has predictably dropped with the shift back to the AL. Haren's a four fastball guy, he throws a straight four-seamer in the high-80's about 13% of the time, a mid-80's cutter more than 48% of the time, a low-90's two-seamer about 18% of the time, and a strikeout splitter in the mid-80's about 9% of the time. A high-80's curve and mid-80's changeup round out his repertoire. Haren will pound the zone, so the Yankees will have to be aggressive and jump on the first hittable pitch they see. They haven't faced him since the series in Arizona last season.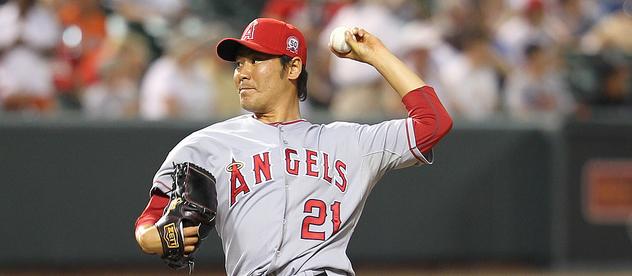 Wednesday, LHP Hisanori Takahashi (vs. Ivan Nova): Takahashi is going to make his first start of the season this series because Joel Pineiro was so bad that the Angels had to pull him from the rotation (5.31 ERA and 4.59 FIP). Takahashi says he's good for 100 pitches on Wednesday, but he hasn't thrown more than 43 pitches in a game since last July. We'll see.
Anyway, Yankees fans surely remember Takahashi for the two six-inning, no run starts he made against them with the Mets last season. He's a pure finesse pitcher, throwing a high-80's fastball, low-80's changeup, and high-70's curveball with a show-me slider. The southpaw misses a ton of bats (10.6% whiffs career) and has a reverse split this year, but he's homerun prone (1.12 HR/9 in a pitcher's park) and will hurt himself with walks (3.54 BB/9). Hopefully the Yankees remember what they saw out of Takahashi last season and go to town.
Thursday, RHP Tyler Chatwood (vs. Bartolo Colon): Thank you Carlos Guillen. This was supposed to be Jered Weaver's start, but he's serving a six-game suspension for throwing over Alex Avila's head one batter after Guillen took him deep and pimped the trot. Instead the Yankees will face the rookie right-hander Chatwood, who has been in over his head pretty much all the season. The 21-year-old had more walks that strikeouts up until three starts ago, but he still misses next to no bats (4.6% swings and misses) and has a huge platoon split. Chatwood throws both his four and two-seamer in the 91-93 range, setting up his high-80's curve and the occasional changeup. I know the Yankees seem to struggle against pitchers they've never faced, but there's no real mystery here, he's a fastball-curve guy that will shoot himself in the foot with ball four untilScioscia yanks him from the game.
Bullpen: It's a sneaky good bullpen, led by rookie closer Jordan Walden. He's getting his walk issues under control as the season progresses (3.60 BB/9), plus his strikeout (9.60 K/9) and ground ball (47.9%) rates are excellent. Setup men Fernando Rodney (4.01 FIP) and Scott Downs (3.17 FIP) are solid and stellar, respectively. Right-hander Rich Thompson (9.90 K/9 and 3.38 BB/9) is their David Robertson, though maybe the 2009 version and not the 2011 version. Bobby Cassevah (4.54 FIP in limited action), Horacio Ramirez (7.26 FIP in very limited action), and Pineiro round out the bullpen. Yes, it's that Horacio Ramirez.
Recommended Angels Reading: True Grich. Here's some ticket info, courtesy of RAB Tickets and TiqIQ.