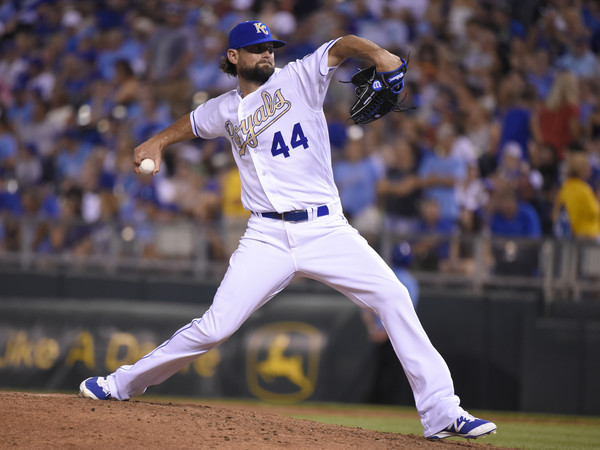 We are just two weeks away from Spring Training and things are pretty quiet. All the big free agents (but not The Big Piece!) are off the market and most teams are merely filling out their benches, bullpens or simply taking flyers on intriguing talents. The Yankees haven't made a significant move since they signed Aroldis Chapman a month and a half ago, and it is easy to wonder whether they're going to make any more before camp starts.
One place where the Yankees have room for improvement is middle relief. Beyond Chapman and Dellin Betances, they have Adam Warren and Tyler Clippard and then an army of unproven young pitchers. Veteran relievers looking to catch on somewhere are in abundance right now. Let's take a look at Luke Hochevar, who once won the clinching game of a World Series but is coming off a significant injury.
Injury History
There's a reason the Kansas City Royals didn't pick up Luke Hochevar's option this winter despite another strong season for the 33-year-old righty. That reason is a significant surgery, his second in four years. He had surgery in August to fix thoracic outlet syndrome, which involves the compression of nerves near the neck and upper chest/shoulder. Pitchers from Matt Harvey to Tyson Ross to former Yankee Phil Hughes have dealt with TOS in the last year while it essentially ended the career of Cardinals' ace Chris Carpenter. However, Royals reliever Chris Young overcame the surgery for an effective second act to his career.
The surgery involves the removal of a rib near the shoulder (here's more from the Cleveland Clinic if you're interested). The recovery time takes about six months, so Hochevar is on track to be ready for Spring Training, provided that someone has actually signed him.
Unfortunately for Hochevar, this isn't his only major surgery in recent years. He lost his entire 2014 season and part of 2015 to Tommy John surgery, four years after he had suffered a partial tear of the UCL ligament but rehabbed it to return. His performance post-TJ surgery was well below his breakout 2013 numbers and are cause for concern. A pitcher two surgeries removed from his best season is no doubt a risk and that likely plays a large role in why he's on the market right now.
Recent Performance
Hochevar the reliever has been an effective part of a competitive Royals team in the last few seasons. The former No. 1 overall pick made his debut in 2007 against, who else, the Yankees and was a struggling starter with ERAs well above 4.50 from 2008 to 2012.
The conversion to a reliever in 2013 was a revelation. He threw 70 1/3 innings that season, striking out 82 batters and allowing just 60 baserunners en route to a 1.92 ERA (2.96 FIP). He was buoyed a bit by a .214 BABIP, which can be explained in part by a career-best 21.6 percent hard contact rate.
After undergoing Tommy John, Hochevar's numbers took a step back in 2015 and '16. His strikeout percentage fell from 31.3 percent in 2013 to 22.9 and 26.5 percent in '15 and '16, respectively. His BABIP rose to .298 in 2015 and his ERA shot up to 3.73 (4.00 FIP). He produced a remarkably similar season in 2016 with a 3.86 ERA (4.06 FIP). His peripherals improved with better strikeout and walk rates, but his home run/fly ball rate rose to 12.8 percent. Perhaps the most alarming factor was the rise in hard contact percentage from 24.3 percent in 2015 to 39.4 percent in 2016.
He only threw 37 1/3 innings in 2016 after 61 1/3 (including postseason) in 2015. Hochevar was back to striking out more than a batter per inning and he sported a WHIP of just 1.07 in 2016, but his stuff may have taken a step back.
Present Stuff
When Hochevar was a starter, he had 5-6 pitches, but he cut his repertoire down to just three primary pitches as a reliever, eliminating an ineffective slider and changeup. He now relies on two fastballs (a four-seamer and a cutter) while using a curveball with knuckle curve grip. His fastball velocity jumped from 92.6 mph to 95.5 when he converted to relief pitching, but it is down to 94.4 post-TJ surgery.
Originally a seldom-used pitch, his cutter is now thrown over 40 percent of the time (46.8 last year). The cutter sits in the high 80s and is his go-to pitch because inducing a lot of swings and misses for a cutter. His four-seam fastball wasn't as effective in 2016 after it used to be his most-used pitch before his Tommy John surgery. The curveball, which he throws with a knuckle curve grip, sits between 75-80 and can get swings and misses. Here are the whiffs per swing for each of his pitches in the last two years, via Brooks Baseball.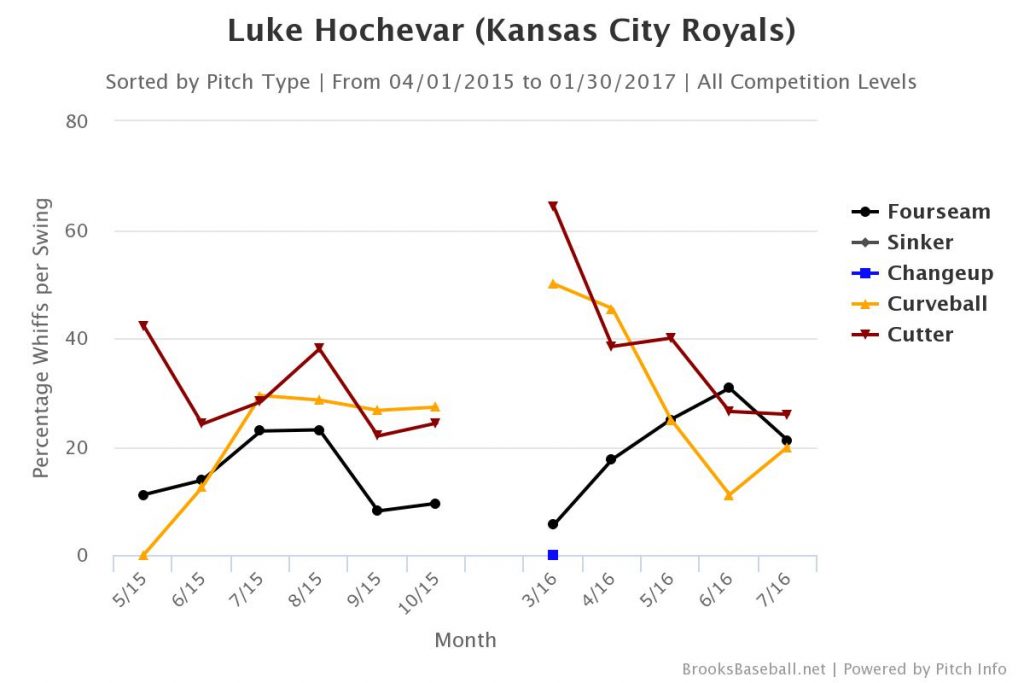 Last season, his knuckle curve was his most effective pitch with batters posting a paltry 31 wRC+ against it. The opposition hit .205/.280/.329 (76 wRC+) vs. his cutter but had a 208 wRC+ against his four-seamer. His slider, which he only threw 26 times (compared to over 100 times for each of the other pitches), was hit around to the tune of a 244 wRC+. The less he uses the slider, the better.
If you want to see what his stuff looks like, check out the video below. He gets two strikeouts on his curveball and one on a cutter. He really has a lot of bite on the cutter.
Contract Estimate
As mentioned above, the Royals declined their option on Hochevar this offseason. It was worth $7 million and they chose instead to buy him out for $500,000. Assuming Hochevar is, in fact, healthy and ready to go for the spring, he would likely get a one-year, incentive-laden deal. Almost definitely less than that $7 million option, but maybe something around $3-4 million?
If Hochevar wants to bet on himself a bit more, there could also be a team option for the 2018 season. It's also not hard to see the reliever market bottoming out and relievers like Hochevar having to settle for one-year deals or even MiLB deals.
Does He Fit The Yankees
Hochevar was weirdly connected to the Yankees before the trade deadline this year in conjunction with Carlos Beltran rumors. It didn't make too much sense for Hochevar, who at the time just had an option for 2017, to be the headline of a return for Beltran, but the rumors may signify some interest from the Yankees' front office.
Beyond their top four, the Yankees don't have anything too reliable in their bullpen, not that Hochevar can necessarily be relied upon next year. He would represent a possible upgrade in the middle innings over rookies and other younger 40-man options like Ben Heller and Jonathan Holder. Hochevar can throw multiple innings — he did it only 13 times over the last two years, plus three more times in the 2015 playoffs — but he has thrown fewer and fewer innings each of his last three seasons.
If the Yankees truly see themselves as contenders, a move for a veteran reliever makes a lot of sense with the lack of depth in the rotation and the team's desire for a dominant bullpen in past years. He has 10 2/3 innings of shutout playoff experience from 2015, whatever that's worth, and likely doesn't require a major cash outlay that would affect the team's desire to get under the luxury tax in the next couple years.