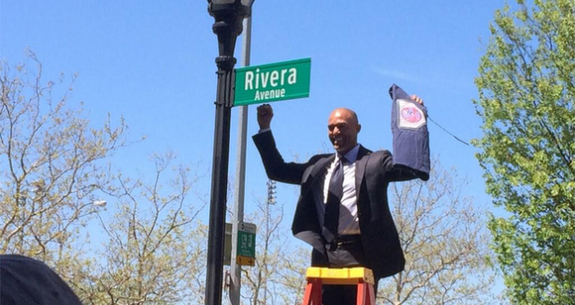 The strip of River Ave. that runs in front of Yankee Stadium at 161st Street was renamed Rivera Ave. in honor of Mariano Rivera earlier today. We heard this was happening weeks ago. Rivera was there for the unveiling (duh) — there is some video here and here — as were members of his foundation and various community folk. It's an honorary thing, the street is still River Ave. in an official capacity.
"Between the number of saves he's had, the number of games he's finished, but more importantly for the  person and character that he is and brings to the community, it was a combination of his success on the field and frankly off the field, and we felt that it deserved some recognition," said Tom Ferraro, who first petitioned the city to rename the street, to 1010 WINS. Pretty neat. Congrats to Mo. And no, we're not renaming the site, so stop asking.
Anyway, here is your open thread until the regular game thread comes along later tonight. The Yankees are out on the West Coast and don't play until 10pm ET. The Mets are playing and ESPN will air the Cardinals and Braves (Miller vs. Harang). There's also NBA and NHL playoff action on as well, including the (hockey) Rangers. Talk about those games, Rivera Ave., us not renaming the site, or anything else right here.